RUPERT CHRISTIANSEN was hilarious in The Daily Telegraph last week as he kicked up a Manchester storm.
We don't go to art galleries to view art we could deliver ourselves but to be inspired by the cleverness of others, fine dining performs the same trick
If he were a better writer he would have spent more time expanding on his final paragraph. This had one or two points worthy of a conversation in a pub. Instead his whinge about Manchester and arts funding sounded like he was dictating it after two or three heavy G&Ts.

The killer line was this: 'I asked four people of different age and ethnicity where the Bridgewater Hall was and not one of them had so much as heard of it.' This was evidence for him that people in Manchester didn't need this arts lark.

Yet if anyone stopped four random commuters ('of different age and ethnicity' - weird that from dear Rupert) walking down Charing Cross Road and asked them where the Royal Opera House was they'd not have a clue either, despite the Opera House having been there 300 years longer than the Bridgewater Hall. Rupert Christiansen would make a great election pollster, ask four people and then make a sweeping judgement.
People who live in cities are often the last to ask for information. I've conducted courses for hotel professionals and gallery staff to open their eyes to the potential of Manchester. The grind of getting the bus or train or finding somewhere to park then doing a job of work can get in the way of being a tourist in your own town.
Things get missed, such as Chetham's Library, the Cathedral choir, the interior of the Briton's Protection, the Town Hall murals, the relief sculpture on the side of the old Reform Club, the sudden surprise of an astonishing sunset, St John's Gardens, the First Church of Christ the Scientist, the wonder of the Duck Broth shooters in Street on 1st, the half chicken in Gorilla and the lunch at Manchester House.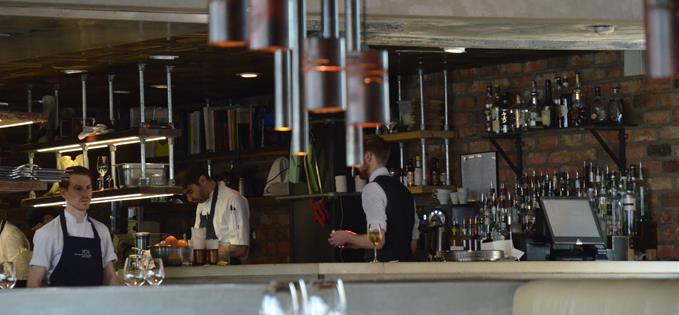 Yes, finally we've got there.
To the review.
But there is a point here.
People seem to feel that going to Manchester House would burn their entertainment budget up for the month so they avoid it. With the evening a la carte they might have a point if they aren't flush, but a quarterly trip to the ever changing lunch menu is not beyond reach. It's still £32.50 for all three courses (or £27.50 for two) but the quality of cooking, the burst of flavours, justifies an afternoon splash out for those of limited budget.
Jeez, I'll remember the star of the show; the chicken breast and leg with cepe mushrooms, wild garlic and about thirty other ingredients. This was a dish so complex, rich and engrossing I could have eaten two or three more portions. The chicken could have been cooked in nuns' tears it was so delicate, yet the essential chickeny nature was uncompromised by the other elements including an especially glorious and rugged blast of cepe mushrooms.
Chicken should be mentioned again with the fabulous bread - sourdough of course - all included in the price which came with the best take on butter in the region at present, a roast chicken skin butter. This exactly captured the flavour of the skin yet maintained the butter's floaty creaminess; it could have been dished out as a dessert. Whatever remarkable alchemy was used to produce this displayed to best advantage the imagination in the kitchen.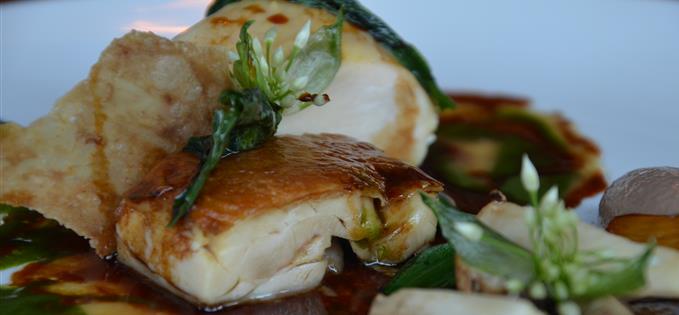 Chicken but not your normally cluckster
Indeed with the two lunch menus Confidential has enjoyed recently, both within two weeks of each other and only sharing one menu item, it seems clear chef Aiden Byrne and his team have never been cooking better. There's less gimmickry from when Manchester House first opened in 2013 and more discipline which provides a stronger foundation for the flair which is evident everywhere.
I can't think of a down moment on the review visit. The two 'Beginning' dishes of barbequed smoked eel with beetroot, caviar, yoghurt and horseradish, and the home cured meats with baby artichoke and summer truffle were a luxurious pair that again came with those hallmarks of subtlety and potency that produced exclamations and exhortations around the table - forkfuls were shared so we all got a go. Nothing overwhelmed, everything played their part in these dishes, the duck in the homemade meats was especially memorable.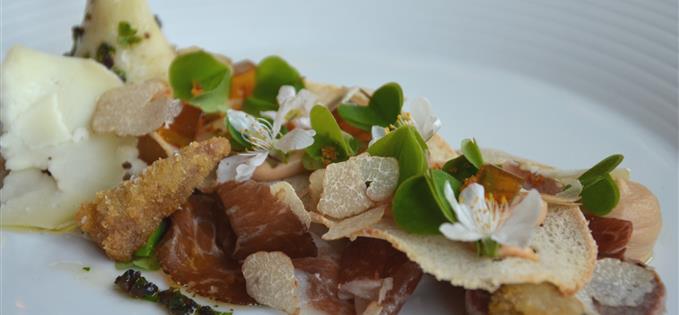 Home cured meats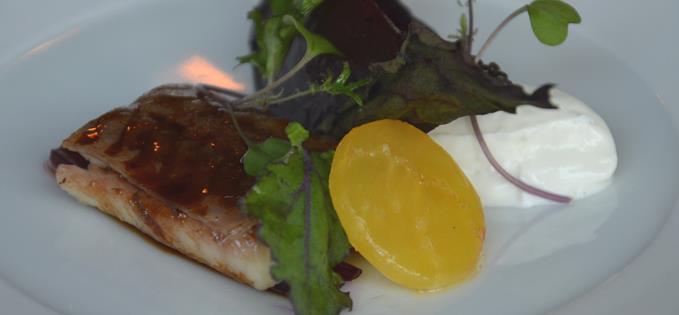 Smoked eel
The other 'Middle' aside from the aforementioned chicken, the poached monkfish, chervil, ricotta gnocchi and asparagus was only a shade beneath the artistry of its teammate. It overflowed with wholesomeness and again complexity. The 'End', the desserts, didn't let the side down. The cucumber mousse with 'Gin and Tonic', pink grapefruit and current mixologist buzzword, 'herbals', was invigorating and beautiful to gaze at - then gobble.
The chocolate, orange and watercress was another measured, balanced, rampage through a thousand flavours, a dessert so far beyond the average home cook's abilities it proves the worth of a lunch such as this. We don't go to art galleries to view art we could deliver ourselves but to be dazzled by the cleverness of others, fine dining performs the same trick.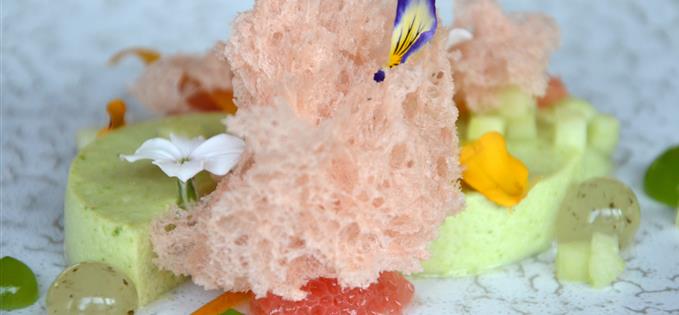 G&T pudding
I feel uncomfortable writing reviews as positive as this. There's always some aspect to rage against in a review, a dish that fails, a moment of staff error, an aspect of the restaurant design that grates. There was nothing at Manchester House on my visit to carp about - this makes me feel like a writer for one of those magazines featuring paid reviews and I don't like it. But the food was superb, the staff efficient and amiable without being intrusive, the table and position were comfortable.
I suppose in many ways Manchester House shows how the city is maturing, spreading its appeal, expanding the market yet maintaining a Manchester identity and thus eshewing the crushing formality of the 'Michelin' style of fine dining. It gives the lie to Rupert Christiansen's sloppy article in the Daily Telegraph and the experience of his brief afternoon in the city.
Try this lunch at Manchester House folks, and then maybe take in a concert at the Bridgewater Hall, which, for the record, is right up Bridge Street, then straight on up John Dalton Street into Albert Square, following Princess Street to the back of the Town Hall, then turn right through St Peter's Square, and follow the tramlines by the side of the Midland Hotel. After a couple of minutes walk you can't miss it. Rupert, see I know, you could have asked me. And loads of other people.
You can follow Jonathan Schofield on Twitter @JonathSchofield or connect via Google+
All scored reviews are unannounced, impartial, paid for by Confidential and completely independent of any commerical relationship.
Manchester House, Tower 12, Spinningfields, City Centre. M3 3BZ
Rating: 18.5/20 (remember venues are rated against the best examples of their type - see yellow box below)
Food: 9.5/10 (eel 9.5, home cured meats 10, chicken 10, monkfish 9, G&T pudd 10, choc, orange, watercress pub 9, bread 10)
Service: 4.5/5
Ambience: 4.5/5
PLEASE NOTE: Venues are rated against the best examples of their kind: fine dining against the best fine dining, cafes against the best cafes. Following on from this the scores represent: 1-5 saw your leg off and eat it, 6-9 get a DVD, 10-11 if you must, 12-13 if you're passing,14-15 worth a trip,16-17 very good, 17-18 exceptional, 19 pure quality, 20 perfect. More than 20, we get carried away.