CROCKERY never features much in my life. I once had a potter acquaintance who insisted good crockery was the same as a good frame around a picture.
The glorious pea soup was so thick it could have been driven over by a platoon of Challenger tanks
He might be right because the crockery at the Church Green was exemplary, making good presentation excellent presentation. Then again there was nothing wrong with anything at the Church Green aside from one small detail I'll mention later.
Pub excursions out of the city need a couple of key factors. They need to be sited at the conclusion of a good walk and they need to not try too hard with the food. Make the latter good quality and good value with a hint of flair and the whole experience is a winner.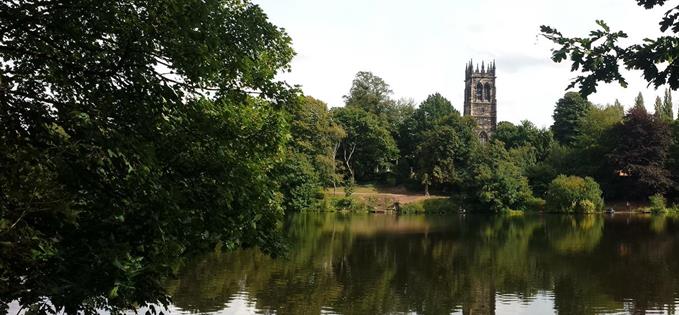 Perfect place for a walk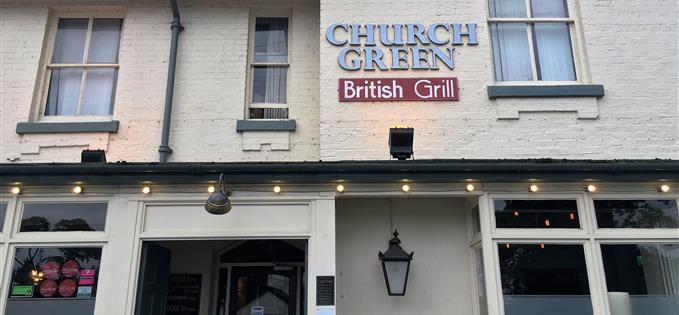 Church Green, Lymm
The Church Green does both. The walk around Lymm dam is a charmer come winter, spring, autumn or summer. It's a classic semi-rural walk of woodland and water with St Mary's Church tower giving a focus to the views. St Mary's was built in the 1850s by John Dobson of Newcastle who showed he was flexible by also building the glorious central station in that city on the Tyne that only just scraped a Remain majority. Unlike Warrington and Lymm. But let's not talk about that. No really let's not, this is a food review not a rant about a Referendum. I've had my say here.
The Church in the title of the Church Green refers to St Mary's. The food owes a lot to chef Aiden Byrne calming the fine dining menu with which this place opened and delivering some cracking pub nosh.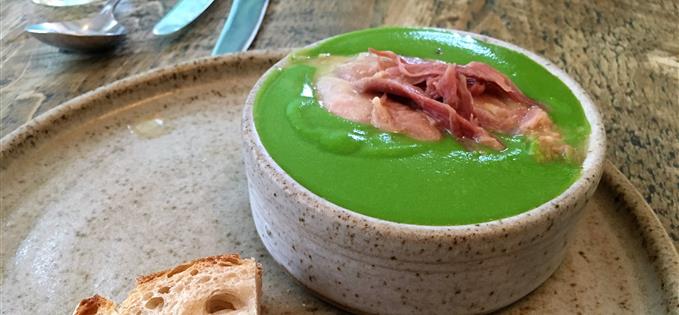 Pea soup with ham hock
Beetroot and goats cheese risotto
The pea soup with ham hock and the beetroot and goats cheese risotto starters (both £6) were bloody marvellous. The pea soup was so thick it could have been driven over by a platoon of Challenger tanks. The ham hock was muscular too and as a whole was fabulous. The risotto was never boring, which is often the best hope you ever hold out for a risotto. There was glorious substance with the beetroot and the goats cheese adding a salty character which was utterly necessary for that added bite.
The two mains were also excellent but this was where the slight error occurred. The admittedly lush foundation of peas and what was essentially a tasty broth in both dishes were too similar to each other, carrying on the pea theme from the starters. The waiters could have warned us of these similarities and then like a referendum voter we could have decided to change our choice or just jump in despite any evidence to the contrary. I know, I know, I'll stop.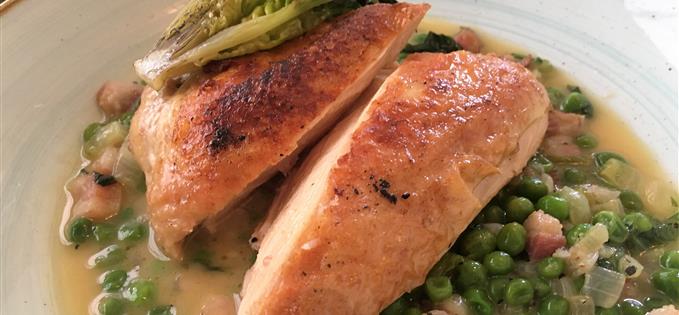 Nurtured chicken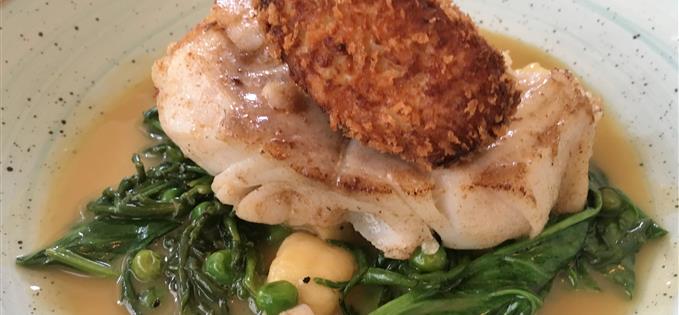 Cod loin with lemon gnocchi
That said the chicken (£17.50) had obviously been nurtured and loved through life because it was quite splendid. The absolute antithesis of the disgrace in the Holiday Inn. The cod flesh (£17.50) was a bit dull, as usual, but the gnocchi with their lemon kick and the broth they sat in were delicious. As were the truffleish and cheesy fries (£4).
A lemon thyme crème brûlée (£6) had a rewarding fight with gloriously sour rhubarb for pudding. A proper French Chardonnay, charmingly decanted even though it was only 250ml, did a good summer fresh, buttery trick at £7.
So well done to Manchester House chef Aiden Byrne, with his fine, upstanding pub, The Church Green. It delivers a confident Modern British experience in an uncertain Modern British world. Have I mentioned the referendum?
The Church Green, Church Green, Warburton, Lymm WA13 9SS. Tel: 01925 752068
Rating: 15/20
Food: 8 (pea soup 8, risotto 8, chicken 7.5, cod 7, chips 7.5 creme brulee 7.5)
Ambience: 3.5
Service: 3.5
PLEASE NOTE: All scored reviews are unannounced, impartial, paid for by Confidential and completely independent of any commercial relationship. Venues are rated against the best examples of their type: 1-5 saw your leg off and eat it, 6-10 stay in with Netflix, 11-12 if you're passing, 13-14 good, 15-16 very good, 17-18 excellent, 19-20 pure quality.