THERE's a famous 1950s collage from Richard Hamilton, pop artist, called Just What Makes Today's Homes So Different, So Appealing.
This is it.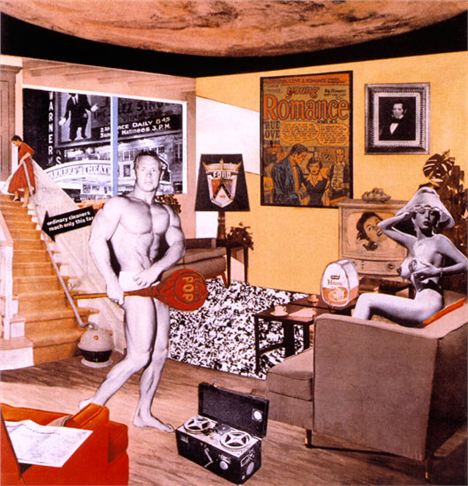 Just what makes today's homes so different, so appealing
Richard Hamilton was a founder of the British pop art movement. This was inspired by, as one critic says 'everyday art from ads, commercials, the media and culture at large, particularly advertising. It followed on from the postwar boom years in the US, when everyone was buying homes, cars and what-will-they-think-of-next machines like toasters and dishwashers.'
Burger bars were part of the boom.
In 1957, Hamilton himself wrote a definition of pop art: 'Popular (designed for a mass audience); transient (short-term solution); expendable (easily forgotten); low cost; mass produced; young (aimed at youth); witty; sexy; gimmicky; glamorous; and last but not least, Big Business.'
Do I need to write any more for this review of Almost Famous?
That description nails it, surely? Done. Dusted.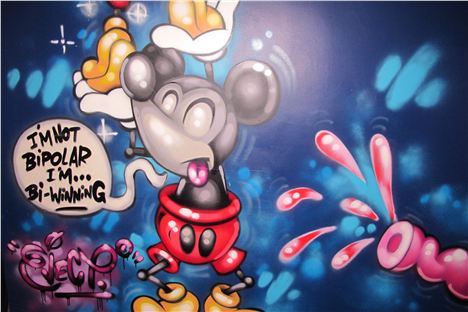 There's a child-like charm to Almost Famous
Certainly I reckon Beau Myers, the imagination behind the business, must have put Hamilton's words in a burger, eaten them and then spewed them out first with Socio Rehab and then with the phenomenon that is Almost Famous.
The third Almost Famous opened late last year in the Great Northern off Deansgate. It is presently one of the busiest food and drink outlets in all of the United Kingdom. It's so popular it might make Scots think twice while making their minds up on independence.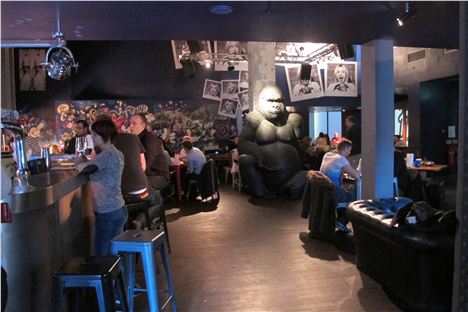 AF III
The first Almost Famous was hidden up stairs in the Northern Quarter and was the genesis of the legend.
The mythology rose from the cunning way the Almost Famous team whipped up excitement by making people feel privileged to find the restaurant and then by giving them excellent burgers. It didn't hurt calling everything AF 'dirty' as in 'porn' either. You could spot early-adopting Famousers a mile off, they carried grins as cheesy as the chips they'd just eaten. They looked smug.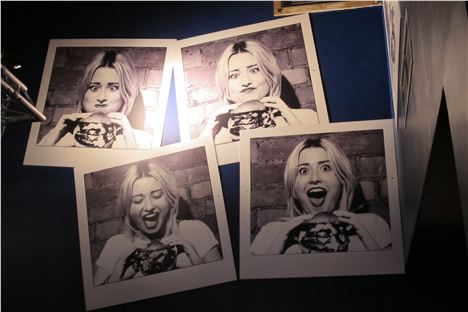 Burger me hard
The second Almost Famous opened in Liverpool where people became so giddy and excited they became EXTRA SCOUSE - which was terrifying for passing tourists. Some young women with particularly bouffant hair, micro-minis and towering heels spontaneously combusted through the excitement Almost Famous generated. They had to be taken to the nearest Wetherspoons and doused in Smirnoff Ice.
All the cunning hallmarks of the business are in place in the latest Almost Famous, clever signage, clever use of posters and a big gorilla. The mood is cheeky, rude with a saucy wink, risque in a modern burlesque way that somehow appeals to the hipsters without - and I really can't quite work this out - appalling all the feminist hipsters that also love the place. There's one cocktail called Bitch Juice. No, honest.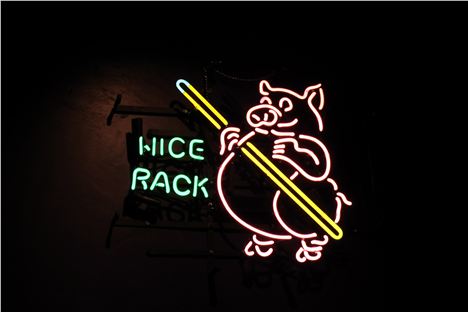 Cheeky
The burgers are as good as ever. With an Almost Famous burger you get excellent meat from Frosts, the brioche bun and, most distinctive of all, an immense amount of delightful goo and slop.
These aren't boring burgers, I found Byron burgers to be boring, I find most burgers to be boring. These aren't.
Instead Almost Famous burgers are a right bloody mess. Shops are running low on kitchen towel supplies because Almost Famous is buying every last roll for customers to wipe their mouths, hands, elbows, knees and inner thighs clean of all the hot melted gunk flowing over the side of tables and plastic presentation baskets.
Kitchen towel everywhere, we need more, this burger's all over my face
I've eaten just about all the burgers on offer since Almost Famous opened in the Great Northern and wholeheartedly recommend the Awesome Frickin Chicken (£8) and the Butter, Blood & Bleu (£10).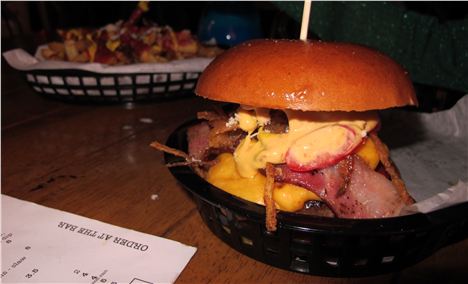 Burgers everywhere
My favourite is the Animal Burger - main picture at the top of the page.
The name makes me laugh for one thing. It's so accurate. The Animal Burger (£9) comes with 'triple peppered cheeseburger, fried onions in magic mustard mayo, beef monster munch, lettuce, chipotle ketchup, jalapenos onions'.
It's a beaut. I want one now. I loved the fact that in all that slop and sauce there was real beef monster munch to add a blast of absurdity and to really get you going. That additive addled extra was a pointless piece of magic that made my Animal somehow special. The bacon bacon fries with this are a winner and very filling.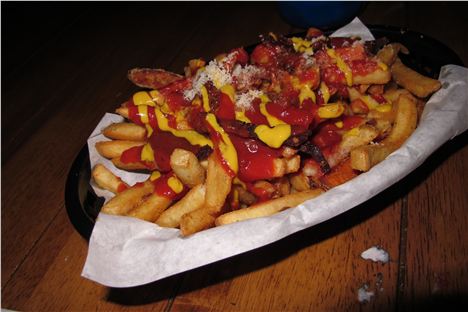 Fries - these are calorie free, honest
Knock all this back with booze, a pint of own-brew Wrecking Ball at £4 or Brooklyn £4.50, and the job's a good 'un.
Of course given the scale of the Great Northern outpost something of the cleverly crafted intimacy of the original Almost Famous has been lost, but then maybe it's time for the business to show it's more than 'quirky', it can be 'serious' too.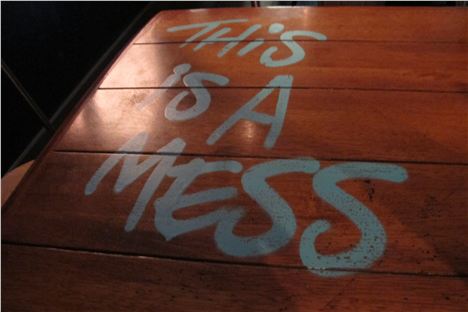 It certainly is
Not that it's likely to become too serious given the madness of Myers.
Of course not everybody admires Almost Famous.
Some people despise it and ask: "What on earth makes Almost Famous so different, so appealing?" And then they moan on and on and on about the Northern Quarter and inevitably the word 'beard' crops up.
God, people can be tedious. You'd never want a drink with these people. They get a bee in their bonnet and can't ever let the thing free.
What they fail to see is that Almost Famous has captured the moment, bottled up a mood. It's a Manchester triumph. "We know we're only shifting burgers," they seem to be saying, "so why not do it with a bit of flair and wit? Why not have a laugh with it and give you a good time too."
Back to Richard Hamilton's quote on pop art: 'Popular (designed for a mass audience); transient (short-term solution); expendable (easily forgotten); low cost; mass produced; young (aimed at youth); witty; sexy; gimmicky; glamorous; and last but not least, Big Business.'
The city's better for Almost Famous, our piece of Pop Art doubling as a restaurant.
You can follow Jonathan Schofield on Twitter @JonathSchofield or connect via Google+
ALL SCORED CONFIDENTIAL REVIEWS ARE IMPARTIAL AND PAID FOR BY THE MAGAZINE.
Almost Famous, Unit 2, Great Northern Warehouse, Watson Street, City centre M3 4EJ
Rating: 16/20 (remember venues are rated against the best examples of their type - see yellow box below)
Food: 8/10 (blood 8, chicken 8, animal 8.5, bacon fries 7.5)
Service: 3.5/5
Ambience: 4.5/5
PLEASE NOTE: Venues are rated against the best examples of their kind: fine dining against the best fine dining, cafes against the best cafes. Following on from this the scores represent: 1-5 saw your leg off and eat it, 6-9 get a DVD, 10-11 if you must, 12-13 if you're passing,14-15 worth a trip,16-17 very good, 17-18 exceptional, 19 pure quality, 20 perfect. More than 20, we get carried away.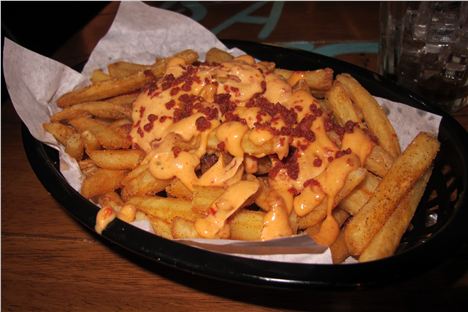 Cheesy fries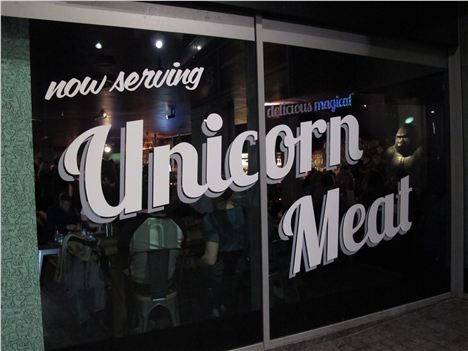 I love unicorn, it gives me the horn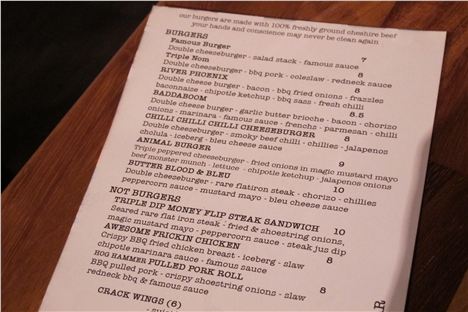 The menu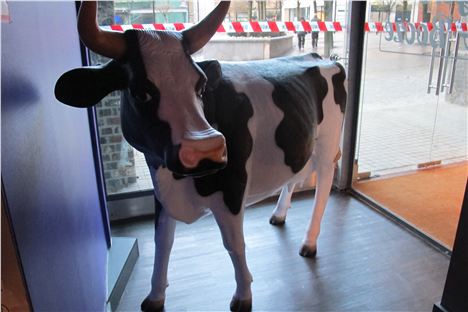 The cow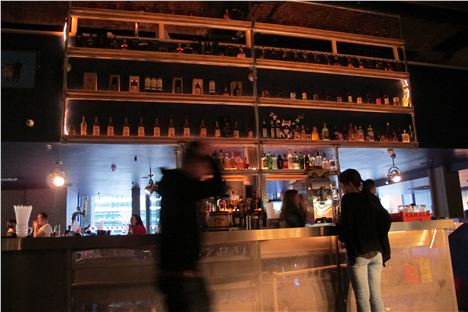 The bar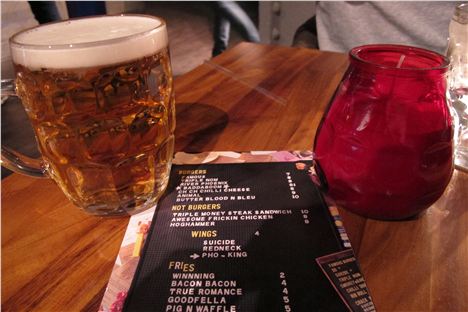 The beer