APPARENTLY, of all the trendy burger joints, swanky private member's clubs, posh hotel restaurants and cocktails bars in Manchester, pocket pop star Prince chose to dine at Volta recently. His people cast their 'third eye' over the city and decreed that West Didsbury was the place with the correct vibe for his purple symbolism.
This flavoursome cut of meat is chewy enough to make sure your teeth still work properly, yet juicy enough to leave you with a coating of beefy lip salve.
However many people like to take the Mickey out of this hummus-eating haven, its hundreds of eateries and million pound properties with no parking, we think the diddy diva might be onto something.
Volta opened a few months ago on the site previously long occupied by people-pleasing stalwart Rhubarb. It sits in between Folk which has a similar café/bar vibe and the busy Burton Road bakery, making that strip of Burton Road the perfect destination for all day grazing, shmoozing and boozing.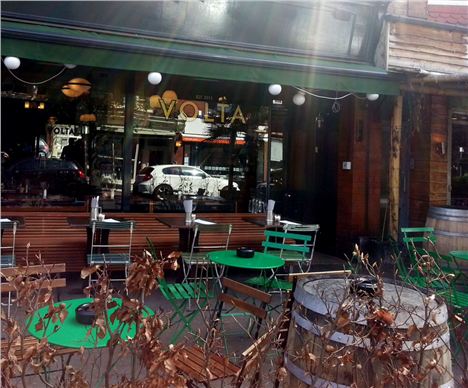 Terrace with dazzle light
Volta is owned by Luke 'Unabomber' Cowdrey and Justin Crawford, the food loving musos behind Elektrik in Chorlton. They are masters of putting creative energy behind a project and micro-managing every last detail whilst affecting the cool air of effortlessness.
Rhubarb has been stripped back to brickwork and tossed around in some kind of space time continuum before being turned into the kind of easy drinking joint you'd find anywhere in Europe at the turn of the last century. It's simple, bare boarded fit out hardens the acoustics though, so the 'buzzing atmosphere' can become very loud.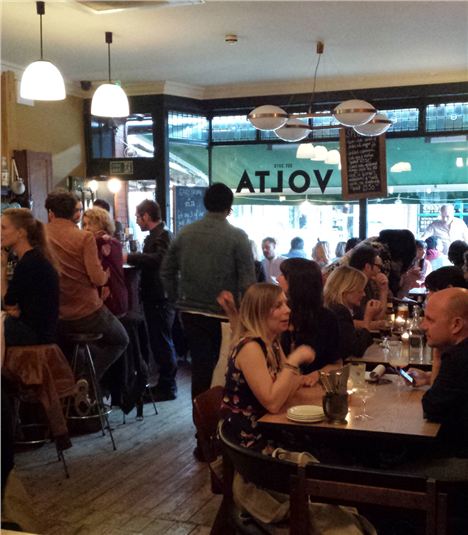 Volta
It's hard to know whether the food or the drink is the driving force. The menu is mostly 'small plates' that arrive when they're ready, designed for picking at, sharing, grazing and soaking up the corresponding alcohol. 
They've put some real effort into choosing the dishes, sourcing the ingredients and finding a decent chef, yet eating is only part of the experience. There is a full list of carefully constructed cocktails involving ingredients like lavender syrup, burnt orange peel and sanguinello. There's also a range of European beers and British cask ales on tap, bottled beers from smaller independent breweries and mid-priced wines chosen specially to match the food.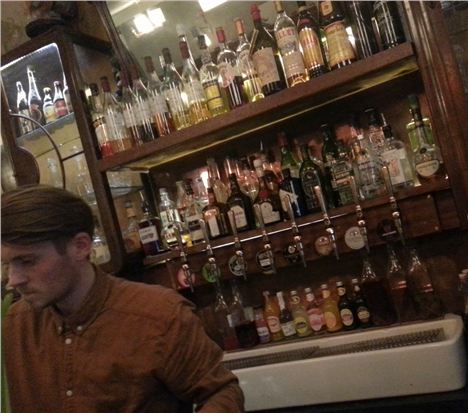 Busy bar
We hadn't booked so were happy to perch at the bar watching the barmen simultaneously preparing cocktails and pulling pints like multi-tasking octopuses. We had to wait for approximately a pint and a half of Thwaites Wainwright (£3.60 per pint) and a Cosmopolitan (£7) before being shown to our table by the calm and capable Ruth who'd kept a steady eye on any queue jumping for tables.
As I knew I was going to start this piece off with a reference to Prince's visit, I ordered smoked feta, beetroot, hazelnuts and dill' (£4) my husband didn't see much point in this dish but I quite enjoyed its multi-textural purple subtlety – one for those more in touch with their feminine side.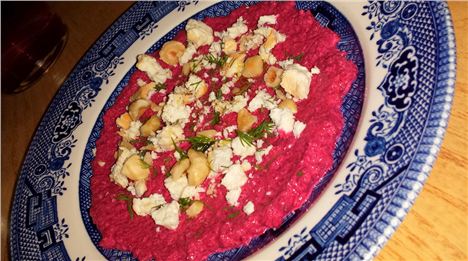 Purple rains on a plate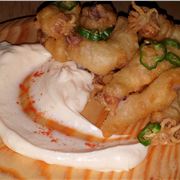 SquidCrispy baby squid with aioli (£5.50) arrived next (main picture at the top of the page); the ultimate dish for a balanced diet, designed to eat one-handed so you can hold a drink with the other.  The aioli was homemade punchy stuff so I wrestled the dish back when they tried to clear so I could continue to dip more stuff into it.
I suspect it's a rare family that has a list of 'favourite vegetables' but Jerusalem artichoke always makes our top three. At Volta, they serve them diced on top of toast drizzled with English rapeseed oil and pecorino shavings (£4). It was ok, but it's only by baking or roasting that Jerusalem Artichokes reveal their caramelised earthy magic, otherwise they're just like any other fibrous root vegetable.
We agreed that the best of the small dishes we'd chosen was from the specials board St George's mushrooms with wild garlic (£5.50) served on a slab of sour dough to soak up its juices.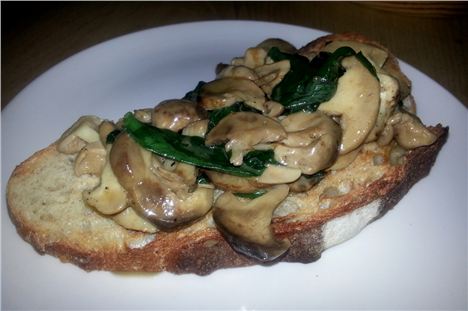 Mushroom working hard
To balance all that mostly vegetarian fayre, we ordered one of the chargrilled main courses on offer Dexter rib on the bone (350g) with chips, béarnaise and watercress (£19.50) which arrived perfectly rare as requested. This flavoursome cut of meat is chewy enough to make sure your teeth still work properly, yet juicy enough to leave you with a coating of beefy lip salve.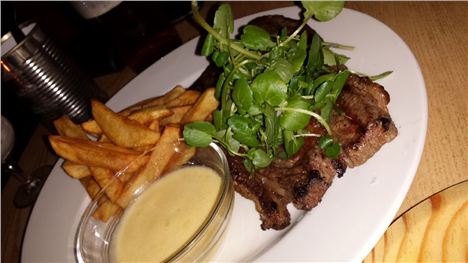 Dexter and beefy lip salve
I'd have been happy with another cocktail instead of a dessert but for reviewing purposes we ordered blood orange and Salerno jelly with vanilla ice cream (£5.50). It is not always wise to judge a kitchen by the fanciest dishes it produces, better to see how it manages the basics, so vanilla ice cream is a perfect means test. Volta's own scored a perfect 10.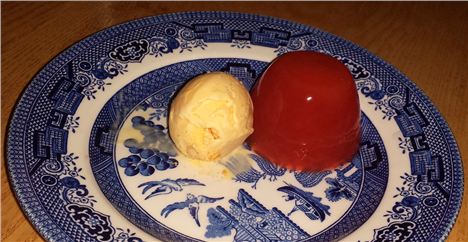 Jelly on a plate
Volta has enough to make the place worth multiple visits; a well researched drinks selection, a range of dishes for any appetite and a special specials board.
It's now open during the day for sandwiches and cakes and there's a bit of a buzz forming about its excellent Sunday lunches - see main picture at the top of the page. As our cab driver said 'I've known him for years and he's a bit of a clever one that Luke', so let's hope some of Rhubarb and Elektrik's combined longevity rub off on Volta.
You can follow Deanna Thomas on Twitter @deannathomas 
ALL SCORED CONFIDENTIAL REVIEWS ARE IMPARTIAL AND PAID FOR BY THE MAGAZINE.
Volta, 167 Burton Road, West Didsbury, Manchester, M20 2LN. 0161 448 8887
Rating: 15/20 (remember venues are rated against the best examples of their type - see yellow box below)
Food: 7/10 (7/10 (squid 7, artichoke 6, beetroot 6, mushroom special 8, Dexter Rib 7, jelly and ice cream 8)
Service: 4/5  
Ambience: 4/5 
PLEASE NOTE: Venues are rated against the best examples of their kind: fine dining against the best fine dining, cafes against the best cafes. Following on from this the scores represent: 1-5 saw your leg off and eat it, 6-9 get a DVD, 10-11 if you must, 12-13 if you're passing,14-15 worth a trip,16-17 very good, 17-18 exceptional, 19 pure quality, 20 perfect. More than 20, we get carried away.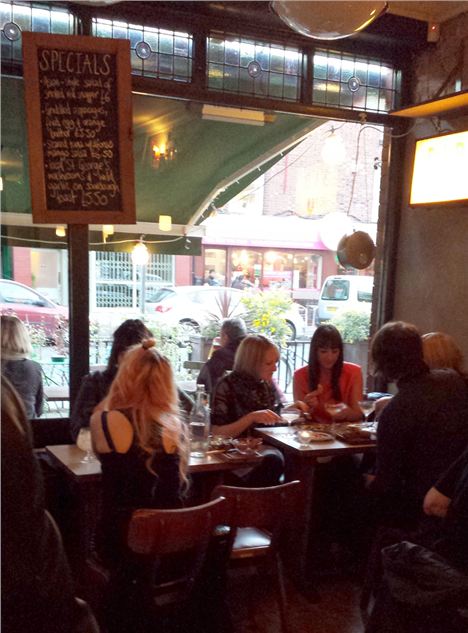 Volta