ELOPING was not the way I'd ever imagined getting married, but once engaged and in the midst of wedding planning, I was quickly left gasping for air, drowning in expectation and tradition.
As it transpired, a carefree and sincere day at City Hall in New York still gives me goose bumps every time I think of it.
Simplicity really is the ultimate sophistication.
Despite the sign on the window reading 'Now we have food too', food is certainly no afterthought. Breakfast, lunch and dinner are all catered for with individual prices never exceeding a tenner.
Our unconventional wedding was just one part of a ten day escape to New York. While there, we also explored the city avoiding anything typically tourist or overtly lavish, choosing instead to dig deep for the misshapes at the bottom of the biscuit barrel, especially when it came to food.
This brings me onto Terrace 'the Northern Quarter's prettiest ginnel'. 
Yes, 3,336 miles outside of New York. Hear me out.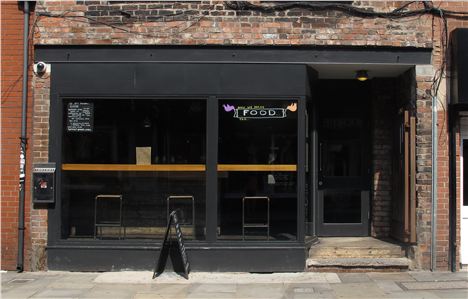 Front Of Terrace - simplicity is the ultimate sophistication
A first visit to Terrace immediately felt reminiscent of everything I heart about New York. First of all, the fact I'd never even noticed the place spoke volumes.
Egg in Williamsburg doesn't bother with a sign on the door either, because word of mouth keeps customers literally queuing down the street every single day. Terrace doesn't shout about the fact they're there, with the only sign on the gate barely visible when they're open anyway. Seek and you'll find is the key to this place, and that sentiment continues inside too.
The 'prettiest ginnel' isn't in fact the prettiest part of Terrace at all, but it's the perfect run up.
Walk through and the back area is where you'll want to be. It's lighter and brighter with old fashion British school chairs around tables scattered around various shaped tables and a large window looking onto Edge Street.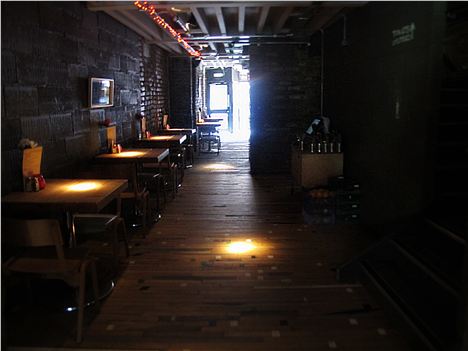 The Ginnel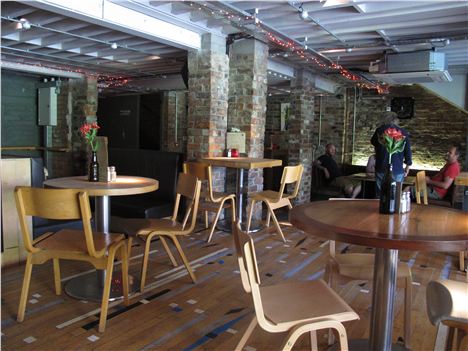 Through The Ginnel, Inside Terrace
Despite the sign on the window reading 'Now we have food too', food is certainly no afterthought. Breakfast, lunch and dinner are all catered for with individual prices never exceeding a tenner.
We went for the chargrilled steak ciabatta with chimichurri salsa (£8.50) and the cheeseburger with extra blue cheese and extra bacon (£8, plus £1 per extra - see main image) both served with fries, salad and house 'slaw.
Both dishes exceeded expectations with that real all American diner feel to dishes and table as a whole - the ketchup and other sauces came presented in Liberty Ale paper beer crates. Both the steak and burger also managed to arrive juicy without saturating the plate in oil and the home 'slaw was in its purest form, chunky, creamy and unfussy.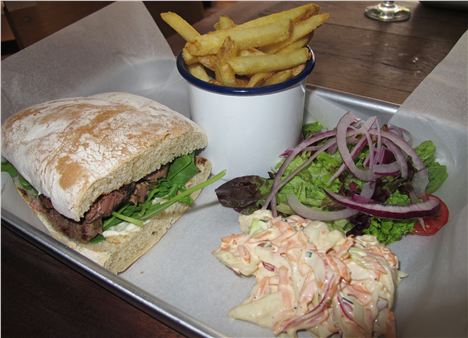 Chargrilled Steak Ciabatta At Terrace NQ
Our lovely waitress' eyes lit up when we said we'd also like to try some of the more obscure sounding cocktails on the menu. Throughout our visit in fact, she had that kind of attentiveness you could also most commonly attribute to the American way of table service. The difference here though was there wasn't a single moment when I felt she was smiling for tips. 
Nobody Beats The Biz (£7), which consisted of Mount Gay Rum, cognac, cereal milk, vanilla cream and Honey Nut Cheerios, may sound like they've spiked a child's breakfast but tasted fairly straightlaced to be honest with the tin can presentation being the most exciting bit.
Meanwhile the more puky sounding PB & J (£6.50), a short sweet alcoholic milkshake containing bourbon, Skippy's peanut butter, strawberry jam, an egg yolk and cream, tasted "inspired and downright delicious" to my friend Thea, who knows too well the best cocktails are often the most understated. You could smell the peanut butter as you raised the glass, yet the texture was pleasingly fluid. It's one of those dangerously moreish cocktails you could lose track of. Try it immediately.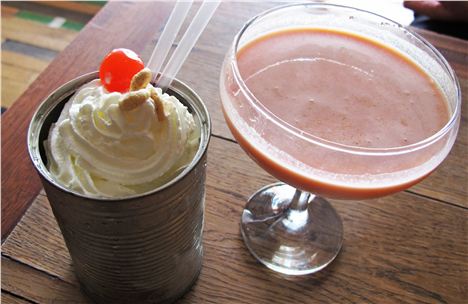 Nobody Beats The Biz And P B & J Cocktails At Terrace NQ
On top of the clever cocktails is a drinks list as long as your arm, with bottled beers from the USA, Canada and Mexico (from £4), plus a mix of draft lagers (from £4 a pint) and cask ales.
To finish off, despite admitting they didn't have many desserts on the menu, what the waitress did bring us was a welcome surprise. With desserts in particular, you want a feast for the eyes as well as the stomach and so when she suggested the double decker chocolate cake I had a vision of looking up at the cake equivalent of Everest.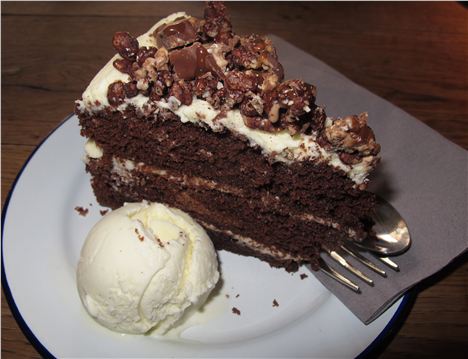 Double Decker Chocolate Cake At Terrace Nq
Terrace didn't disappoint with that or the Makewell – their take on a Bakewell tart which was basically an Americanised beast of a Bakewell (each £3 per slice). Keeping the dessert options fairly limited but unusual and interesting is what could become a talking point for a place like this.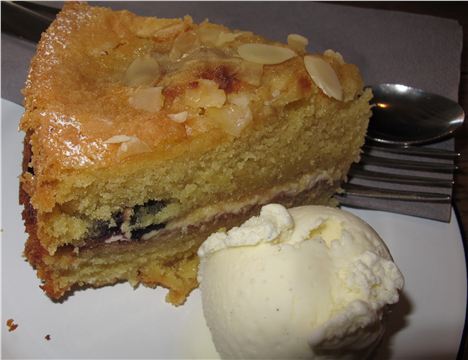 Makewell At Terrace Nq
What they're doing at Terrace is cashing in on that Americana vibe that's been on trend in the Northern Quarter for most of 2013 and isn't showing any signs of fizzling out. Only their version is a less in your face retro and more cherry picked inspiration with the unmistakable coolness of New York teamed with a northern British spin. After all, most Americans wouldn't even know what a ginnel is.  
Terrace is the perfect marriage.
You can follow Lynda on Twitter here @lyndamoyo
ALL SCORED CONFIDENTIAL REVIEWS ARE IMPARTIAL AND PAID FOR BY THE MAGAZINE. 
Terrace NQ, 43 Thomas Street, Northern Quarter, M4 1NA. 0161 1234123
Rating: 16/20 (please read the scoring system in the box below, venues are rated against the best examples of their kind)
Food: 8/10 
Service: 5/5
Ambience: 3/5
PLEASE NOTE: Venues are rated against the best examples of their kind: fine dining against the best fine dining, cafes against the best cafes. Following on from this the scores represent: 1-5 saw your leg off and eat it, 6-9 get a DVD, 10-11 if you must, 12-13 if you're passing,14-15 worth a trip,16-17 very good, 17-18 exceptional, 19 pure quality, 20 perfect. More than 20, we get carried away.