Category: Restaurants: casual-dining. Score 15/20 (Full breakdown below and score explained. Venues are compared with similar venues and measured against the best examples in their category.)
SITUATED in a chi chi suburb, full of bijou boutiques and craft bakers, this wood-floored up-and-down restaurant serves almost perfect bistro food.
The atmosphere is key. Think backstreet Paris, the kind of place where chefs eat when they've got the night off. Landing a spot in the Good Food Guide 2014 takes the Sticky Walnut off the 'local secret' list, but it's still not exactly a household name outside of Chester.
I know it sounds cheesy but French beakers on the table and minted water are kind of romantic.
And the cooking? British bistro, with a side helping of luxury. Caramel oozes across the menu on walnuts, in sweet gravies and parfaits, as lentils jiggle with finely smoked local bacon and clove on the palate.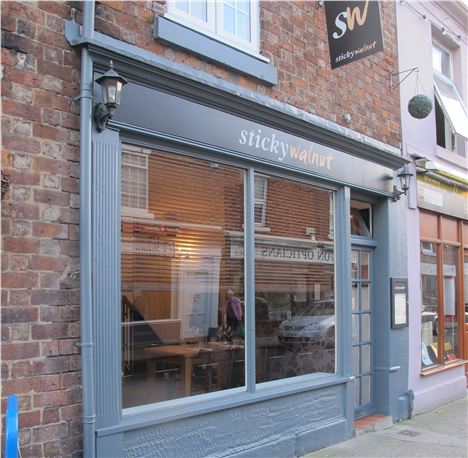 Exterior
A starter of ricotta with toasty, harissa-spiced pumpkin seeds, sticky walnuts (what else?) and cubes of ganache-like beetroot (£4) is a case in point. It moves you like a Thai masseur, giving your tastebuds the kind of workout they crave.
The pork belly main (£10) is something else too. There's not a hint of turgidity here. It's a rainbow of flavour; layers of roasted belly and goo, encasing an apple and raisin stuffing, the light and airiest tastes of autumn, yet each bite is somehow more unctuous, more generous than the last. With none of the earthiness that lentils usually bring to mind, it's a partnership that really goes the distance.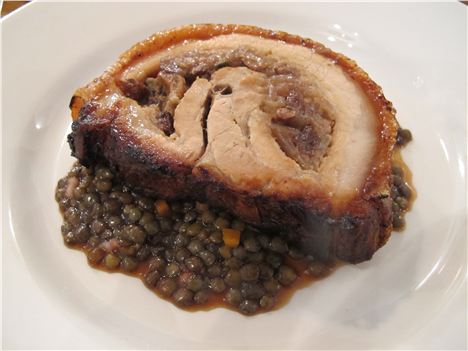 Pork belly
Staff ferry a small glass of viognier here, a carafe of Sauvignon blanc there, like bees. And when everything is so little trouble, it's so easy to order more. A second coffee seems like a great idea. Or another look at the winelist. Many varietals are available in small, 125ml glasses too, which is a fabulously moreish selling point.
That's the thing about Sticky Walnut. It's run and owned by Gary Usher, a former chef at the Michelin-starred bistro, Chez Bruce, and under Angela Hartnett at London's York and Albany pub. I've heard awesome things about the inspired use of everyday flavours, a modern attitude to French classics at both these restaurants. And while there are echoes of Usher's training in the use of "peasant" ingredients like nuts, lentils and cheap cuts, what chiefly comes across – and this is a great thing - is cooking from the heart.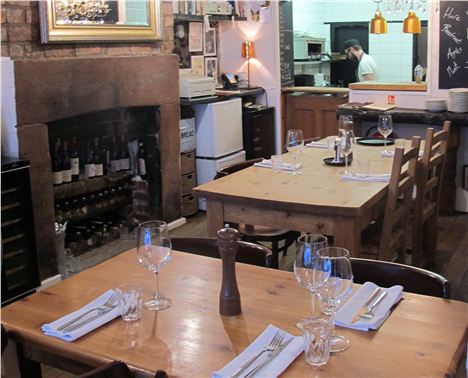 Interior
I know it sounds cheesy but French beakers on the table and minted water are kind of romantic, and the walls wear Usher's idols lightly.
It's only when you look up close, for example, that you notice a signed menu from the Ledbury or an early Paul Hollywood bread bible on a tucked-away shelf. The chef is clearly someone who takes both cooking and provenance seriously. But the restaurant makes you feel welcome, nevertheless. This is no theatre. At the Sticky Walnut, you feel like you're part of the story. You don't have to look on while someone else has all the fun.
Of course, what makes adventures really memorable is the things that don't go quite to plan. And the dishes that don't make the grade fall into this category only for a lack of balance, rather than more tangible flaws.
The sea bream cerviche (£9), for example, has a warm afterbite of hazelnut and chilli, but not quite enough to satisfy the eye's expectation. I like the nuts actually, they bring a warmth, a winter's touch to this summery staple, but the effort that's clearly gone into the avocado mousse, the micro-chopped courgettes is wasted when all you can taste is lime.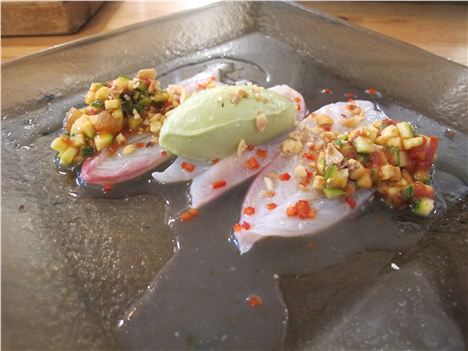 Sea bream cerviche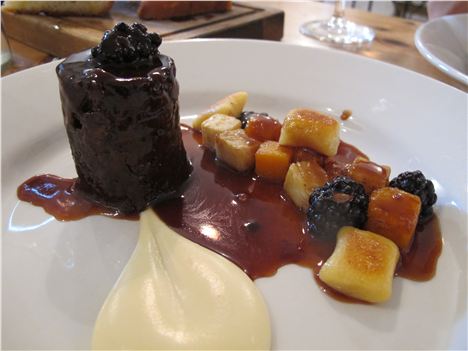 Shin of beef
Elsewhere, shin of beef (£11) underwhelms between blackberries and a sweet sauce – although the golden "packets" of homemade gnocchi are a masterstroke. The sticky toffee pudding ploughs this furrow again with praline parfait sent over the top by the inclusion of more sticky walnuts (£5). It's a clever touch, I think, but one the dish could do without.
In the greater scheme of things, though, these are minor flaws. The chef, the interior and the corking specials are in place – plus it's got that special something that makes me tell my friends all about it. And that je ne sais quoi is the battle won for this little cracker.
Follow Ruth on Twitter @RuthAllan
ALL SCORED CONFIDENTIAL REVIEWS ARE IMPARTIAL.
11 Charles Street, Chester, Cheshire CH2 3AZ. Tel: 01244 400400
Rating: 15/20
Food: 7/10 (beetroot 9, cerviche 5, pork 9, shin of beef 6, sticky toffee 5)
Service: 5/5
Ambience: 3/5
PLEASE NOTE: Venues are rated against the best examples of their kind: fine dining against the best fine dining, cafes against the best cafes. Following on from this the scores represent: 1-5 saw your leg off and eat it, 6-9 get a DVD, 10-11 if you must, 12-13 if you're passing, 14-15 worth a trip, 16-17 very good, 17-18 exceptional, 19 pure quality, 20 perfect. More than 20, we get carried away