THE CITY's recent openings suggest that wine bars are back in vogue.
To think that last time I was in London I had three wisps of salmon for £13.50 at The Wright Brothers in Spitalfields, Wine & Wallop's £6 was an amazing deal.
Salut, Evuna NQ and Bakerie are just a few places to drink wine by the glass in the city; Spanish specialist, Iberica, is opening soon and, of course, Hanging Ditch wine shop and bar continues to thrive. I don't know about you, but my favourite thing of all is a 'wine flight' in my front room. Which makes me think that Manchester's rash of wine bars must be related to our ambitious home boozing. 
As well as selling my favourite tipple, wine bars were cool when I was growing up. So I felt immediately at home in this former Blockbuster video shop on Lapwing Lane. The bar is owned by Justin Parkinson of Didsbury's Folk café. Yet Wine and Wallop is a grown-up affair. There's the obligatory 'wine bar' style chalkboard over the doorway, huge windows and those funny, high bar stools. Sofas lounge under chandeliers and there's some library-themed wallpaper on one wall. To top it all off, there's a function room upstairs that hosts yoga and mediation workshops on the weekends. How can a slightly bohemian south Mancunian resist?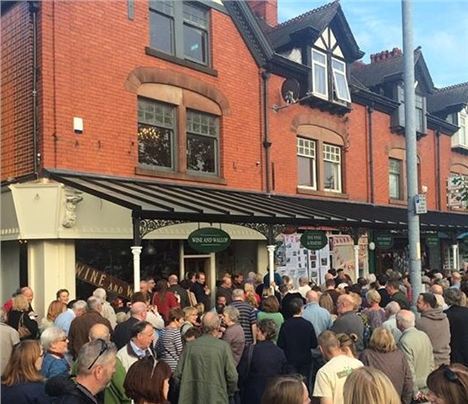 Wine & Wallop
I was pleased to find a slight French bias to the by the glass options scrawled in chalk over the door. We tried the Argentinean Malbec (£4.70, a bit sharp), a solid French Merlot (£4.60) and a lovely Valpolicella Ripasso (£5.60). Sommelier and front of house Fiona Morgan, formerly of Liverpool's Malmaison, was nice, but tended to us patchily over the evening. A wine went missing here, olives there. Her recommendation for an unusual Chateau St Roch Cotes du Rhone white (£5) was spot on, though. 
Wines are only served in 125ml measures so you're best off going for a bottle, really, if you want to have more than a couple. Prices start at £18 for white Cotes du Rhone (although at this price point, the Picpoul blend at £22 is more thrilling) while occasion bottles include a white Burgundy (Puligny-Montrachet, £51) and an earthy Brunello (£48) as well as a load of mid-range charmers including Cabernet Franc and wines from the intriguing Jumilla region of Spain.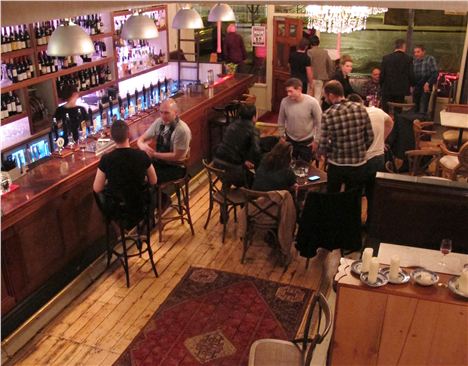 Wine & Wallop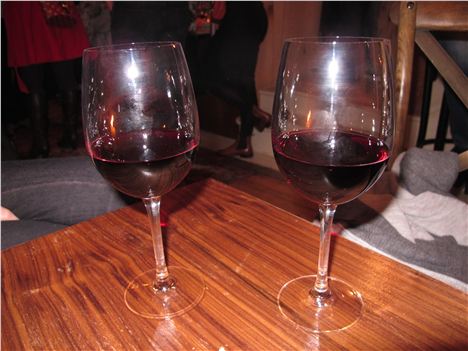 Red, red wine
In terms of beer, there are thirteen hand pulls running the length of the bar. Look out for ales from local brewers Brightside, Tatton and Blackjack on draught. Timothy Taylor's Boltmaker is another favourite, and CAMRA's Supreme Champion Beer of Britain 2014. For the lager lover, there are choices from Munich uber-brewery, Augustiner (the delightful Helles and Edelstoff) as well as my new favourite Kona's sparkling Longboard Lager from Hawaii. Bottles from Tickety Brewery and Runaway big up the local craft scene. Prices are around £3.80 for a pint and the same for a bottle.
The boards of cheese and ham cost £6 each - and that's pretty much your lot food-wise. Our platters included a Guinness and porter cheddar, smoked Stilton and a French petit brie. Meats come from a supplier called Jamones Exquisitos; an accurate description of the acron-fed Jamon Iberico, Iberico chorizo and fennel and paprika salamis. The crackers are stubby oat things, thicker than your usual wafer while sweet, compressed seedy crackers and almost bitter Swedish flatbreads offer contrasting textures and tastes.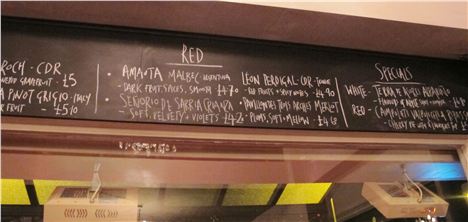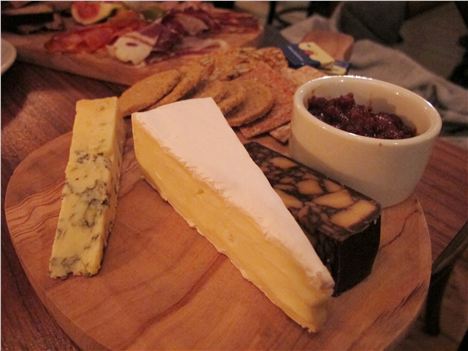 Cheese board (£6)
To think that last time I was in London I had three wisps of salmon for £13.50 at The Wright Brothers in Spitalfields, Wine & Wallop's £6 was an amazing deal. My only suggestion would be a local focus for the cheese. Burt's Blue, for example, is made just up the road - or what about Cheshire?  
Still, Wine and Wallop met our needs – and then some. The toilets were nicer than my bedroom and everyone was charming (if a little forgetful). The cops were not called and no one was sick; I even charged my phone behind a radiator on the other side of the room and didn't think for a second that it wouldn't be there when we left. At times I felt a bit clichéd for liking it so much, but I have to hand it to Justin and co, a wine-bar-themed–wine-bar in Didsbury is a brilliant idea.
Follow @ruthallan on Twitter.
Wine and Wallop, 97 Lapwing Lane, Didsbury, Manchester. 0161 446 2464
Rating: 14/20
Drinks: 4/5 Good range of wines and beers to please novice and experienced wine and beer fans.   

Concept: 4/5 A wine bar themed wine bar - what's not to like?
Service: 3/5 Aims high, doesn't always hit the target.
Ambience: 3/5 Warm and buzzy, lacking a little je ne sais quoi.
PLEASE NOTE: Venues are rated against the best examples of their kind: fine dining against the best fine dining, bars against bars, cafes against the best cafes. Following on from this the scores represent: 1-5 saw your leg off and eat it, 6-9 get a DVD, 10-11 if you must, 12-13 if you're passing, 14-15 worth a trip, 16-17 very good, 18 exceptional, 19 pure quality, 20 perfect. More than 20, we get carried away