HARDENED old hack I am, but what's better than when food surprises, when your mind gives a little leap as unfamiliar combinations dance on the tastebuds?
Memorable dishes that linger long in the mind and issue unbidden summons to return
As a food writer that moment of surprise is what you yearn for and when it happens it all becomes worthwhile.
You see being a professional food writer can be a chore. No, honestly, dirty lonely work, a desert of monotonity, but somebody has to do it, like mining.
Something like that.
As usual with unfamiliar dishes it's best to ask for help. We received aid from one of the owners, Srini, a charming and friendly gentleman, plainly delighted with the 80 people he had dining on a Monday evening. Remember this is a recent opening.
Srini is in pursuit of the genuine article with his food, if less so with the interior. The theming is bold, vivid and enjoyable. Murals and wall decoration work well but the piled up shipping containers holding the kitchen and bar are perhaps a 'street-food' affectation too far.
Outside there's an enjoyable contrast between the curious design of the building housing the Indian Tiffin Rooms, the latter's piles-of-spice coloured interior, and the humdrum nature of its neighbour, one of those Chardonnay and cashback Sainsburys. Still for a fringe city centre development such as First Street, catching Indian Tiffin Room was crafty. It creates another huge reason to visit First Street alongside the fine HOME arts centre and the sharp Innside Hotel. Pizza Express was a mistake and squats in Tony Wilson Square, an insult to the latter's originality.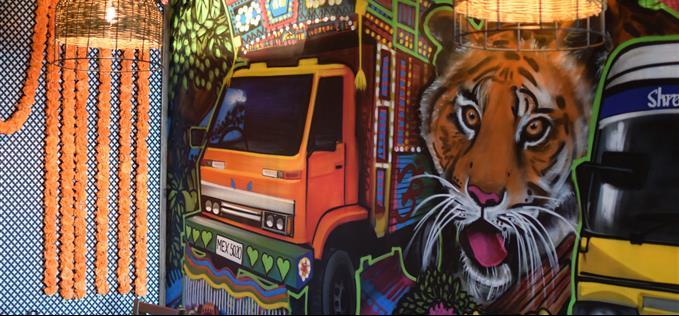 Vivid interior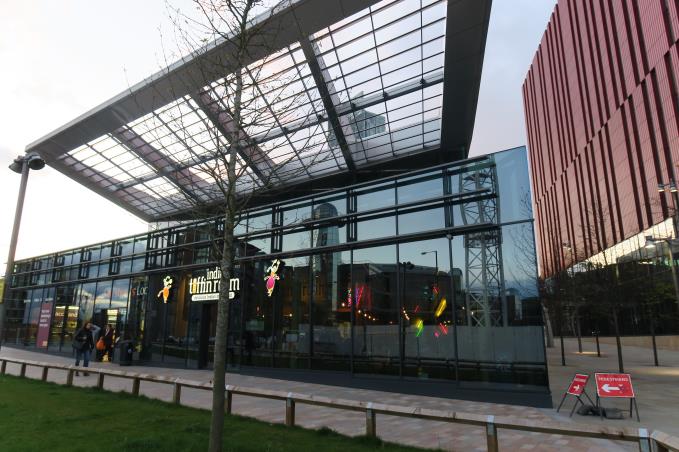 Odd building: Sainsbury's and the excellent Indian Tiffin Rooms
You forget all that when the food comes.
The two trumpet-blowing starters were the Paani Puri (£3.95) and the Goat Keema Pav (£5.50). The first was cunningly crafted from puff pastry hollowed out by some alchemy and containing cute potato balls. There's a tub of minty water amongst these dancing, dainty titbits which you pour inside the pastry and then chuck in your mouth. The result is a hugely refeshing explosion of flavour.
The goat came with peas and spices with a consistency that resembled baby food - and I mean that as a compliment. There was a lavishly buttered bap which you layered with the goat to create a heavenly butty.
The other starter of Bhel Puri (£3.95) was a crunchy curiosity coloured and livened with pomegranate. There was puffed rice, a lifting chutney, spuds again and a bizarre but attractive crushed crispy pastry. It came in a winsome pile and for me defined the ultimate take on Bombay Mix, which I'm not sure pleased Srini.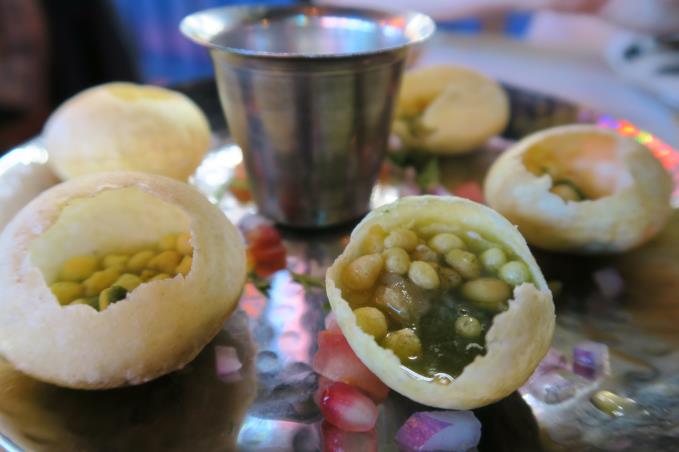 Paani puri (£3.95)
Goat Keema Pav £5.50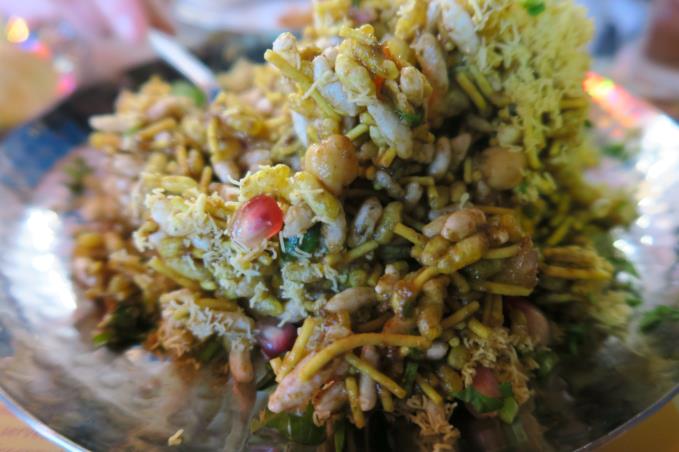 Bhel puri £3.95
The lamb chops (£7.25) also a starter, was a classic tandoor dish, more familiar this time but still possessing a boisterous character often missing from lesser establishments. The signature madurai dosa (£4.85) was a real joy, a sort of rice and lentil crepe, which you curled around a lush, leaping, chilli chutney and spud masala filling. Jump at this one.
Lamb Nalli Nihari (£13.50) was a big dish and absolutely glorious. It looked glorious too, with an artful chilli, scarletting the onion and bone of lamb shank. The drop-from-the-bone flesh was sat in a thick, glutinous curry sauce which was just right for the lamb. The rotis that came with it worked just fine too.
There had been enjoyable heat with most of the meal thus far but the real lip-burner was the Dhaba style chicken (£14.95) with naan. This was a split half of perfectly timed chicken with a layer of spices and herbs that gave a proper kick of an introduction to the white flesh beneath.
Both these dishes came from the Dhaba section of the menu, apparently Dhabas are roadside eateries. ITR has a strapline of 'Indian street-food'. I usually run a mile from such descriptions, especially when attached to sit-down restaurants, but here it seemed a good fit.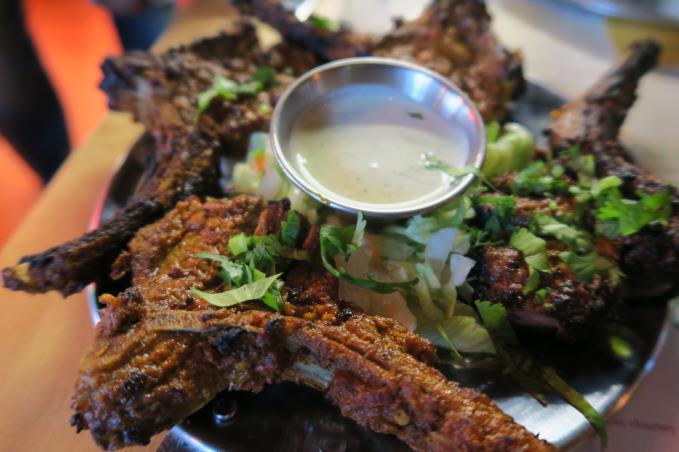 Lamb chops (£7.25)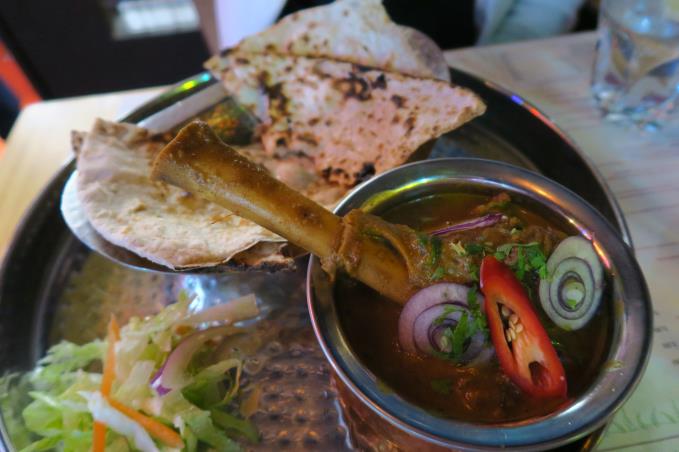 Lamb Nalli Nihari £14.95
Dhaba style chicken

A pudding of gulub jamun (£3.50), in otherwords, sweet, sweet, fried milk dumplings with a hint of rose was a lovely way to end the meal and sit back, sigh and wonder what's going on with Indian food in the city centre.
Nothing happens for ages and then in a matter of months two restaurants come along that surprise, delight and transform the experience. Asha's and the Indian Tiffin Rooms, at opposite ends of the dining spectrums, fine dining and 'street-food' respectively, provide memorable dishes that linger long in the mind and issue unbidden summons to return.
Other people love it too.
Tom Parker Bowles loved it when he'd visited Manchester recently and Gordo and I had been his dining companions (click here). Tom provided the charm, Gordo language as vivid as the Indian Tiffin Rooms decor, but we all agreed the place was an easy recommendation.
You should go. You really should.
Indian Tiffin Rooms, 2 Isabella Banks Street, First Street, Manchester M15 4RL. Tel: 0161 228 1000
Rating 17/20
Food: 8.5 (bhel puri 7.5, paani puri 9, goat keema pav 9, lamb chops 8, lamb nalli nihari 9, dhaba chicken 8, madurai dosa 8)
Ambience: 4
Service: 4.5
PLEASE NOTE: All scored reviews are unannounced, impartial, paid for by Confidential and completely independent of any commerical relationship. Venues are rated against the best examples of their type: 1-5 saw your leg off and eat it, 6-10 stay in with Netflix, 11-12 if you're passing, 13-14 good, 15-16 very good, 17-18 excellent, 19-20 pure quality.