WITH its pedestrianised streets and olde worlde, 'black and white', buildings Chester is a sleek town and has probably been that way since the Romans built themselves a fort here. Think posh shops. Think buses full of tourists. Think tea rooms. But a couple of times a year everything goes ape, Ladies Day at Chester Racecourse sees the town transformed by teams of remarkably over-refreshed women dressed to the nines. Hats or fascinators will be worn.
Those miserly Michelin inspectors should probably front up a second star
In the middle of town there's the Chester Grosvenor, an old-established and pukka hotel that exudes a reassuring calm. On Ladies Day the liveliest crowd gravitates to the La Brasserie, with the Arkle bar packed and the smart restaurant named for Simon Radley gently going about its business. In 1990 this restaurant got a Michelin star and surprisingly, 25 years later, it is still Michelin spangled. There's something odd about the methods of the Michelin inspectors, they're asking us to believe that in a quarter century the cooking here has never got worse - so that they lost their star - or improved enough to warrant two stars. Simon Radley has headed up the kitchen for the entire time, which is no mean achievement.
When you ring to book a table, you will be instructed to arrive 30 minutes early (so that you can have a drink and canapés in the bar). Then the booking lady asks whether you will be wanting the tasting menu or the à la carte – which is pretty silly as you may not have seen any menus at this point. There's a hint of the strict nanny about this booking dialogue that irritates. The dining room is spacious and tables are well spaced, design-wise the room seems a tad old-fashioned but that may be due to the malevolent aura of the swirly carpet.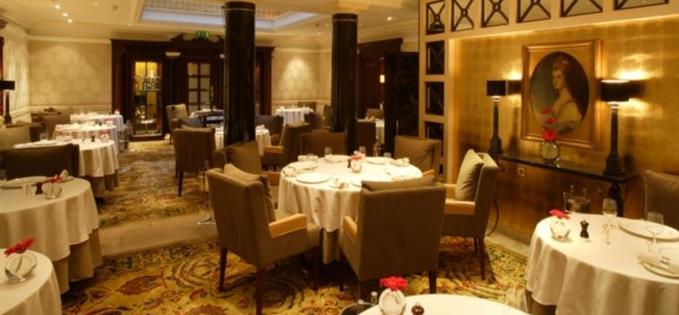 As an opening move a trolley pitches up table side and you can choose from nine different breads. They are terrific, and come with top quality unsalted butter. Don't miss the French baguette or the dark rye. There is a talented baker in this kitchen. Radley's dishes are considered and complicated. Plenty of interesting combinations of taste and texture, but ultimately perhaps one element too many on each elegant plate.
From the starters 'Heritage potato – Loomswood duck ragout, fondant liver and tit bits' is very rich and very satisfying; or there's 'Native lobster – butter poached, caramelised veal sweetbread, almond milk and flavours of curry' a brilliant juxtaposition of sweetbread and lobster even if the "flavours of curry" were a little on the subtle side.
Main courses range from 'Herdwick – Lake District lamb collection, black olive and ewe's curd Niҫoise' perfectly cooked lamb, rewarding flavours; to 'Edge's rare breed – fillet of beef , red wine bresaola, scorched leeks, cracked mustard, wild, sweet and black garlic'. Again the meat cooked precisely as asked for, but one slight niggle, some elements of the dish very cold – the price you pay for ultra-complicated presentation. 'French rabbit – scampi tails, confit of young leeks, morels and turnip tops'. Delightful. The rabbit not at all dried out, another great combination of flavours. The wine list here is a book and the sommelier obviously knowledgeable.
Customers who have done very well at the races can call for their favourite four figure bottles. But for mere mortals there is not much priced at under £50 a bottle. Before the puds, treat yourself to a fly past by the heavily laden cheese trolley. The cheeses look good and the majority are on the point of ripeness, what's more everything at room temperature. Let's bring back cheese trolleys.
Come pudding time lovers of chocolate have a difficult choice – there's a 'Chocolate Lime – iced Kalamasi, chocolate ravioli, coconut and white rum' and 'Cremeux – estate chocolate with hazelnut praline and warm toffee' both push the pleasure button.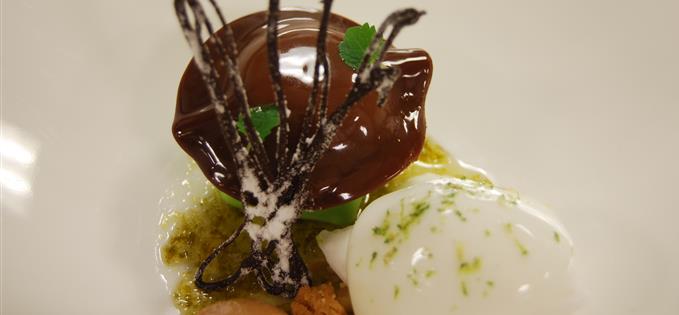 Simon Radley at the Chester Grosvenor is a good restaurant. The service is somewhat old-fashioned in style but friendly enough, the kitchen knows its stuff, and those miserly Michelin inspectors should probably front up a second star… the only big but is that everything is too expensive. The Tasting Menu is £111.37 (including service) per diner. The à la Carte menu is three courses for £84.37 (including service). Good food but mercilessly expensive.
All scored reviews are unannounced, impartial, paid for by Confidential and completely independent of any commerical relationship.
Simon Radley at the Chester Grosvenor, Eastgate, Chester, Cheshire, CH1 1LT. 01244 324024 www.chestergrosvenor.com
Rating: 17/20 (remember venues are rated against the best examples of their type - see yellow box below)
Food: 9/10 (bread trolley 9, heritage potato duck ragu 8, lobster and sweetbread 9, French rabbit with morels 9, Herdwick lamb 9, chocolate cremeux 8, cheese trolley 10)
Service: 4/5
Ambience: 4/5
PLEASE NOTE: Venues are rated against the best examples of their kind: fine dining against the best fine dining, cafes against the best cafes. Following on from this the scores represent: 1-5 saw your leg off and eat it, 6-9 get a DVD, 10-11 if you must, 12-13 if you're passing,14-15 worth a trip,16-17 very good, 17-18 exceptional, 19 pure quality, 20 perfect. More than 20, we get carried away.