IT'S been nearly three years since Gordo reviewed this blogger's favourite back in October 2012, a life time in restaurant years.
They were so heavily packed with flavour, they would warrant an excess baggage charge
This Rusholme resident has been doing its thing for two decades or so, but it was the next generation of Mughli's and their excellent social media management that really brought it to the attention of the Manchester's food-loving Twitterati. A humorous, approachable tone and frequent engagement tempted many in, but could the food and a more contemporary refurbishment make it stand out?
The Curry Mile is a great idea on paper, but in reality, it's a chaotic mishmash of terrible drivers, litter, cheap neon lights and generic dishes which most likely spring from one base-sauce in a giant communal saucepan.
Mughli decided to come at things from a different angle. Realising that many people like a story with their samosa, they tapped into the trend for street food and its 'discovery' in the days of the British Empire.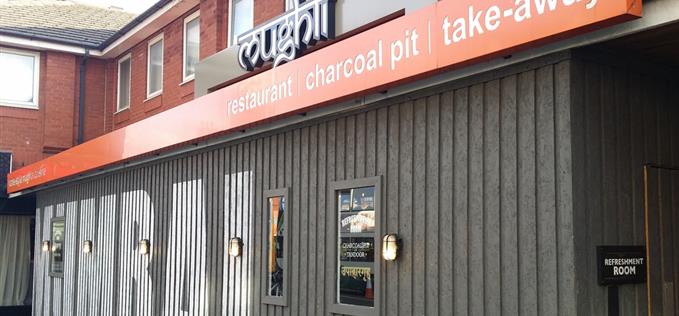 Mughli, Curry Mile
Mughli's menu really is a thali of two halves. On one side is a tempting range of snacks, starters and street food designed for sharing and it makes great reading. Along with the dish descriptions you get a miniature geography lesson with notes explaining the region the dishes originated from. Appetisers from Delhi, snacks from Shimla and Lahore, Kati rolls from Kolkata, Pau from Mumbai and Chaat from Uttar Pradesh, remind us that India isn't a country where 'Indian' food comes from; it's a vibrant sub-continent with a myriad of cooking styles, traditions, ingredients, spice mixes (masalas) and dishes.
Papri Chat (£4.50) are seasoned pastry wafers (homemade Doritos) topped with tender chick peas bound in a spicy onion and tomato salsa, drizzled with creamy yoghurt, tangy tamarind and pomegranate seeds - a delicious but messy combo. They explode when you bite into them, so I do not recommend this appetiser as a first date dish or for eating over a nice carpet. Tilt your body at a 45° angle over a plate, have a ready supply of napkins and just enjoy making a beautiful mess.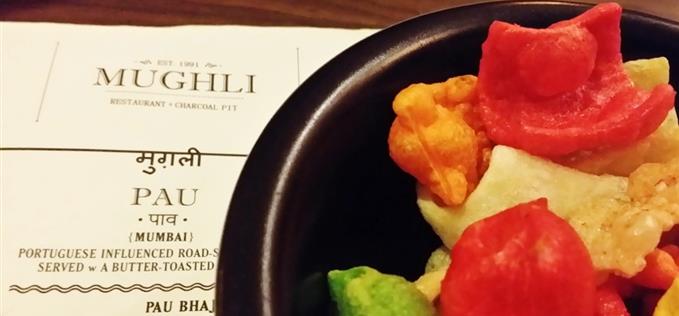 Mughli menu and 'Far Far' snacks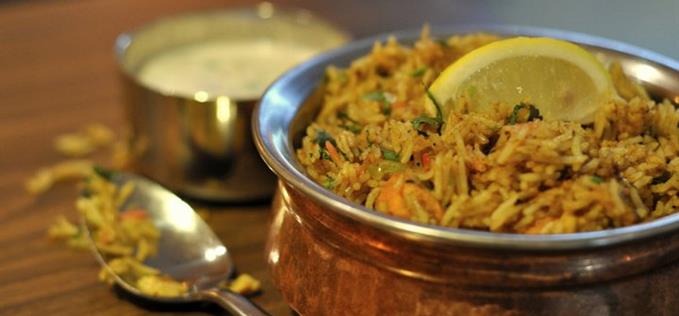 Mughli biryani
We went as a family. There's no devoted children's menu, but there's plenty to keep kids interested. My daughter is a huge fan of carbs, so she's amazed at being allowed to eat things that are larger than her head, such as naan bread and popadoms. My seven year old boy has developed a Pavlovian response to coming on reviews with me. When I tell him we're reviewing, he only hears 'mmm… king prawns', so we ordered a platter of King Prawns with Tamarind and Tandoori Masala Spices (£7.50/£15) and a Mughli Mixed Grill (£13) with Chicken Boti, Tandoori Chicken, Lamb Chops and Koyla Kebabs. The kids worked their way through it all with the help of a couple of vats of tap water, because Mughli are not afraid of a chilli or five. All proteinous elements were blackened from the grill and tender, but subtle they were not; they were so heavily packed with flavour, they would warrant an excess baggage charge.
That lot kept the kids busy for a happy, fire-breathing, water-chugging time, while we grown ups made a dent in the other side of the menu where the curries and biryanis live. My husband always makes a show of reading the menu before ordering, but there's not much that can tempt him away from the means test that is a Jalfrezi. We both know, that he knows, that I know he's going to order one, however much he pretends that he's going to try something different.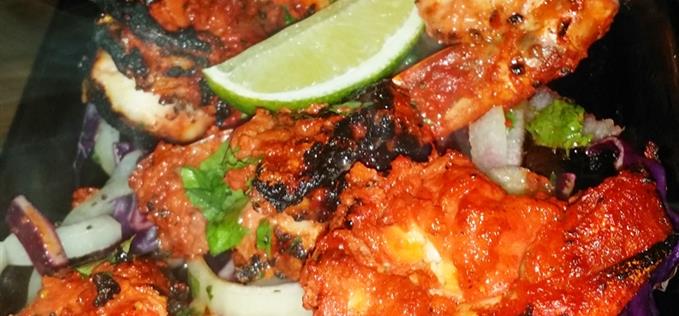 Mughli Mixed Grill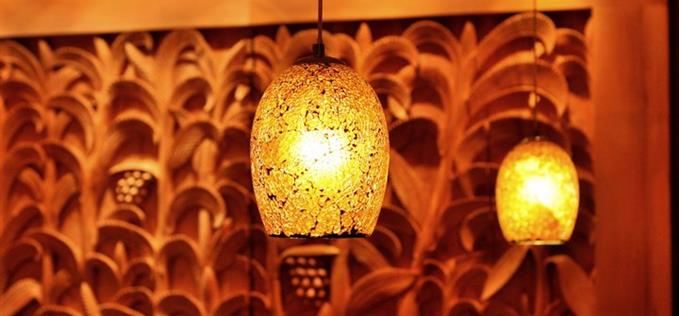 Mughli
With Mughli, this is a grass roots Jalfrezi which they call Sindhi (£9) – a regional variation of the more traditional version with mixed peppers, green chilli and dried fenugreek. Nothing remotely generic about this one, it sang with fresh vegetables and whole spices, yet my husband's alpha male protestations that 'it was only medium-hot' were betrayed by a few hefty gulps of Mughli beer and more than a few clearings of the throat.
I chose from the section sub-headed 'Shorbay', or slow cooked spiced stews, which they differentiate from curries. Channa Daal Gosht (£9) was described as 'a rustic, Punjabi favourite combining lamb on the bone, split yellow lentils and caramelised onions.' A side dish of smokey, spiced, oven roasted, mashed aubergine bharta (£4) made for a heavenly combination that is going to be difficult for me to choose against next time.
I came at this review with my mind free of influences and preconceptions. If I hated it, I would have happily risked the wrath of a thousand food bloggers, but I didn't. When I was a student, I spent my Sundays conducting a serious study into the best chicken kebab in Rusholme (Rusholme Chippy, hands down by the way). With a green light from Manchester Confidential, I'd happily work my way through the curry houses on your behalf, but I suspect Mughli is already ahead, by a curry mile.
All scored reviews are unannounced, impartial, paid for by Confidential and completely independent of any commerical relationship.
Mughli, 30 Wilmslow Road, Rusholme, Manchester, M14 5TQ, 0161 248 0900
Rating: 14.5/20
Food: 7.5/10 (papri chaat 8, king prawns 7, mixed grill 7, sindhi 7, Channa Daal Gosht 8, aubergine bharta 8)
Service: 4/5 sharp
Ambience: 3/5 buzzing
PLEASE NOTE: Venues are rated against the best examples of their kind: fine dining against the best fine dining, cafes against the best cafes. Following on from this the scores represent: 1-5 saw your leg off and eat it, 6-9 get a DVD, 10-11 if you must, 12-13 if you're passing,14-15 worth a trip, 16-17 very good, 17-18 exceptional, 19 pure quality, 20 perfect. More than 20, we get carried away.