I DIDN'T know whether to eat the prawn cocktail or wear it like a hat. I should have worn it like a hat.
I really wanted Hotel Gotham to be so good I would never stray and think of another Manchester hotel again
Hotel Gotham appreciates its excess and this £12.95 creation had more melodrama than a Jeremy Kyle episode and about as much class. It came in a foot high glass about eight inches wide filled with a crustacean to pull apart, some other gooey cooked crustacea, lemon, cucumber, tomato, a pot of yellow stuff, leaves and a huge piece of celery sticking out of the top like a prawn's tail - which is presumably what it's meant to represent. It's a silly dish.
The food at Honey Restaurant in Hotel Gotham makes you scratch your head.
There are good parts, the chicken and ham pie, despite its daft pastry parcel hat, was thoroughly decent; good textures, flavours, jolly little peas and a nice kick of mustard.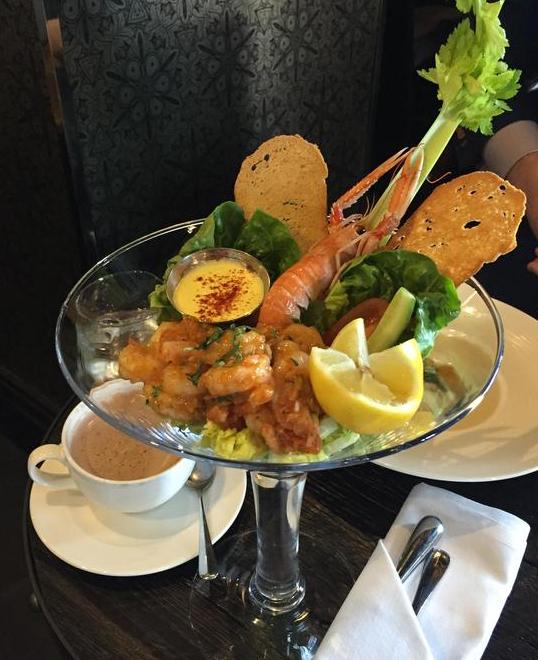 Thanks to @annanugent22 for this picture, our cameras were too small to capture the scale of the prawn cocktail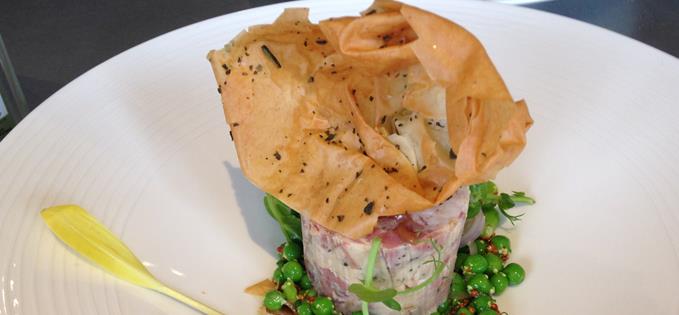 Chicken and ham pie, but not as we know it
But a main dish of Mediterranean vegetable lasagne (£14) is as ugly as sin and as clumsy as a Paul Scholes' tackle. This is not a lasagne, it's a cheesy pile of tomatoes and vegetables with the pasta to one side. It's mush with rocket. It's not very pleasant.
By now, of course, you realise what's happening. The chef is playing that game whereby the dish descriptions are there to tease the customer as the food appearing from the kitchen tends to bear no relation to the name on the menu. Thus the chicken and ham pie was actually a ham hock terrine.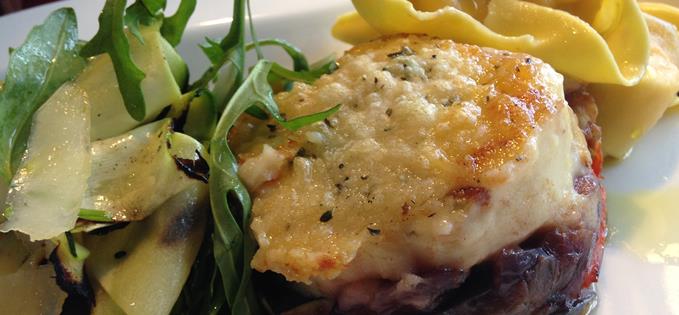 Not lasagne
This messing with the customer continues throughout the meal. The lamb hotpot (£18.50) is no such thing but at least tastes of real food with its herby cutlets, decent shoulder and a filling mash-up of lentils, spuds and cabbage. Sadly on our visit it was woefully overcooked.
The curried monkfish fillet (£17.95) is another weirdo with decent lumps of fish on dead greens having a scrap with a pineapple salsa... and is that watermelon there? It's a bit cold as well. The cauliflower pakoras with this aren't bad as it happens.
Not lamb hotpot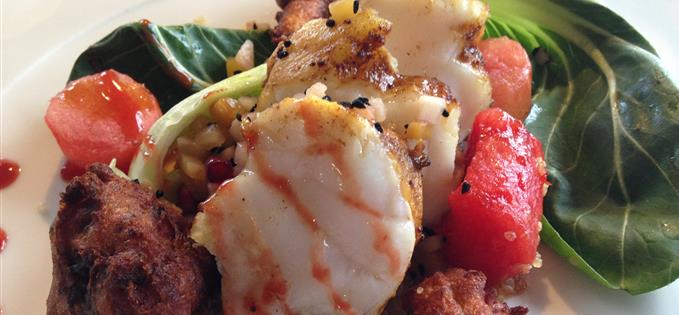 Monkfish freak show
At least the rib eye (£27.50) and the fillet (£29.95) are more or less un-reconstructed. The cuts are from Cumbrian Charolais beef, rare breed stuff, and are good but a little lacking in character. Sauces are decent too, while the sides of truffle fries (£3.95), skinny fries (£2.95) and spring vegetables (£4.50) all work.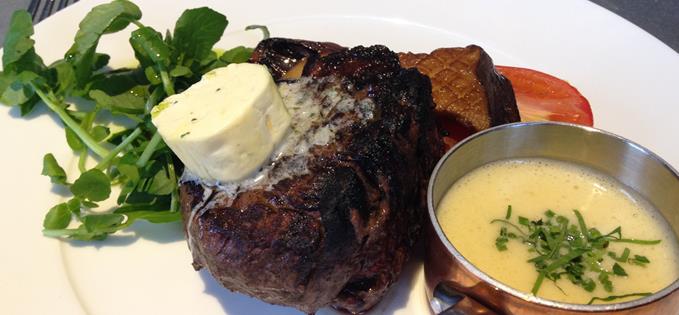 Meat, looking like meat and tasting of meat
Of course when we get to pudds the Bakewell tart (£7.50) isn't really a Bakewell tart but is sweetness and tartness and with rhubarb, pistachio and clotted cream. At least the cheeses, a fine Lancashire from Mrs Kirkham's, a lovely Blackstick's Blue and so on are reassurringly normal. The wines and other drinks such as a fine vodka martini show there is no problem in that department.
But overall I have no idea what Honey Restaurant is up to and I went twice to make sure I wasn't being hasty.
Out of the windows high in Honey Restaurant you can see into the former space of Room Restaurant. They used to deconstruct, say, a fish and chips or a hotpot very cleverly, and when they did so they had the waiting staff explain what was about to happen. This gave customers the option to gather their belongings and leave if it all sounded too crackpot.
Here there is no explanation. Just confusion. The kitchen seems confused, the staff seem confused, the customers are utterly bewildered. Then the bill comes and punters realise this place is expensive too.
Maybe customers are paying for the location. Because this is utterly splendid. The room in the restaurant is relatively modest in terms of decoration but you don't even notice it to begin with, instead you gaze through the arched windows at the city outside. There is a real heart of the city feel.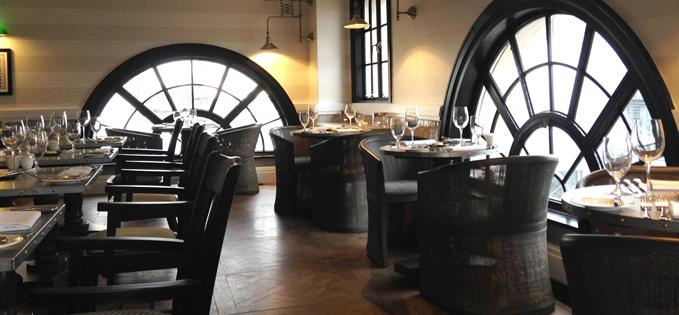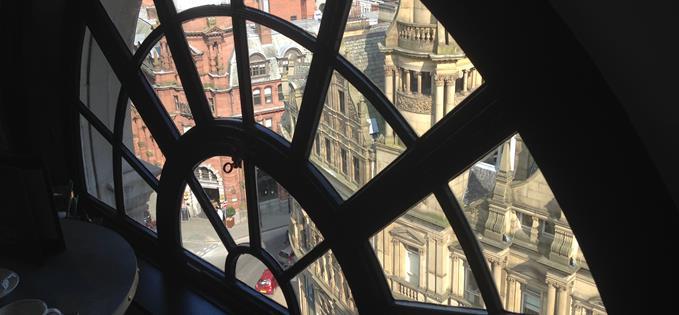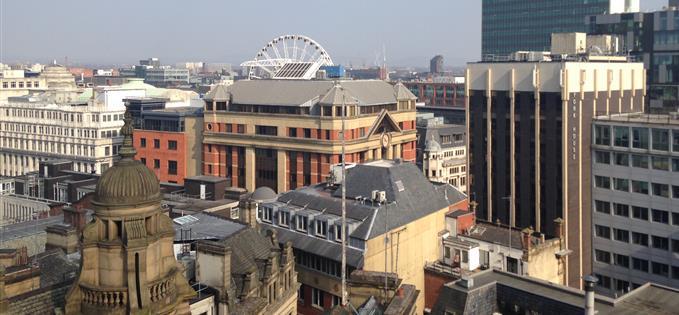 Then the food arrives and it all goes south.
The whole problem with Honey Restaurant stems from the 'concept' behind the hotel which buries everything in its path.
Themes can be bled dry until they become the zombies of design. A funny idea half pissed on a late Friday boardroom meeting becomes so set in stone no-one dare tell the CEO to stop running with it until the dream piles up in the corner like a pile of disgarded luggage that is not a pile of real discarded luggage but a 'sourced' pile of 'themed luggage'.
There is a lot of abandoned mood-setting olde worlde luggage piled in corners at Gotham including in the wonderful bedrooms which might be a problem if you get back late one night drunk and decide to look for your toothbrush. "Ish it in thish bloody case (hic)? Or thish bugger here?"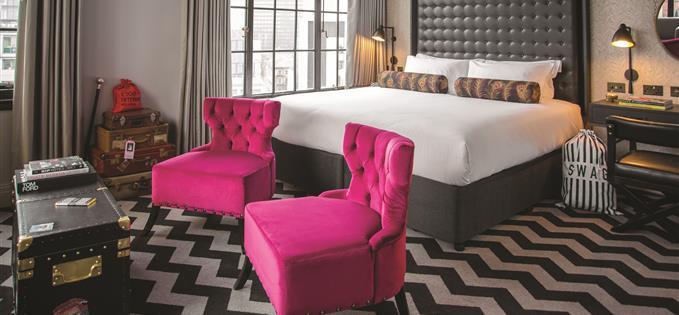 Some themed discarded luggage in a fine bedroom
The theming starts with the name. The Gotham moniker has proved controversial in Manchester. It's fun but hardly celebrates the building, a former Midland Bank, and a work of genius by the distinguished architect Edwin Lutyens.
In effect, the name turns one of the top five buildings from between the World Wars in the North West into a cartoon. In this case a cartoon in DC Comics, one with Batman, the Riddler and the Joker and comes laden with overtones of Prohibition-era gangsterism. The latter loads oddity upon oddity, you instinctively know the managers here would have been Dad's Army Captain Mainwarings not bent extras in a Raymond Chandler novel.
Yet the indefatigable pursuit of the theme is sort of impressive, if remorseless, from the waxed curl on the concierge's moustache to the coy sculptures and the Remington typewriters over each urinal for men to tap while relieving themselves. The problem is the kitchen felt it needed to respond to this - or was told it had to - and thus the menu is bedlam. It would have been better if the restaurant had calmed it down. I would have been very happy with a Grill on the Alley type menu to accompany the views.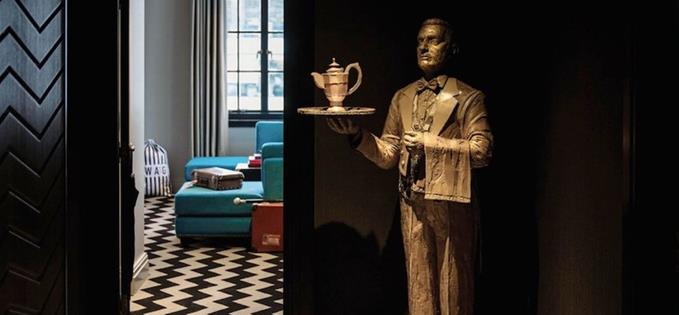 I find how things have turned out a huge shame. I've been deeply in love with Edwin Lutyen's old Midland Bank for several years now, occasionally stroking its milky white lush Portland stone curves and folds as I pass. I really wanted Hotel Gotham to be so good I would never stray and think of another Manchester hotel again, but that's not to be. Instead Hotel Gotham has decided to dream up characters to interact with us such as Lord Salford and Lady Didsbury and then suddenly swoop away from the theme to name a hotel room The Morrissey, then swoop back on message with an inhouse paper called the Gotham Bugle. Heaven knows I'm... you know the rest. It can all get very childish.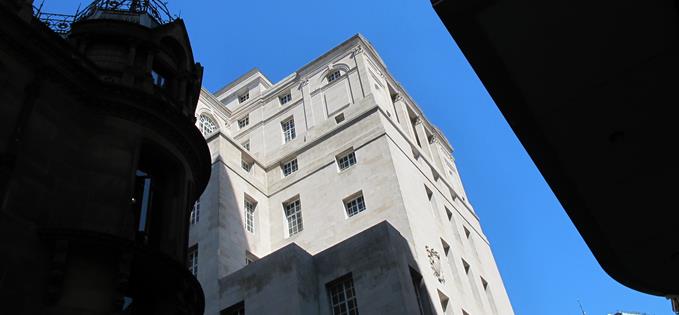 I love you, Mr Building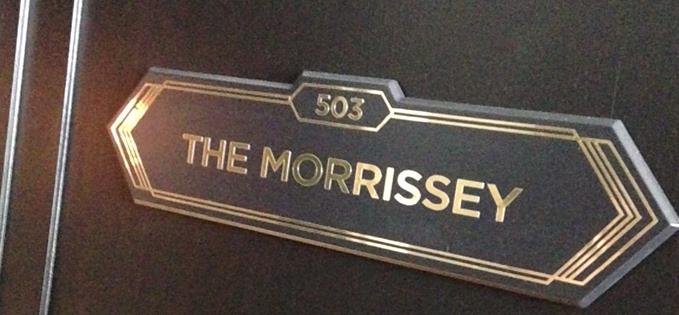 This charming nameplate
There's a final gripe. The bar is called Club Brass. Yes, brass can be an old-fashioned Northern term for money and therefore associated with banking, but it's more commonly a euphemism for a prostitute. How did this get through all those pre-opening meetings?
The fact Club Brass has lovely views from its gorgeous balconies is some consolation and means, of course, diners can take a drink before a meal or relax after with the city spread like a blanket below.
Except they can't.
Brass is for hotel residents only or else you have to pay £750 to become a member. This means diners in a restaurant with top dollar prices must eat there and then bugger off. They are immediately second class citizens, a level below, literally and figuratively, residents and members. This situation is so unusual no other place in Manchester or in the North West - as far as I know - does anything similar.
It goes deeper than this. If management had done their homework they would have realised members bars - sensibly they've not called it a VIP bar - have not worked in Manchester for fifty years. Thank God. The ones that have tried have been populated by aggressive boors lacking all poise and style, fond of buckets of champagne and chips on their shoulders. Maybe this one will be different, but that'd be a first.
I like to think (or kid myself) that Manchester is too modern and democratic for private members clubs. I like to think we don't want exclusivity, but we do, from time to time, want glamour, good looks, and above all common sense.
Hotel Gotham has lovely bedrooms, a high level of finish, you feel its heart is in the right place (aside from the error with Club Brass) but it needs to consider the common sense behind some of what it has done. In a few months it should be brave enough to take another look at one or two things, listen to what people have said and written, and adjust the excess.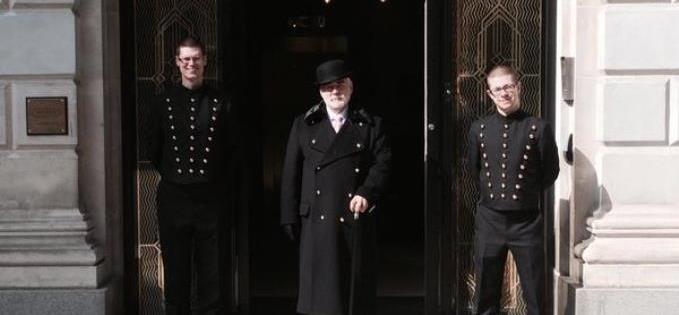 The concierge is a proper gent
You can follow Jonathan Schofield on Twitter @JonathSchofield or connect via Google+
All scored reviews are unannounced, impartial, paid for by Confidential and completely independent of any commerical relationship.
Honey Restaurant, Hotel Gotham, King Street (entrance Spring Gardens), City Centre, M2 4WU.
Rating: 11/20
Food: 5/10 (prawn cocktail 3, chicken and ham 6, hotpot 5, ribeye 7, fillet 7, lasagne 3, monkfish curry 3, Bakewell tart 6, cheese 7)
Service: 3/5
Ambience: 3/5
PLEASE NOTE: Venues are rated against the best examples of their kind: fine dining against the best fine dining, cafes against the best cafes. Following on from this the scores represent: 1-5 saw your leg off and eat it, 6-9 get a DVD, 10-11 if you must, 12-13 if you're passing, 14-15 worth a trip, 16-17 very good, 18 exceptional, 19 pure quality, 20 perfect. More than 20, we get carried away