WHO knew the day would come when there would be somewhere you'd really want to eat in Chorlton? Not me, that's for sure. It's not that Manchester's favourite suburb is a wasteland when it comes to tucking in - but we're talking everyday kind of grub here, not the stuff that butterflies of excitement are made of.
The giant cauliflower arancini with almost acrid cauliflower 'steak' is so good I return twice in five days
Hurray, then, for Gray's Larder, a new restaurant where 1847 used to be. Head chef is Anna Fysh, who learned her craft at the Printworks in Tiger Tiger and Henry J Beans. So far, so worrying. But this is her first solo outing, and the cooking oozes the big hearted joy of a labradoodle off the leash. The meal reminds me of Stosie Madi's cooking at the Parkers Arms, or Simon Rogan's Mr Coopers House. Great British bistro food, served with an Italian swagger.
Anna's passion for seasoning works particularly well in starters like honeyed pumpkin seeds with goats cheese rolled in ras el hanout (£5). Earthy, hazelnut aromas abound, and the sweet-salt blend is spot on. Elsewhere, candied bacon cosies up to corn and pork belly croquettes (£5.25) while mackerel pate (£4.75) just inches into too-salty territory. Happily, the fish is the only blip in a stellar show.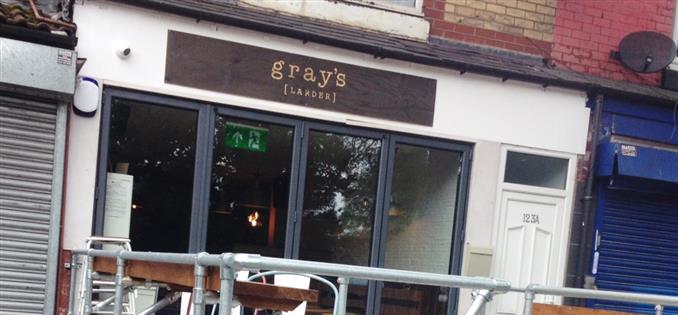 Gray's on Manchester Road
Mains change frequently and might include salmon fishcakes with ginger, wasabi and sesame, hearty rib-eyes and a stout-based Lamb Henry. My 'bass of the day' (£14.75) is as homely and delicate as a doily. A base of caponata sings with pine nuts, juicy onions, strangely moreish celery and tomato goo, the fish perching under a parmesan shade on top. The giant cauliflower arancini (£13.50, main image) with almost acrid cauliflower 'steak' is so good I return twice in five days.
Décor is unobtrusively pleasant. Brown banquettes mix with cream tones and statement bulbs. Little plants take the place of flowers on the tables. There's even a patio outside, which manages to feel cool and exclusive while being constructed from scaffolding and located just inches from one of south Manchester's busiest roads. It's a serious upgrade from the bare-bones unit that 1847 used to trade from at any rate.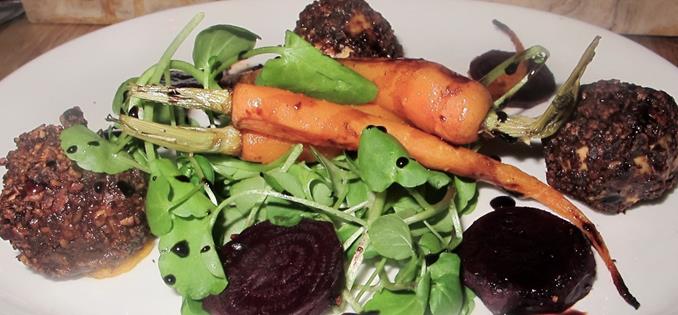 Goat's cheese, baby carrots and baby beets (£5)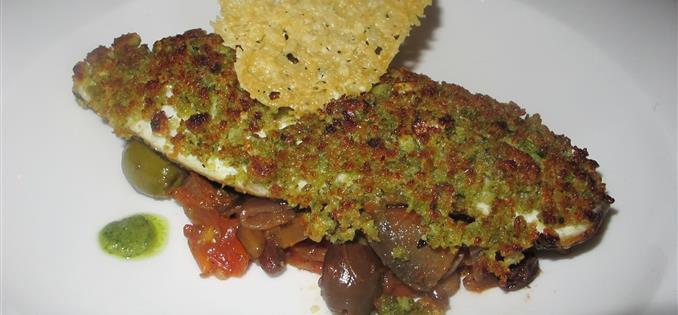 Bass of the Day perching below a parmesan shade
Yet more class is evident on the wine list where English whites such as Chapel Down Chardonnay (£37) mingle with trendy Europeans. The varietals and blends on offer, such as our grown-up Portuguese '850' (red, £22) or the house shiraz (Big Bombora, Australia, £20) are well suited to dining. Plus there's great G&T selection.
Two pretty much perfect desserts close the show. My friend has the flourless chocolate cake (£5.25) served with an ale cream that tastes reminiscent of a Guiness head. Strangely yeasty, almost bitter; the resulting combination is an adult dessert of such mind-boggling complexity we're unsure whether to laugh or cry. I have the seriously salted caramel tart (£5.50), with a thin, crisp base, rich dark chocolate and a little pillow of unsugared lime cream. I occasionally wonder what salted caramel was before it became a thing – was it simply caramel? Either way, this is the real deal.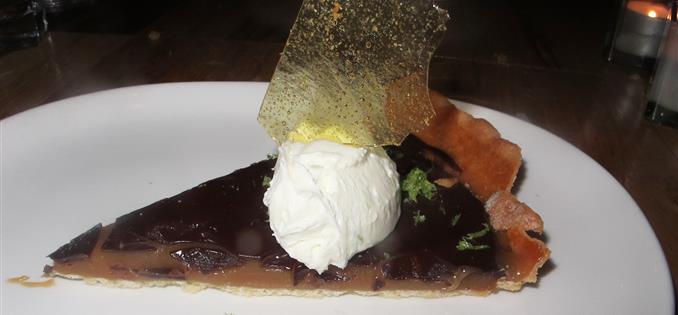 Salted caramel
So: the cooking at Gray's is not just good, its interesting. Even better, a sense of naturalness is the restaurant's strength and nothing feels forced or fancy. Given that it was almost impossible to get a table on both visits, it looks like Chorlton's finally got a neighbourhood restaurant worth talking about.
You can follow Ruth Allan on twitter @RuthAllan
Gray's Larder, 123 Manchester Road, Chorlton M21 9PG. 0161 286 1961
Rating: 16/20
Food: 8/10 (goats cheese 7, croquettes 7, mackerel pate 5, sea bass 9, arancini 8, chocolate cake 9, salted caramel 9)
Ambience: 4/5
Service: 4/5
PLEASE NOTE: Remember venues are rated against the best examples of their type. All scored reviews are unannounced, impartial, paid for by Confidential and completely independent of any commerical relationship. Venues are rated against the best examples of their kind: fine dining against the best fine dining, cafes against the best cafes. Following on from this the scores represent: 1-5 saw your leg off and eat it, 6-9 get a DVD, 10-11 if you must, 12-13 if you're passing, 14-15 worth a trip,16-17 very good, 17-18 exceptional, 19 pure quality, 20 perfect. More than 20, we get carried away