GORDO has only felt helpless four times in his life.
Remember the first time you ate Peking ribs? They were the best things in the world. Arthur's last week were better...
The first was aged thirteen. Jacqui Thomas, who was fourteen (an age gap of sixty years back then) let this podgy, freckled, red-haired, hormone-riddled mess look down her blouse. On the way home, just before midnight and staring into an electric-white full moon, Gordo made God a promise - If she'd let him off, he'd never go near a girl again. This lasted until she got on the bus the next morning and winked at him. Gordo was her slave for three years, finally breaking free with the help of his unreciprocating best friend, the Thin White Duke and Tina, the beautiful barmaid from the Legh Arms where Gordo worked as a KP at weekends to keep Miss Thomas in fags and weed.
The next time Gordo felt helpless was waking up in hospital after being kicked near to death by a group of fellas outside a nightclub for confronting a bloke who was bullying some young woman. Gordo vaguely remembers Hoss from the Ponderosa stamping on his skull until he passed out. This resulted in Gordo's face being photographed for the front page of Maxillofacial Reconstruction Weekly.
The last time was seeing himself in another gutter as Gordo slid down the slippery slope into abject bankruptcy due to the lesser-known Internet recession of 2002, suffering from manic depression along the way. It was here Gordo started his life off from scratch, cutting free his ties with Alderley Edge to live life in a Fallowfield bedsit, learning a couple of important life lessons along the way:
1. A Friday evening spent on eight pints in the local followed by a chippy supper was just as enjoyable as a night on the Chateaubriand and claret in The French at the Midland.
2. The thinly sliced salt and pepper pork chop with rice in the Asian-fusion restaurant down the road, aptly named Fuzion, for under six quid filled you up to the top and was bangin' tasty.
It was over a decade ago that Gordo last ate these, but it all came flooding back the other day when the Fat White Duke, feeling as though he'd entered a time warp, was sat in his car outside the very same gaff. Five minutes later he was sat on the bench with a pot of green tea and a menu that hadn't seen change in eleven years.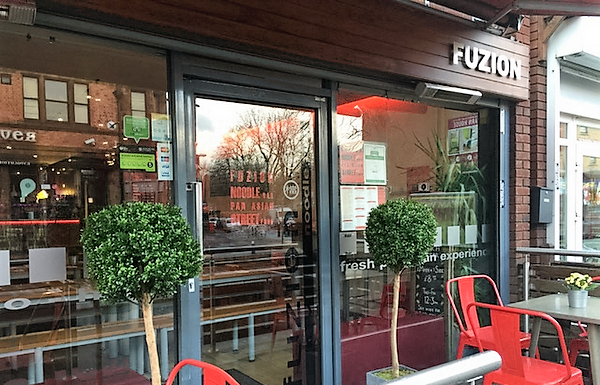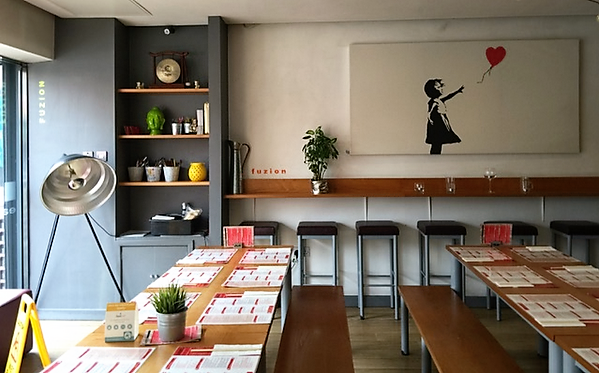 Fuzion, Fallowfield
The place is a small rectangular space, with simple blond-wood long benches where you sit shoulder to shoulder with strangers. The menu is Chinese led, with some similarities to Tampopo and Wagamama. Joy Division's Love Will Tear Us Apart was playing in the background. No change there either.
The original concept delivered what the hipsters have tried and mainly failed to do over the past four years or so - real Far Eastern noodle bar and street vendor cooking. Owner Arthur, still firmly on the stove thirteen years later, is looking as young as ever. It must be his focus on large amounts of locally-sourced veg still damp from the soil, which looks the business and brings bright, clear flavour to the finished dishes.
Gordo remembers Arthur's statement on his menu all those years ago; 'Fuzion's objectives are quality, value, cleanliness and friendly service'.
But has he kept the standards up? Gordo ordered four dishes to find out.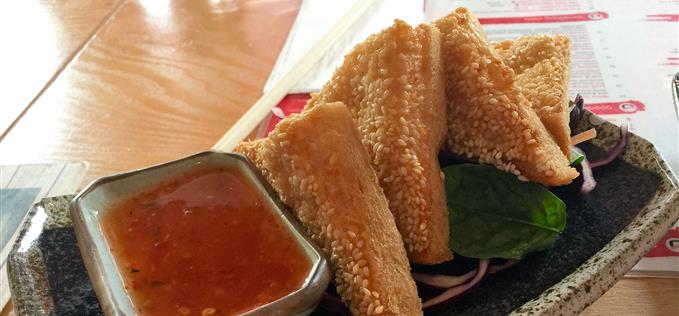 Prawn toast (£4.30)
The chicken lettuce wrap (£4.30) certainly hit the value button. It was bloody enormous. It was also pure quality, a wok-fried mixture of chopped chicken and vegetables, not overcooked, in a slightly tangy sauce. The lettuce tasted as though it'd just hopped over from the allotment across the road. Massive dish this in every sense but the price.
Now Peking ribs (£4.95). Remember the first time you ate Peking ribs? Gordo does, aged eight at The Mandarin in Wilmslow. They were the best things in the world. Arthur's last week were better. Four big, fat buggers, crispy, chewy and tangy. They dripped down Gordo's chin, just as they had when he was a boy. Gordo had to check the price again. Yup, less than a fiver, fill yer boots.
Moving on to the prawn toast (£4.80); crispy, dry, crunchy, prawny, sesamey. The best in the North West. I want these on my deathbed. Fuck Colchester oysters.
Finally, thinly-sliced salt and pepper pork chops (£8.95, main image). Sorry Arthur, I have one complaint, you've been listening to the health faeries and trimming too much fat. These guys need it. Apart from that, these still take some beating, perhaps just by Harry Yeung's at Yang Sing.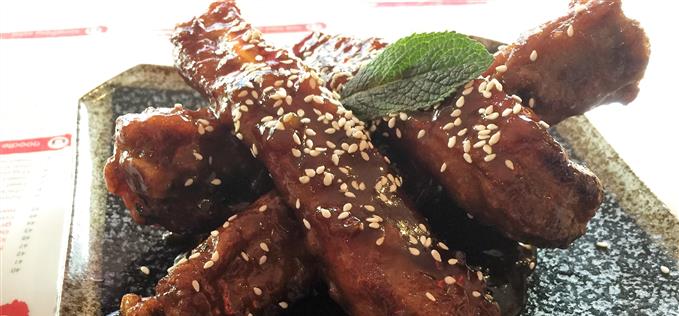 Those ribs (£4.95)
What sets Arthur apart from his competition is the meticulous attention to detail. The boiled rice was shot through with well-cooked diced vegetables, and while it's difficult to go on with yourself about boiled rice and chopped veg, Gordo has done so for a week. It tasted bloody wonderful.
Arthur is still on form. This place puts all the hipster 'street food' bullshit to shame, delivering that quality, service (delightful young lady there, totally on the ball) and value that he promised thirteen years back then. What about cleanliness? Unlike the vast majority of khazies down on the Curry Mile, Gordo could quite happily have eaten his lunch in the loos.
Gordo says go now, park in Sainsbury's across the road or jump on the Magic Bus. You'll have a magic meal.
Fuzion Noodle Bar, 264 Wilmslow Rd, Manchester M14 6JR. Tel: 0161 248 6688.
Rating: 16.5/20
Food: 8.5/10 (lettuce wrap 8, prawn toast 9, Peking ribs 9, pork chop 7.5)
Service: 4.5/5
Ambience: 3.5/5
PLEASE NOTE: All scored reviews are unannounced, impartial, paid for by Confidential and completely independent of any commercial relationship. Venues are rated against the best examples of their type: 1-5 saw your leg off and eat it, 6-10 stay in with Netflix, 11-12 if you're passing, 13-14 good, 15-16 very good, 17-18 excellent, 19-20 pure quality.
Powered by Wakelet