YOU wait years for a good Spanish restaurant to arrive in Manchester and all of a sudden there's six of them. All of which Gordo is pretty familiar with now. Lunya being one; he ate there three times last week.
The clipboard looked at Gordo, evil delight beaming from her eyes
Then we've got Iberica, La Bandera, San Juan and now El Gato Negro. They are all bloody good, somewhat different to each other and great fun. If you are slightly jaded by Italian food, all of these Spanish fellers are well worth a try.
Add to that list La Vina, a long-standing chain which deserves a mention from a quality point of view after editor-at-large Jonathan Schofield's review last week. It's standing up for itself on Deansgate.
It took Gordo three attempts to get into El Gato Negro for a review. The first, on the Monday, saw Gordo arrive with a drinking pal, Emma James. They wouldn't let Gordo in. And not for his usual boorishness either. It was shut for staff training.
The second was Fatty's fault. He'd employed an eighteen-year-old intern called Oliver who'd be working at The Towers (on living wage too, Gordo will have you know) for two weeks during an Easter break from uni. Gordo asked him to book a table for two at El Gato Negro the following day, a Wednesday.
Oliver, having had the double result of the living wage and his student loan land in his bank account on the same day, must have dropped his wad on some top skunk and booked the table a week later... on Thursday. Where the fuck that came from was anyone's guess, but the last Gordo saw of him he was helping himself to the chocolate and crisps on the CEO's desk.
So, nope, no table, fully booked. The Clipboard looked at Gordo, evil delight beaming from her eyes.
So, last week Gordo finally walks into El Gato Negro - Spanish for Black Forest Gateau - for the official review lunch with pub-botherer Schofield for company. You'll find it on King Street, between Deansgate and Cross Street, just up from the new bike shop that thinks it's a cocktail bar. Blink and you'll miss it.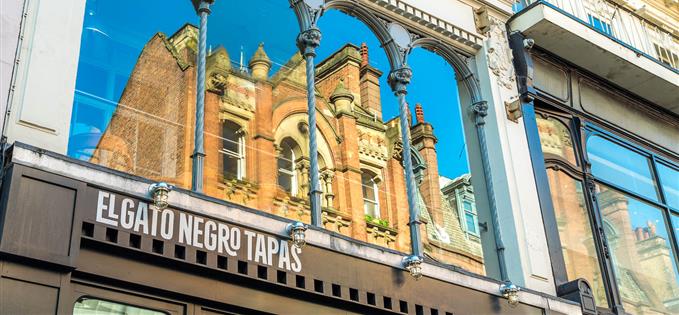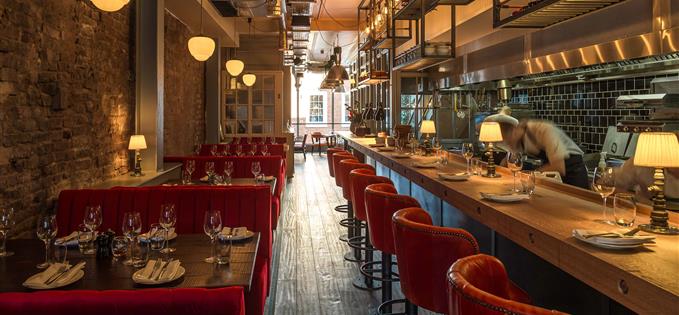 El Gato Negro
Walking in, Gordo is nailed to the spot by The Clipboard. Well, an iPad actually.
"Do you have a reservation?" asks the (very pretty but very strict) iPad.
"Yes I fucking do this time and if you give me any grief or look at me with those laser beam eyes that know Gordo is lower than whale shit on the ocean floor and once wet the bed at aged 19 then you're getting it missus," thought Gordo.
"Err, yes, I think so," muttered the fat weakling. Gordo feels like he has finally achieved something of which his late father would be proud. He actually gets in.
The ground floor is a bar that's usually busy, you'd better be on your toes to get a seat. This is arguably the smartest, warmest and sexiest of its kind in the city. The design is very up market Madrid. It's the bar equivalent of Radio 6 without trying too hard to show just how groovy it is.
The bar has its own menus, called para picar and charcuterie. Gordo likes the para picar and no, it isn't Spanish for nose picking. Basically it's nibbles, of which the roasted Valencia almonds (£3.50) impress enormously. Untried are chicken and chorizo popcorn (£3.00), 'own recipe' olives (£3.50) and pork and paprika scratchings with apple purée (£3.00). They certainly look good mind you.
The charcuterie section is impressive, Gordo having tried much of it on earlier visits. Well thought out, although not of Premiership quality like, say, Iberica, but it's certainly Championship.
The first floor restaurant is a hike up a set of stairs you need to be wary of after a few (really, really good) sherries. Again, the fit out is sumptuous, classy, fourth generation Madrileño giving you a cuddle in heavy red. It's class, the complete opposite of Real Housewives of Cheshire. There is an open kitchen where chef-patron Simon Shaw is omnipresent.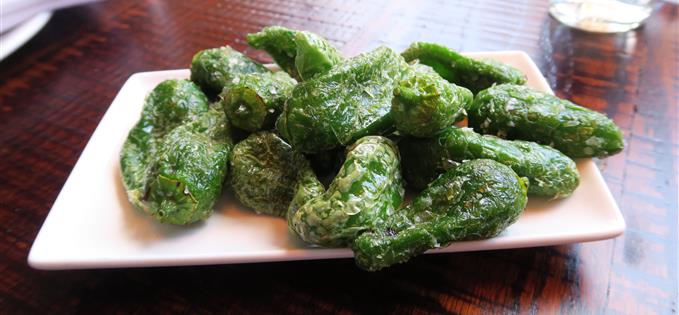 Padron peppers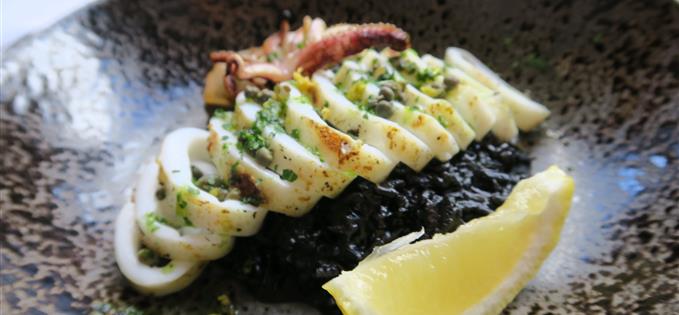 Squid with black ink rice
The menu here is what Gordo would describe as 'English Spanish'. Lots of tapas and small plates, rather than mid-to-late evening big plates, which Gordo feels is a pity. But what of the dishes?
The anchovy fillets on crostini (£6.00) boast top-drawer ingredients beautifully presented. The sharpness of the vinegar-sourness is set off by the tiny dabs of sweet stuff. Some may say the extra touches 'blouse' them up too much. Round the corner Lunya lays the same quality across salt and vinegar crisps.
Padrón peppers with Halen Môn sea salt (£5.00) were a miss, undercooked and slightly too greasy, the fault being the wrong oil temperature. A shame, as on previous visits they were bang on. That salt is something to wrap round your tongue by the way.
Carabineros prawns with shellfish rice (£13.00) widens the eyes by a couple of inches if you tear the head off and suck the interior out. The only place where Gordo has had better is in a restaurant called El Balamu, in the fishing port of Llanes on the Asturian coast in north west Spain. It actually sits atop the fish hall where the catch is auctioned, trawler by trawler, as they arrive. Gordo and Schofield were given a masterclass there eighteen months ago by Nacho Manzano, the two star Michelin executive chef of Iberica. EGN's fish and shellfish are every bit as good.
Squid with black ink rice, lemon and parsley sauce (£9.00, main image) didn't need the lemon wedge but did somersaults to impress. The rice was rich, dark and smooth whilst the sea-sprayed squid tentacles, served starfish-like and slightly charred, with the tube rings cooked right to the point of a slight bite and dressed with a 'sauce' more like a vinaigrette, takes some doing to time right.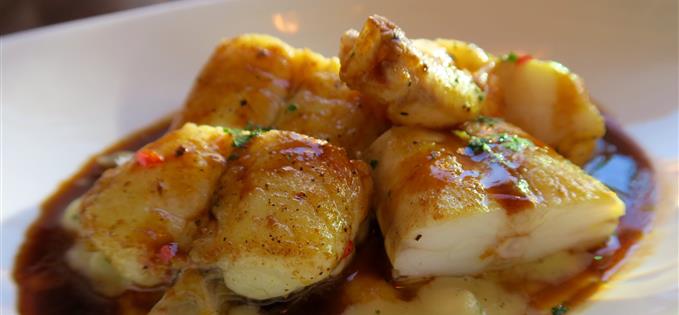 Monkfish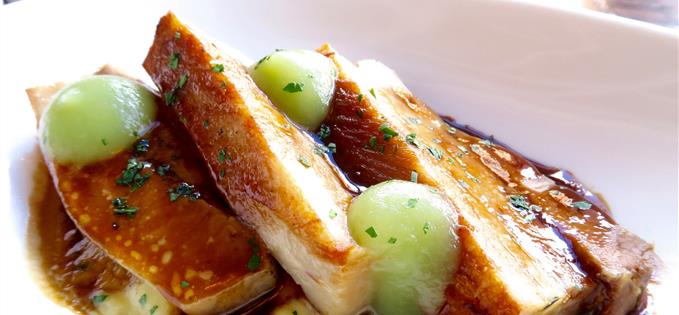 Pork Belly
Line caught baby monkfish with pinto beans (£12.00) is a dish sauced too far. Well seasoned and banged in the Josper for just the right amount of time with a tight Romesco sauce on the side would have been more welcome.
Confit of belly pork with rosemary-flavoured Arrocina beans (£9.00) began to show a pattern. Brilliantly cooked, but smothered in a gloopy 'sauce' from the same family as the monkfish. Normally, you can count on beans being a sign of Spanish rusticity. Not here it's not.
Similar to the monkfish, a lack of texture leads to a dish verging on baby food. Huge, rich, mushy flavours are too much for a cut of meat that screams to be cooked with its crackling, well salted.
Lamb skewers with spiced chickpea purée and Harissa (£10.50) danced nicely with the devil that is Moorish southern Spanish spicing, the cubes of meat pink in the middle with a kiss of the Josper grill on the outside. Pretty darned good.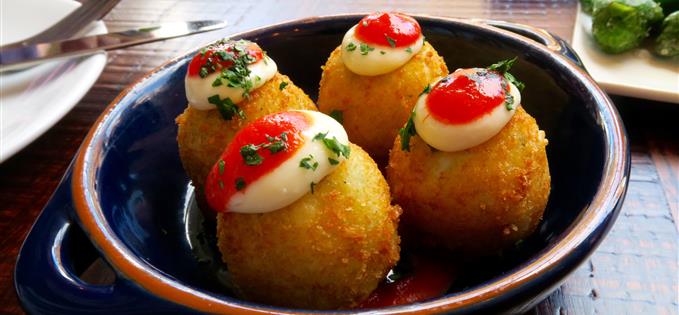 Salt cod croquetas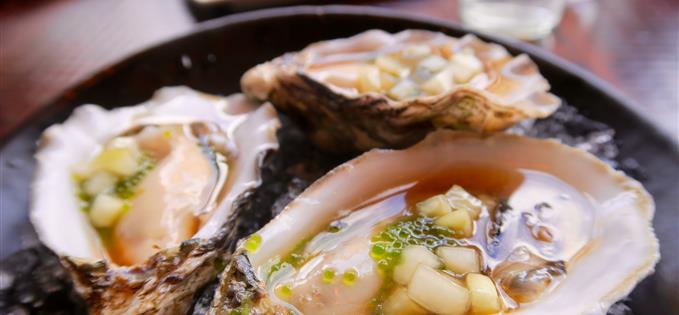 Oysters
Oh how could Gordo forgot the salt cod croquetas (£5.00), Gillardeau oysters, yuzu juice and pickled cucumber (£3.50 each) and Morcilla Scotch eggs with mushroom duxelle, apple purée and aioli (£9.00).
The croquetas were extremely good. As were the Scotch eggs. But each suffered slightly from the urge to do something extra, the bit of sauce used to stick them to the plate, the blobs on top. Even Gordo is starting to feel that this is richer than a three star Michelin. So it was with trepidation that both Gordo and Schofield eyed up the mucked-about oysters.
They got swallowed and we got blown away. These, dear reader, are the dish of the year so far.
Kill for them.
Puddings are good, but you can find them in every pasteleria across the Iberian peninsular. Though, again, they lack texture and crunch. More pastries please, I know they are a pain to make and keep but nothing worth having comes easy.
Service here is slightly chaotic but utterly charming, with three of the best front of house professionals in the game.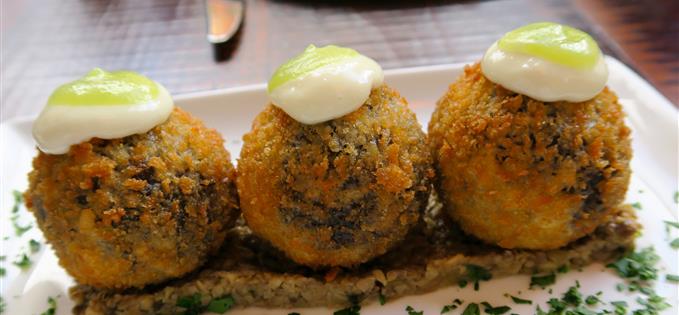 Scotch Eggs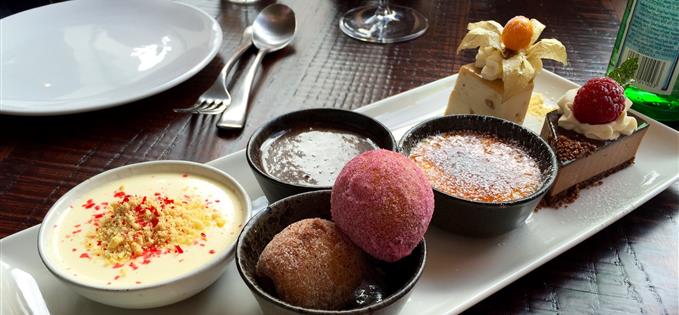 Puddings
Booze is on a par with Iberica, previously top for Gordo. The gin and tonics downstairs reflect the current Spanish love affair with an alcohol thought to be predominantly British, whilst an Equipo Navazos La Bota No. 52 Palo Cortado 'Sanlucar' (Pale sherry, 75 cl, £85) should not, as Gordo has done, be drunk in one sitting unless you have the bowels of a rhinoceros. A story for another time.
If you like a dry white wine, have a little adventure with an Albariño de Fefinanes 2014, Rias Baixas, good value at £46. Or indeed the Quintas do Homem Vinho Verde 2014 Portuguese at £29. In the red corner the Bodegas Navajas Reserva Rioja 2009 at £39 (or £8.50 a glass) shows velvety cherried class.
El Gato Negro is hard to get in. There's a clever team at work here, keeping the booking system tight with only fifty or so covers. Though it looks a great deal bigger. Don't bother phoning unless you have the patience of a saint. If you can't get in and want some great Spanish food, we are currently blessed with some great alternatives, mentioned above. Here are the links to their reviews: Lunya, La Bandera, La Vina, Iberica and San Juan
A Gordo Go.
El Gato Negro, 52 King St, Manchester M2 4LY
Rating: 15.5/20
Food: 7.5/10 (Almonds 9, Anchovies 7, Peppers 4, Prawns 8, Squid 8, Monkfish 7, Belly Pork 6, Lamb 8, Croquetas 7, Scotch Egg 9, Oysters 10, Puddings 6.5)
Ambience: 4/5
Service: 4/5
PLEASE NOTE: All scored reviews are unannounced, impartial, paid for by Confidential and completely independent of any commerical relationship. Venues are rated against the best examples of their type: 1-5 saw your leg off and eat it, 6-10 stay in with Netflix, 11-13 if you're passing, 14-16 good, 17-18 excellent, 19-20 pure quality.
Powered by Wakelet