Here Confidential's new recruit, former-Times, Independent and London Evening Standard food critic, author and Masterchef expert, Charles Campion, writes about chef Nigel Haworth's Michelin-starred restaurant near Blackburn.
AT their peak (probably the early 1980s) 'Country House hotels' were shocking places.
Think chintz, think pink, think conversations in hushed tones. This was the decade that gave us melon balls and Parma ham, sticky toffee pudding and afternoon tea served with a full supporting cast of doyleys. A time when the wine waiter would huff and puff should anyone have the temerity to choose a red wine with fish. Where Upstairs Downstairs led we were all expected to follow and Mrs Bridges was the ultimate arbiter of good eating.
At Northcote the cooking is precise, the seasoning considered and the presentation elegant
In 1985 Nigel Haworth and Craig Bancroft threw their hats into the ring and took on a Country House hotel at Langho just outside Blackburn. It may have been a stroke of luck or just low cunning but from the beginning Nigel and Craig based their menus on local produce and that is one reason why Northcote continues to be busy after 30 years when so many Country House hotels have failed, withered and died.
Northcote has grown and grown. As well as an interlocking web of lounges and dining rooms there are 26 bedrooms; a private dining room large enough to play tennis in; a chef's table (which doubles up as a cookery school); and a massive stone terrace with views across the Ribble Valley.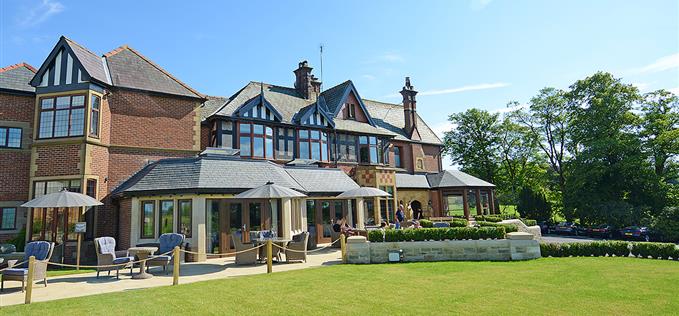 Northcote
As you settle into a comfy chair in one of the lounges, the décor may strike you as being a bit footballers' wives but it is comfortable as well as opulent. The drill is to order in the lounge over a drink and then return to the lounge for a coffee at meal's end. Strangely this gently formal way of doing things seems old-fashioned but it certainly encourages you to take it easy.
Mr Michelin gives Northcote one star. Nigel Haworth and head chef Lisa Allen write a good menu that keeps faith with local suppliers and marches in tune with the seasons. The à la Carte starters are priced between £11.50 and £18; the mains are priced between £28 and £40; desserts £12 and £15. There is a five course 'Gourmet Menu' at £65 per person. If all that sounds a bit fierce the 'Seasonal Lunch Menu' weighs in at a wholly reasonable £29.50 for three courses and coffee.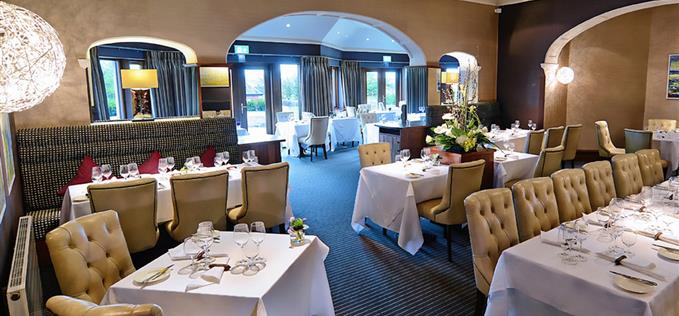 Interior
Dishes are presented well, stopping just this side of fussy and fancy. Combinations of texture and flavour are considered. A starter of smoked eel and Morecambe Bay shrimp Caesar is a complicated re-imagining of a Caesar salad. Worth ordering just for the garnish of very thin, crunchy crisp spikes of smoked eel. The Caesar role is taken by a whole, Parmesan crusted, Little Gem lettuce. The brown shrimps are fresh and intense.
Orkney scallops, salmon belly, laver bread and sea vegetables – the scallops are cooked tempura style, the light, almost white, very crisp batter is a great contrast with the sweet scallop. Other promising dishes are the blackened North Sea Cod, crisp prawn salad avocado and black pudding and buttered pink trout, mustard and nettle sauce.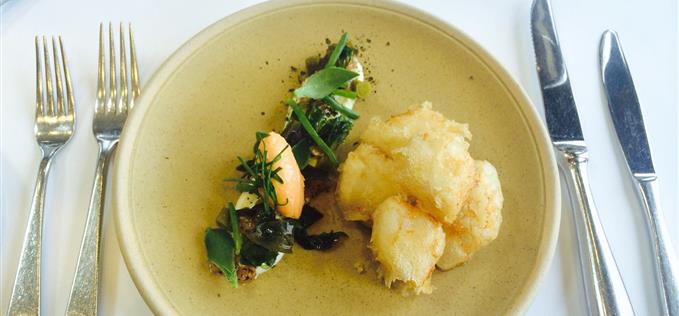 Scallops - light, white, crispy batter
The main course options include Bowland venison haunch, braised wild hare, caramelised endive, broccoli, pomegranate and blood orange sauce – a good dish (main image). Very rich. The hare slow cooked until gluey and fibrous providing a contrasting texture to the venison. Or there's Reg Johnson's chicken breast, mushroom tortellini, English asparagus, wild garlic mushroom cappuccino. Reg Johnson farms ducks and chickens at nearby Goosnargh and has supplied Northcote from day one. Properly grown up chickens, delicate mushroom tortellini and sensitive use of wild garlic make this a satisfying plateful.
When opting for dessert there's a souffléd apple crumble, and Yorkshire rhubarb with custard, white chocolate, ginger and jelly. But it is hard to oppose the tremendous treacle tart (great pastry) with clotted cream and a few raspberries.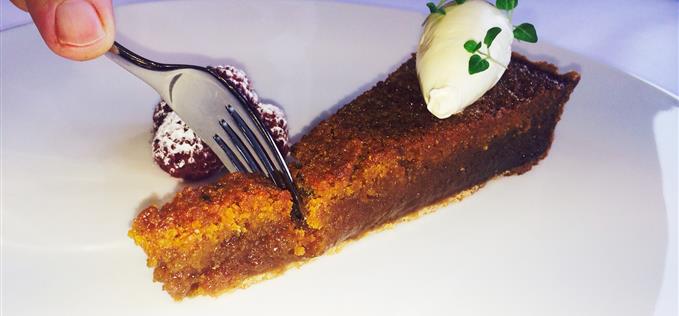 Treacle tart
The service is unobtrusive in the best possible way and Northcote has a very good reputation among wine buffs. The wine list has won a whole host of gongs including the Wine Spectator's 2014 Award of Excellence and the sommeliers know their stuff and will help you navigate around the list which is very long with plenty of potential for wallet-melting extravagance.
At Northcote the cooking is precise, the seasoning considered and the presentation elegant. It carries the flag for the small producers of the North West and deserves credit for sticking to the mantra of 'local and seasonal' for three decades.
All scored reviews are unannounced, impartial, paid for by Confidential and completely independent of any commerical relationship.
Northcote, Northcote Road, Langho, Blackburn, Lancashire, BB6 8BE. 01254 240555
Good for: local seasonal lunch set menu bargain
Rating: 18/20
Food: 9/10 (scallops 8, smoked eel 9, venison 9, chicken 8, treacle tart 10)
Service: 5/5
Ambience: 4/5
PLEASE NOTE: Venues are rated against the best examples of their kind: fine dining against the best fine dining, cafes against the best cafes. Following on from this the scores represent: 1-5 saw your leg off and eat it, 6-9 get a DVD, 10-11 if you must, 12-13 if you're passing, 14-15 worth a trip, 16-17 very good, 18 exceptional, 19 pure quality, 20 perfect. More than 20, we get carried away