MANCHESTER City Council's Executive Committee today endorsed plans to create Kampus - a new £150m city centre neighbourhood on Aytoun Street by joint venture partners Capital & Centric and Henry Boot Developments.
Kampus will embody an individual new vibe in Manchester
Following the announcement the developers released a stunning new aerial image of how the new 'hip and creative' Piccadilly neighbourhood will look (see main image and below).
The 450,000 sq ft Kampus regeneration framework includes 500 new apartments, two new hotels, bars, restaurants, cafes and offices centred around the barricaded Little David Street - said to be 'one of the only untouched and original cobbled streets in Manchester'.
Little David Street runs between the Grade II-listed derelict Minshull Mill and Minto & Turner nineteenth-century warehouses.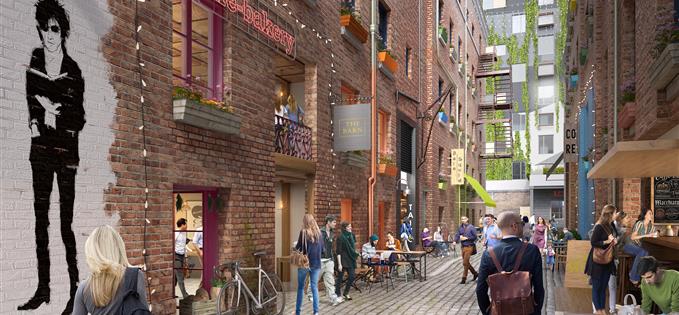 CGI plans for Little David Street
The joint venture partnership acquired Manchester Metropolitan University's 250,000 sq ft Aytoun Street campus back in March 2014 when the University relocated to the new £75m All Saints Campus off Oxford Road.
The MMU's former library building will be converted into offices, the '60s tower into apartments and a hotel, while the lecture hall will make way for a new public realm.
The joint venture partners worked with the Manchester School of Architecture in a design competition drawing influence from up-and-coming designers on the 2.3 acre site.
Adam Higgins, Director at Capital & Centric, said: "It was fantastic working with the students at such an early stage in the design, they helped mould our plans for the development and we were taken aback by both their creativity and design flair. We're delighted to have the framework adopted and think it's great that the University has been involved in the changing landscape of their legacy site."
Adam Brady, of Henry Boot Developments, said: "The adoption of the Strategic Regeneration Framework is excellent news in bringing forward a unique new sub-district in the best development location in Manchester. Kampus will embody an individual new vibe in Manchester with its ecletic mix of architecture and ground floor presence."
During the process 654 consultation letters were sent out to local residents and businesses - 7 responses were received. The formal consultation closed on 22 May 2015, however, consultation will continue with residents and stakeholders throughout the redevelopment process.
The joint venture partners will formaly submit a planning application to the City Council later this year.