THIS is a tale of 830 pies and one Supreme Champion. A northern one from Great North Pie Co.
The yielding pastry and the fecund filling, meaty yet bathed with a sharp mustardy cream, was a wonder. I ate one. I ate two.
The winner isn't your typical chippy pie, but an aristocrat of pie art. It's called a Goosnargh chicken, mushroom, English mustard and cream pie with a kick of herb, in this case tarragon.
Neil Broomfield is the head pieman at Great North Pie Co, Wilmslow. He delivered some of his winners to the Manchester Confidential office plus some cheese and onion samples in a handsome case. When opened this revealed a fine display of circular lovelies sorted like the goodies in a chocolate box, but better because this was savoury food, not sweet frippery.
We heated the pies. The yielding pastry and the fecund filling, meaty yet bathed with a sharp mustardy cream, was a wonder. I ate one. I ate two. I ate half a cheese and onion pie as well. This was untypical behaviour as I usually find cheese and onion pies akin to munching on volcanic lava mixed with blackhead pus. This wasn't. This was good. For a cheese and onion pie. Go meat every time I say.
"The competition at this year's British Pie Awards was huge and some of the pies were amazing," said Broomfield. "We're so proud to win the award and be amongst some of the best pie makers in the country. We work hard to ensure that everything we produce is the best quality and that's what we're all about as a company. The team we have know this, and they put so much effort into keeping the standards we set. It is unbelievable that we have been named Supreme Champion."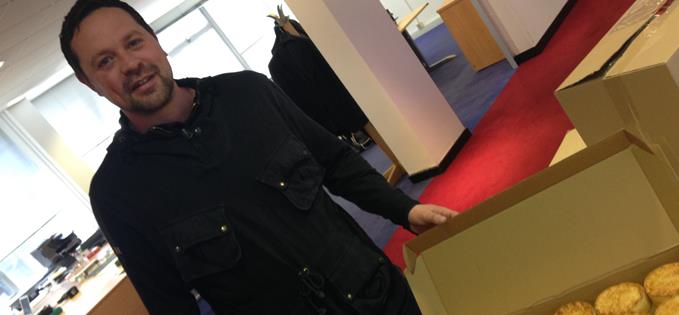 The seventh annual British Pie Awards took place in Melton Mowbray, sourced from 131 professional bakers and butchers. Judges included TV chef Andy Bates, leading food critic and Confidential writer Charles Campion and renowned food writer Xanthe Clay.
Matthew O'Callaghan, Chairman of the British Pie Awards, said: "We've seen a truly varied and plentiful plethora of pies. The standard of entrants this year was higher than ever before, and Neil and the Great North Pie Co team can be very proud of being crowned Champion.
"Each year we hold the Awards to encourage innovation in pies and I believe we have outdone ourselves this year. I'd like to give my sincere thanks to all involved, including our judges, sponsors, volunteers and of course, all our wonderful pie makers."
Great North Pie Co won the Best Overall Small Producer.
They also triumphed in the Beef and Any Flavour Combination Pie Category with their minced beef and Bovril pie; the Chicken and Vegetable/Herb Pie Category with the Supreme Champion pie; the Fish Pie Category with smoked eel, apple, potato cream horseradish and garlic pie and the Vegetarian Pie Category with the Saag Paneer Pie.
That's six awards in total. Piemasters indeed.
Look out for these wonders at the Butcher's Quarter on Tib Street, the Chop Houses and Cafe Football.
For more information on the British Pie Awards and a full list of the winners, visit www.britishpieawards.co.uk and follow @BritishPies on Twitter.