YARD & COOP
What they say:
Laura Morris, Co-Owner - "I remember being stood in a wet and windy car park off Brick Lane waiting in a 45 minute queue for Mother Clucker fried chicken. There were no queues for the other food vans, just for this one, and I remember thinking 'this lot are on to something'.
Go for thigh-afrika-bee's with chip shop curry fries and you'll leave as happy as a chicken in a bag of compost
"We've tried a lot of chicken in our time, loads of marinades, sauces and crumbs too; we've been through over 250 recipes ourselves, but now we think we've got the perfect buttermilk chicken recipe - our super secret recipe.
"There's a big trend for one-item restaurants right now, some people try to do everything they can on massive menus, we just want to be experts in fried chicken."
What We Say: It's refreshing, in today's age of mega-money multi-million quid restaurant fit-outs, to hear that the folks from Yard & Coop have been roaring up and down the country haggling over plastic chairs from Berkshire church halls, formica from Cumbrian car boots whilst slipping a local art grad a few bob to paint a massive winky fox on the wall. It works too. There's a hotch-potch Berlin backpacker charm to Yard & Coop, reinforced by the bold street graffiti scene screaming through the back windows. Punters nibble on bourbon wings at the bar while over in the feeding coops there's a scuffle over the last 'Monkey Ball' - a jolly place to be.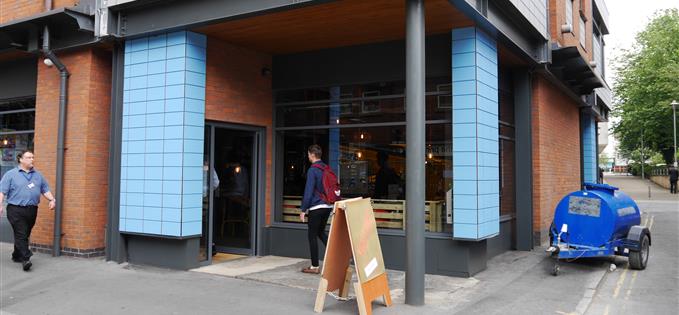 Yard & Coop, Edge Street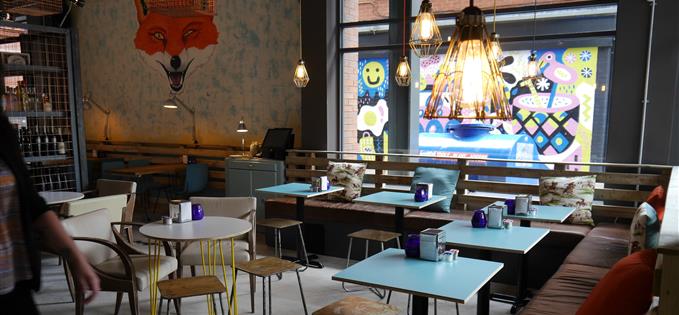 Winky Fox
What To Order: Yard & Coop's bread and butter is the 'chicken-crumb-sauce' option (£6); choose from breast, thigh or 'not chicken nuggets' (halloumi); pick a 'style' from original, chip shop curry, cajun or Afrika Bombaataa; then dip into either bourbon BBQ, Bee's Knees sauce (cayenne, lime and honey) or blue cheese. Go for thigh-afrika-bee's with chip shop curry fries (£3) and you'll leave as happy as a chicken in a bag of compost. Groups can dive into a £40 Yard & Coop bucket: 8 thighs, 4 fries, 2 slaw and 4 pints.
And booze? Yard & Coop's beer game is strong, with thirty to choose from including Modelo, Duvel, Paulaner and Kona (from £3.75). The wine list is clever, with set prices for 'Great' (£14), 'Better' (£16) and 'Best' (£20). Yard's Piña Colada shake is stupendous (£7). A must try.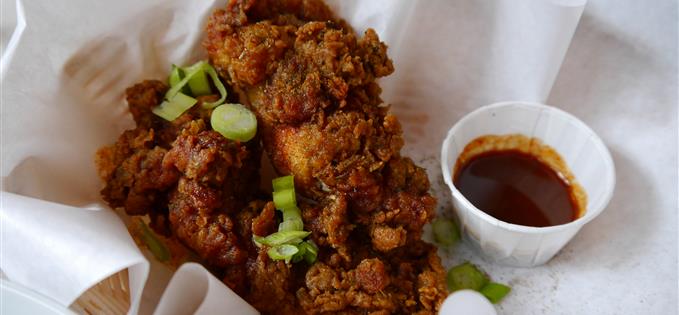 Thigh with Afrika crumb and Bee's Knees sauce
Stupendous
When To Go: All day really, though Yard & Coop are cannily trying to draw in the boozers by serving fried chicken until gone midnight. Could give Hunters BBQ round the corner a run...
What Else? It's going off on Edge Street. Following the arrival of pay-per-minute caf' Ziferblat, the overhaul of Common and the launch of Yard & Coop, Parisian brasserie 63 Degrees and vegan rock diner V Rev's will soon open nearby. Not to mention the ever-popular Terrace, Teacup, Home Sweet Home and Lust, Luck, Liquor and Burn all on the same drag. Yeah, take that Tariff Street...
Yard & Coop's bar
Where Is It? Yard & Coop, 23-37 Edge Street, Northern Quarter, M4 1HW.
When is it open? It's closed Monday, Tuesday to Sundays are midday to 12.30am.
Find out more: yardandcoop.com, Facebook, Twitter and Instagram.
Show me...