Who's Behind It? Vapiano was founded in Hamburg in 2002 by four German blokes, one of which, Kent Hahne, made a good few bob becoming the very first McDonald's franchisee in Germany and the youngest anywhere in the world. The company is now backed by venture capitalist firm Mayfair.
...peel back the skin of Vapiano and you'll find something rare indeed; it's called 'The Manifattura'
Vapiano Corn Exchange will be the tenth new restaurant to open in the renovated Grade II-listed edifice in the last three months and, with a whopping 375 covers, it's the biggest of the lot.
So What Is It? Though its name translates as 'go slow', Vapiano's fast-casual, 'front cooking' (that means you get off y'arse and go see the chef at the counter) pizza, pasta and salad concept has exploded across the globe, with 170 restaurants spread across every continent but Antarctica; which, incidentally, has an average population of 1162 - around 200 less than Vapiano Soho serves every Tuesday lunchtime.
Here's the skinny: staff give you a chip card on your way in, you pop over to the pasta or pizza station of your choosing, place your order (either from the menu or you can freestyle it), scan the card, watch the chef whip it together, pick your nose, grab your din dins, park your rump, tuck in and pay the total on your card on the way out. Easy eh? It also puts an end to the malaise of bill-splitting.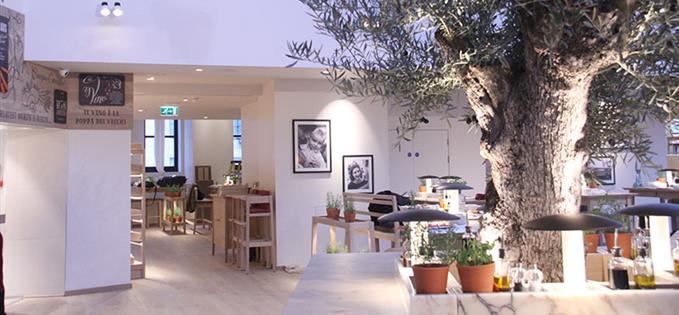 Vapiano, Corn Exchange
What They Say: "We sell ourselves as fresh casual, a place to come anytime of day for whatever you fancy: a coffee, lunch or a three course meal. Our card system allows our guests to choose the pace and style of their experience, you can whip in-and-out for a £7 bowl of pasta cooked right in front of you in under five minutes, or you can linger all day, use the wi-fi and start on the wine - the card means there's no pressure to buy more stuff, there's no upsell.
"The Corn Exchange looks absolutely great, but we've got a way to go to make the building recognised as a go-to food destination. It's going to require cooperation between restaurants, we'll need to pull together to make this space work. Then again, at Vapiano we let the food speak for itself, that's the best marketing we can do." - Alex Poynter, Vapiano Manchester gaffa
What We Say: The truth is, it's easy to be snotty about chains, particularly Italian chains run by Germans opened amidst the festival of new chain restaurants at the Corn Exchange. Still, peel back the skin of Vapiano and you'll find something rare indeed; it's called 'The Manifattura' (aka The Factory), and it's where you'll find a small, dedicated team of pasta rollers and dough throttlers grafting all day long on a rumbling, £35,000 piece of German kit called 'The Good Lady' or 'The Old Faithful' or something equally darling. What this means is fresh breads and pasta made in-house everyday - and that, folks, is not your average chain behaviour.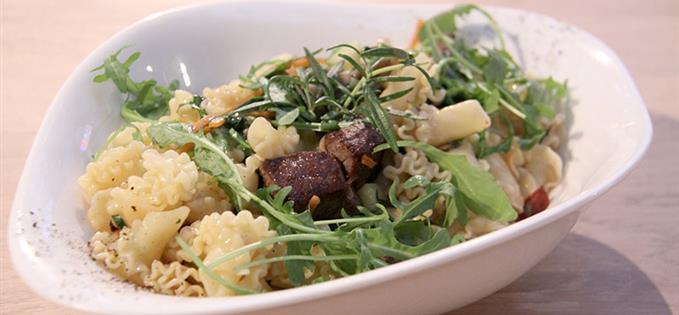 Filetto di manzo e rucola (beef fillet, mushroom and rocket pasta to you and me)
What Else? "Though we do encourage customers to pick one of our dishes from the menu, something we know tastes good, our customers can fine-tune their meal to suit their individual tastes," says Phil Sermon, Vapiano's UK Managing Director. "Want prawns on your margherita? We can do that. Anchovies in your arrabiata? Fine. Want orange-chilli sauce in your risotto? We can do that too... though we wouldn't recommend that one."
So How's It Look? Impressive. Of all Corn Exchange's new tenants, Vapiano has easily made the best use of the space up top. Whereas most have used the first floor as an overspill, Vapiano have made it the main event, positioning the kitchens and the bulk of the covers by the balcony. The effect, pouring in from the Corn Exchange's three hefty domes, gives the place a light, bright crispness; punctuated by scattered herbs, slabs of marble, long, solid, communal oak tables, a curious portrait of Phileas Fogg and an ancient olive tree - the Mediterranean centrepiece to every Vapiano restaurant.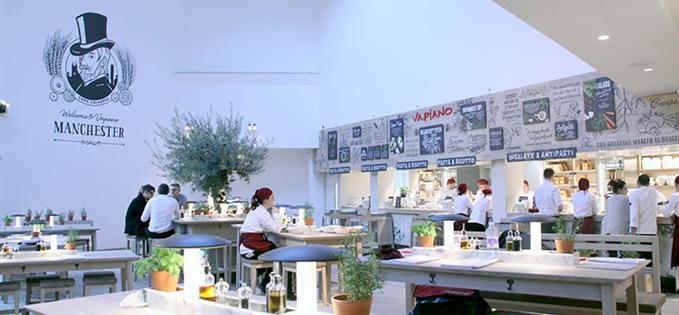 Oak, herbs, chefs, an ancient olive tree and Phileas Fogg
What To Order: We've tried a number of dishes at Vapiano, both in London and Manchester, and can throw our weight behind the Gamberetti e Spinaci (£10.25, main image); a beautifully creamy dish of King prawn, pesto, cherry tomatoes, onions and spinach. We also fell for the Perla pizza (£9.75, pictured below), served open with plump, milky buffalo mozzarella, parma ham, tomatoes and rocket. Follow with a smooth and simple Crema di Fragola (£2.50 for a mini), mascarpone with strawberries, and all will be good in the world.
And Booze: Pints (Peroni, Becks and Erdinger) start at £4.95; bottles (Meantime, Thornbridge, Estrella) at £3.75; cocktails (Spritz, Bellinis and Martinis) from £4.50 and wine (red, white and bubbly) from £4.25 a glass.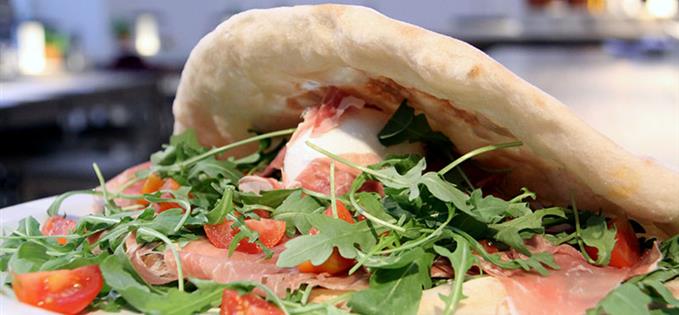 It's a Perla
When To Go: Vapiano opens fully to the public on Friday 27 November.
Where Is It? Vapiano, Corn Exchange M4 3TR - opposite Next on Exchange Square.
Find Out More: uk.vapiano.com or @vapianouk
Show Me More...