IT's been pandemonia and we have not even reached Boxing Day. 
The UK felt the full consumerist force of American shopping craze Black Friday on 28 November and the lure of heavily discounted goods turned some of us shoppers into covetous, elbow-wielding, panic-buying zombies. We documented it here. 
"Once again the Christmas Markets have welcoming millions of people and if, for some inexplicable reason, you're yet to visit the market in Albert Square will still be running on Monday."  

Since, we've also had Cyber Monday and Mad Friday and retailers have been cashing in on the surge of shopping activity throughout Manchester City Centre. Last weekend was the busiest shopping weekend of the year - although it has not been given a sensationalist name.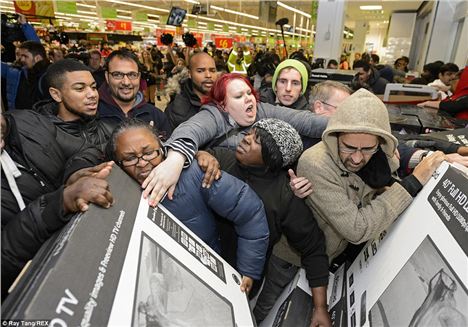 Pandemonia for this year's Black Friday 
Hundreds of thousands of shoppers flooded into Manchester city centre to pick up last minute Christmas gifts and festive food.
In the final weekend before Christmas, city centre retailers reported a surge in spend, with House of Fraser seeing a 5% increase year on year on Saturday, with menswear, beauty and gifting all selling strongly. Saturday was the best trading day of the week, and the second consecutive year of growth on this particular day for the department store.
Harvey Nichols also saw an increase in footfall, with wine, spirits and hampers flying off the shelves in its Foodmarket.
Spend was up 16% on the same week last year at Selfridges Exchange Square, with jars of personalised Nutella proving particularly popular, with 3,107 jars sold this week.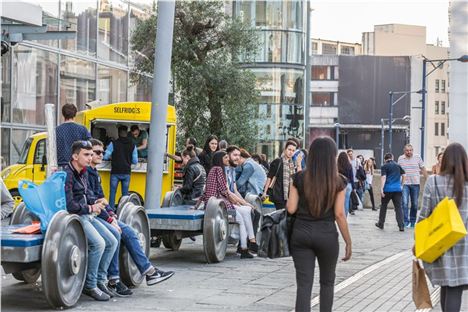 Shopping
In the final weekend of its five week stint, Manchester's Christmas Markets also saw a surge in trade, as visitors headed to the numerous different locations across the city centre for post-shopping respite and refreshment.
The Heart of Manchester BID's seven-strong team of City Hosts were on hand all weekend to assist visitors and ensure they could complete their shopping with as little stress as possible.
Councillor Pat Karney, Manchester City Council's city centre spokesman, said: "Manchester is at its best this time of year and more festive than a mince pie - so it comes as no surprise that the city centre has seen an unprecedented number of visitors enjoying the Christmas cheer.  
 
"Once again the Christmas Markets have welcomed millions of people and if, for some inexplicable reason, you're yet to visit the market in Albert Square we'll still be running on Monday."