Category: Indian casual dining/ cheap eats. Score 14/20 (Full breakdown below. Venues are compared with similar venues and measured against the best examples in their category.)
LILY'S is an unassuming Indian vegetarian café in Ashton. It looks like a simple diner, a locals-only type establishment. 
But there's cooking going on here that puts much of the Curry Mile to shame.
The only other place that competes in this category is San Mini's in Ramsbottom. But Lily's steals ahead, thanks to its price point

The moment I realised Lily's was for me was biting into the pea 'kachori'; a type of 'chaat' or Indian street food that is wantonly moreish.
Light pastry conceals a crushed pea paste, which you dunk into a dip so vibrantly green and fresh Gwyneth Paltrow would want it for moisturiser. It's a genie's lamp of a dish; all flavour and perfume and umami. The sweet and savoury flavours come together as naturally as chips and ketchup.
It could have been any number of choices from the menu that did the trick.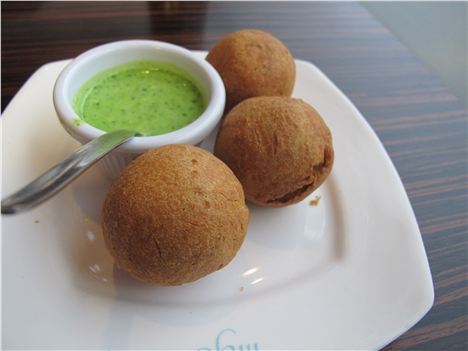 Tucked into a booth and surrounded by dishes, the waiter tries to quell my passion.
"Go easy lady" he actually says at one point, but I want to try it all, especially the 'chaat' stuff. There are the pea and lentil kachoris (various prices), and a raj kachori (£3.75) which is the delicious thing, pictured at the top of the page, from Rajasthan, covered in savoury hundreds and thousands, tamarind relish and yoghurt and many more equally delicious morsels.
Seeing as I was doing things properly, I ordered a couple of South Indian specials too; idli sambar (£4, steamed rice cakes with a salty, soup curry and coconut chutney) and the waiter's recommendation, Mysore masala dhosa (£5.50).
Idli are like a veggie take on the Chinese pork bun, kind of sweet and savoury at the same time (a bit of a theme), while the dhosas are alphabetical in their abundance. There's masala dhosa, cheese masala dhosa, spring onion, just a dhosa - and more - each distinguished by varying chutneys, spices and heats.
Mains include tawa panner: a steaming, platter of spice, tomato, and panner, oozing across a tin foil base. The metallic heat gives the paneer a chance to melt, resulting in the kind of orgasmic pleasure I normally associate with toasted cheese. It performs well alongside more straightforward paneer, tomato and veg curries (all around £6).
In fact, Lily's has that foodie buzzword – authenticity - by the balls. There's a chef from Gujarat, one from Rajasthan, Mumbai and the deep south. Their work visas took two years to come through with owner, Prital Sachdev, headhunting his team by hand. The results are authentic Indian vegetarian dishes from across the country – a 'greatest hits' if you like - with a focus on chaat, sweets and damn near perfect pure veg tucker.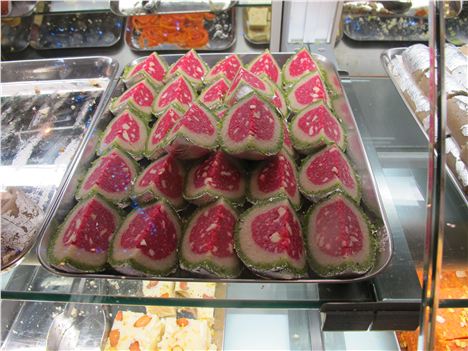 The only other place that competes in this category is San Mini's in Ramsbottom. But Lily's steals ahead, thanks to its price point (the whole seven courses set us back under £35) and character.
Wonky posters and blue lights are the most memorable features. "It's the kind of place you'd never just try," my friend Laura says, gazing at the grannies and slouchy teens that fill the other booths. But Lily's word-of-mouth success is set to grow if owner Prital Sachdev's big plans work out.
The restaurant is part of his family's supermarket business set up in the 1970s after his grandfather left Africa on the run from Idi Amin. "This used to be the fruit and veg section," he says, of the current set up. And it soon will be again, if the plans for a new deli counter, bar, smoking area and restaurant work out. He's planning to move Lily's across the road into a large new space just in front of Ikea which will be open, he hopes, by Valentine's Day.
In the meantime, Lily's is an excellent reason to try out the new tramline to Ashton.
The view is awful (or perhaps 'awfully industrial' would be more apt) but Laura tells me she's never had Indian food like this - and I've not had much of it either, outside of India, or San Mini's.
Selling soft drinks only, this is fresh, lively, authentic cooking at an exceptional price point. And here's another tip: if you are heading over at lunch time, look out for the £3.99 thali.
Follow Ruth on Twitter @RuthAllan
ALL SCORED CONFIDENTIAL REVIEWS ARE IMPARTIAL. 
Lily's Vegetarian Indian Cuisine, 75-83 Oldham Road, Ashton, OL6 7DF. Tel: 0161 339 4774
Rating: 14/20
Food: 8/10 (pea and lentil kachoris both 8, raj kachori 9, idli samhbar 7, mysore masala dhosa 9, curries: tawa 9, paneer 6, veg 7, pilau rice 9)
Service: 4/5
Ambience: 2/5
PLEASE NOTE: Venues are rated against the best examples of their kind: fine dining against the best fine dining, cafes against the best cafes. Following on from this the scores represent: 1-5 saw your leg off and eat it, 6-9 get a DVD, 10-11 if you must, 12-13 if you're passing, 14-15 worth a trip, 16-17 very good, 17-18 exceptional, 19 pure quality, 20 perfect. More than 20, we get carried away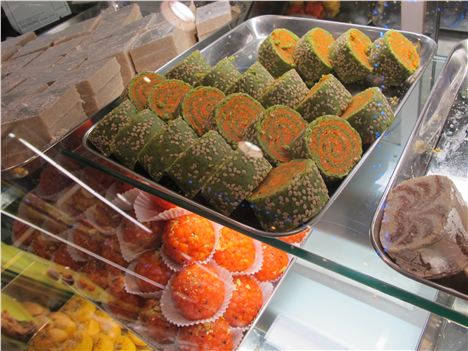 Lily's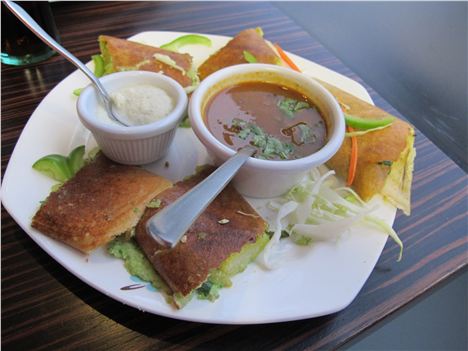 Lily's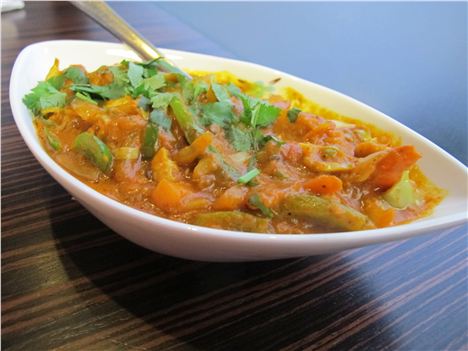 Lily's