SEVENTEEN years.
That's not just a lifetime in the restaurant game, that's a ruddy miracle.
And it all started with a tax disc through the post.
"Customers have expectations of how cold their beer should be, how the plates should look, where the food should come from, how the wine should taste, we didn't have those standards fifteen years ago."
At 29, Tampopo's co-founder David Fox had a secure accountancy gig in London. He had his company car, he'd just received his company tax disc, he was probably wearing company grey socks.
He also had a fidgety bum.
Over a beer with Tampopo's co-founder, Nick Jeffrey, an idea turned into a business plan into upping sticks and into a move to Manchester in 1997.
Why Manchester? "Even back then, the city had a culinary open-mindedness," says Fox.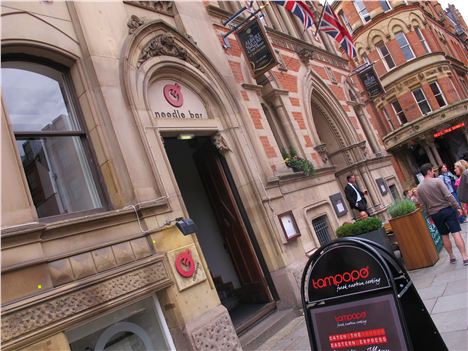 Tampopo
And by jove, seventeen years later and the Pan-Asian restaurant group, masters in Thai, Malaysian, Indonesian, Vietnamese, Japanese, Chinese and Korean food, has six restaurants spread across the country with two more on the horizon.
I meet Fox in Tampopo's original Albert Square subterranean restaurant, he has a young mentoree in tow. "It's for her schooling," he says. "Showing her the business ropes."
Respectable stuff. But then, to last this long, you've got to have your head screwed on...
Where'd it begin?
"I'd been working in finance in London for nine years. I had the job, the company car, then the company tax disc came through internal mail. I just thought 'No, this is dangerous, If I don't jump I never will...'
So what did you do about it?
"I'd done a few cookery schools aound the world so over a beer with Nick (working for Shell at the time) we came together with a business plan, raised some money and moved to Manchester in 1997. Even then it had culinary open-mindedness and a large student population."
Bold step...
"There was this crazy stat that 80% of restaurants go bust in the first year. I thought we'd either go bust or we'd become rich. Neither happened (laughs). Still, we now have six restaurants: three in Manchester and one in London, Bristol and Reading."
So late-90s Manchester, was it ready for Pan-Asian?
Within a year we were on the front of City Life's eating and drinking guide. This side of the town and the square hadn't really developed by then, we were seen as quite unusual but developed a core of die-hard fans because of that. Some have stuck with us all the way through. The challenge is keeping the younger generations interested, there's so much choice now, if you're no good people aren't coming back.
Are diners more fickle now?
I'd say people's expectations are much higher. Customers have expectations of how cold their beer should be, how the plates should look, where the food should come from, how the wine should taste, we didn't have those standards fifteen years ago.
The city has grown so much and there's now so much choice, where people used to have a core of three restaurants they'd eat at, now they have ten or fifteen. People are eating out more but are also less forgiving.
Seventeen years in the industry... what's the secret?
Sounds hackneyed but look after your team, be focused on the customer and never stand still. Once you've been around this long the danger is to think you have it sussed and you'll always be here.
When the recession hit there were huge brands, much bigger than us, just disappearing. Some were unlucky, some got complacent and some had plain lost their way. We're more obsessive, we kept moving.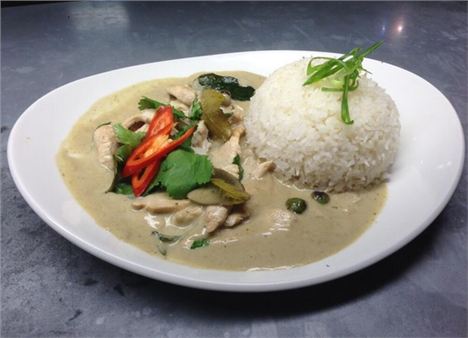 Tampopo's Thai green curry
What's your favourite part of the job?
I really miss being on the floor, being on the front-line with the team. I didn't appreciate how much I'd miss that. It's that hospitality drug, seeing the customer satisfaction directly. That's why we're all in it.
For the young'uns, is hospitality a good career path?
I don't think people realise how bountiful this industry can be. As a General Manager you could be earning packages of around £40k at 25. Of course, entry-level is usually minimum wage, but it's an industry where aptitude far outweighs academic ability.
When I first moved here I hired a couple of lads who'd tell me how to 'TWOC' cars - how they could be pinching cars if they wanted. But they got their heads down and earnt a pay rise. It was the first time anyone had ever given them a pat on the back. These were lads on the very fringes of society that went on to become valued members of it. Goes to show, if given the chance...
Do you have a least favourite part of the job?
It's frightening how much you can spend on equipment, repairs, call-outs and maintenance. That's painful. Sometimes the responsibility can be daunting, we provide a living for 180 people. I didn't appreciate how many people it would take to deliver a bowl of noodles for £6.95.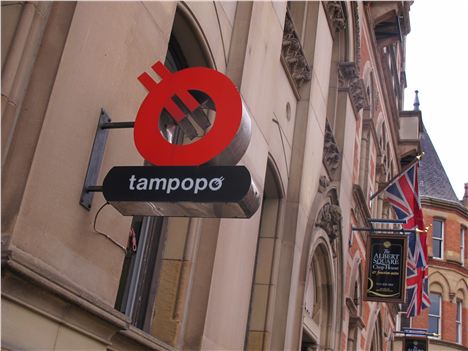 Tampopo
Ever wanted to pack it all in?
Not really, but sometimes it can be a slog. The summer for example, everyone says how much business is lost from pubs when England are knocked out of football tournaments, what you don't realise is that if everyone is in the pub or at home, they're not in restaurants. That and really hot weather. I must be one of very few in summer and at festivals hoping for rain.
If you weren't doing this, what else would you be doing?
I'm wedded to this, so I'd just be trying out different concepts. I've always fancied an East Asian beer house with a menu full of grazing food...
Where would you stick this new concept?
The Northern Quarter is always a fascinating part of town. It's morphing. Ever since I moved here in 1997 the Northern Quarter was always the next big thing, but it's only really found its feet in the last three or four years. It's no longer just a drinking spot, it's an all-day place, five years ago it wasn't. The interesting bit is the next five years, which way it will go.
What if you could own another concept in the city?
I like Cane & Grain's three bar concept on Thomas Street. I don't profess to be a ribs expert but I thought the place was great.
Do you have a favourite ever dish?
If I was confined to a desert island it'd have to be the Indonesian Nasi Goreng, you could have it for breakfast, lunch, dinner. Humble Indonesian fare.
Favourite places in MCR to eat and drink?
Electrik bar in Chorlton is my favourite bar in all the city, that's my local. Great vibe, good beers, and the owners Justin and Luke (also Volta in West Disbury) are top guys. My favourite place to eat at the moment is The Angel at the top of Shudehill. It's got a quirky restaurant up top, probably better in the winter, but the food quality is so good for the price. The Sunday Roast is fantastic.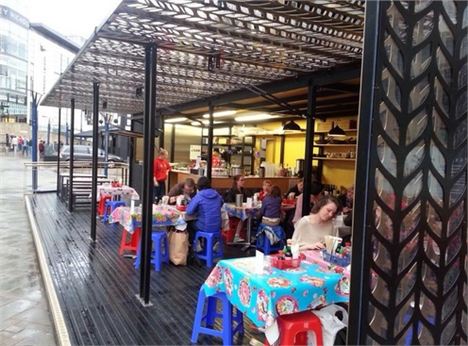 Tampopop-up is now open on Exchange Square
The Corn Exchange Tampopo is closing for a refurb, tell us about this pop-up?
It's a Pan-Asian pop-up and grab & go diner opening in Exchange Square around the 9 September. We'll have dishes from £2.95 to £4.50, simple plates with good beer on offer. There'll also be take-away options in the grab and go.
Ideally, I'd like to have something like Padang food in Sumatra. You sit down and they put twenty small dishes in front of you, you eat what you can and what you don't somebody else gets. Not sure you'd get away with it here.
Why should our readers come and eat at Tampopo?
Mainly the quality and the variety at that price point. I nearly dropped £12 on a burger in the Northern Quarter the other day, for around that price you can have a roast duck red curry with lychees, pea aubergine, cherry tomato, Thai basil & lime leaf at Tampopo.
The only downside to all Asian food is the lack of cheese.
Tampopo, 16 Albert Square, Manchester. M2 5PF. 0161 819 1966. @tampopoeats
Tampopo also has restauranta in Exchange Square, Trafford Centre, London, Bristol and Reading.
Tampopo has just been nominated in the Manchester Food and Drink Festival 'Cheap Eats of the Year' category.