REMEMBER when popping out for something dirty in the Northern Quarter meant a shame-faced shuffle into one of Tib Street's sex shops? (No me neither. Honest.)
Now, I'm a fairly good complainer. The last time I complained Simon Rogan came to apologise to me personally. So I was taken aback when the waitress told me that my ribs would have been hot if I'd eaten them when they came out.
Nowadays NQ food joints are brazenly tweeting the likes of:
"THE MONEY SHOT!!! You'll bust your load over this week's boozy shake!! It will be down your throat before you even get chance to taste it!!"*
Nice. One imagines the owners of Manchester's love emporia sadly shaking their heads and shutting up shop, heading for the last crevices of the UK where dirty food has not yet slipped its sticky, greasy fingers in the hope of avoiding the competition.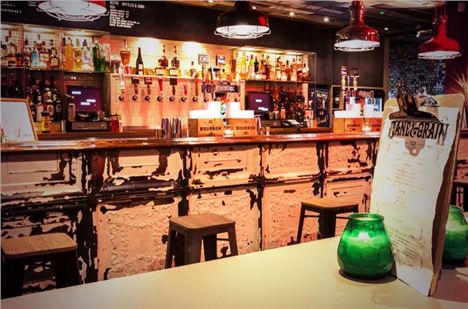 Cane & Grain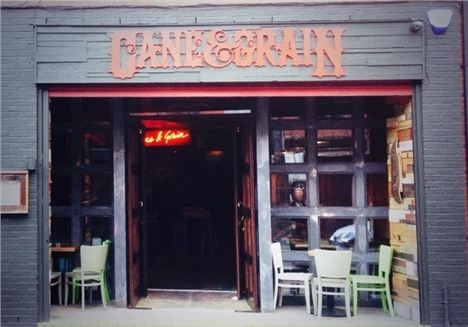 Cane & Grain
In Manchester at least 2014 will be remembered as the year of peak rib (also perhaps the year of peak peak, let's hope this annoying phrase dies away soon). Dirty food, faux Americana, booze 'n' burgers, call it what you will this is one food trend that refuses to die. 
Personally I'm hoping the next wave of food fashion will be 'mucky grub', an ironic ode to British culinary cul-de-sac of 80s kids teas: Wimpy burgers served with a side of hula hoops, or Findus Crispy Pancakes with hydrogenated fat choc ices for afters.
Anyone want to buy the franchise?
So it was with a certain jaded cynicism your reviewer visited the Northern Quarter's newest addition to the down 'n' dirty scene. Cane & Grain bills itself as devoted to 'Rum, Ribs, Bourbon & Beer'. Teetotal vegetarians beware.
Initial impressions. No surprises for the Northern Quarter, C&G is a pretty cool sort of spot, utilising the previous occupant's (skate shop Cast) legacy with skate posters on the walls, skate videos and even a skate soundtrack. There are three floors altogether, each one offering something different including the Liar's Lounge, which embodies the tiki vibe its sister-bar The Liar's Club is famous for. However, this review is for the food, so I stuck to the ground floor where those rib-sticking, er, ribs are served.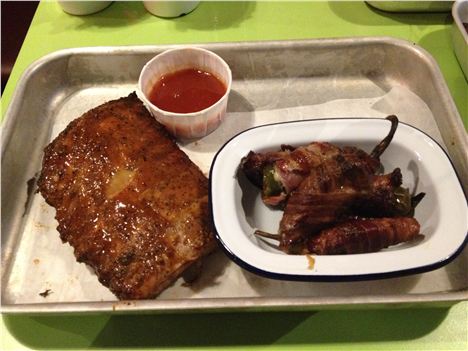 Baby Back Ribs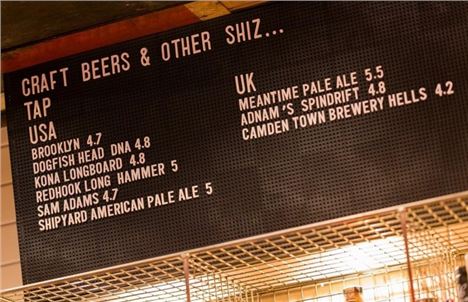 Cane & Grain
Ribs we came for and ribs we got. The menu is short and precise, offering pork ribs in dry or sticky format. A friend of mine who is half-French and half-cavewoman and as such is a big fan of deconstructing a meaty carcass, complains that Reds and the like have too much gunk on their ribs (interferes with the gnawing). Here she can order a dry rub-style rib (Memphis) or the Baby Backs, which come with the sauce on the side for ultimate gunk control (perhaps they ought to tweet that?).
I ordered a half rack of each (£7 a go) to compare the styles. I plumped for the Vimto sauce, an acknowledgement of the fact we are in Manchester rather than the Mississippi Delta. My companion went for the beef Dino rib (£22) which the waitress explained was cooked for two days. Two days? I could feel my cynicism starting to lift. But it was the sides that got me really excited.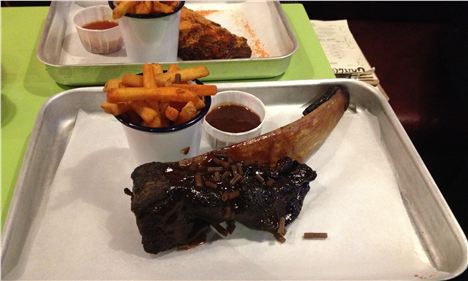 Dino Rib - £22?
Confession time, I like to read recipe books for fun. These sides could have come out of one of my all-time favourite tomes, Sheila Lukins' USA Cookbook. Cornbread, jalapenos, dill pickles. This is serious appreciation (if only a tiny selection) of some of the wonderful things American food has to offer. I asked the waitress if we could swap two of the three lots of fries we would be getting with our ribs for some tater tots (£3), not only did she agree instantly but offered some Carolina slaw (£2) as well.
Now that's a really great American import, I thought, genuinely helpful customer service. We threw in an order of jalapenos in smoking jackets (£4), my partner ordered a Kona LongBoard (£4.80) from the impressive selection of beers and I got cracking on an Old Fashioned Slushy (£7.50), billed as containing 'frozen water', or in U.K. English, ice. It was a winner. The evening was going so well, a top-notch review began to compose itself.
And then. Our food arrived, but with three sets of fries. What about our slaw 'n' tots? Ok, so we had asked for something a bit out of the ordinary and that can confuse a kitchen that after all has only been going for four weeks. We waited. Then we noticed the table next to us complaining. Happy to earwig in the name of thorough reviewing, our neighbours were not happy with the temperature of their Baby Back ribs. I tasted mine only to find they were also barely lukewarm.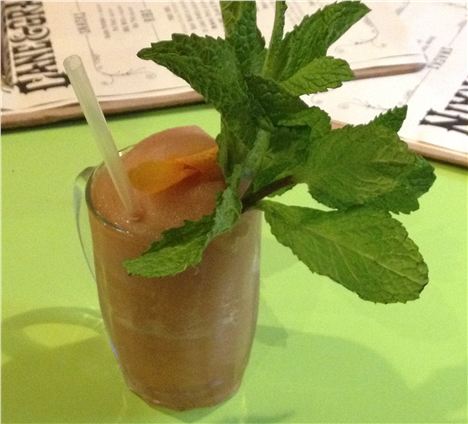 Slushy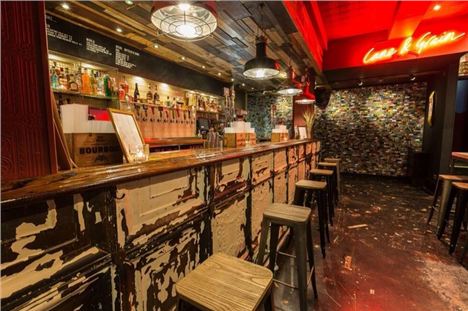 Cane & Grain
Now, I'm a fairly good complainer. The last time I complained Simon Rogan came to apologise to me personally. So I was taken aback when the waitress told me that my ribs would have been hot if I'd eaten them when they came out. Well, yes I could have done that, but I was waiting for my errant sides because I thought it would be whacky and fun to eat them together, plus my Memphis ribs were still of a decent temperature. She then waltzed off before I could ask her to take them away.
Funnily enough, I can sort of understand why the waitress gave us the swerve at this critical point. I think she was under a lot of pressure from the kitchen, who were probably still reeling from having to send out a different lot of sides. Dealing with two tables complaining at the same time is hard. Even so, I don't care how hip and happening your joint is, how many outlawed skateboards you have on the wall. If a customer says her food is cold, then it is cold. Even if you can see the steam still rising off it, it is cold. This was not good. My glowing review tore itself up into little bits.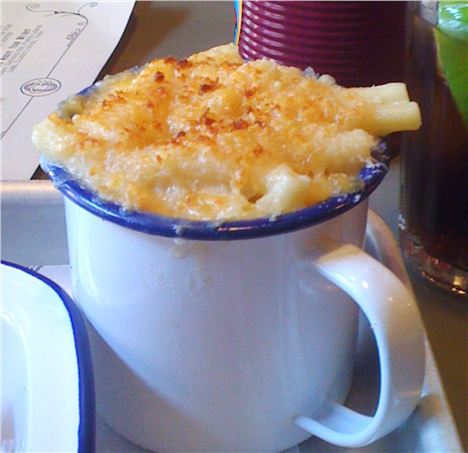 Mug of mac'n'cheese
A caveat: by the time I'd consumed a few more of those delectable cocktails (The Deep South Zombie is a must-try)  and was feeling a little nibbly, I did end up gnawing on those ribs. I'd started off righteously leaving them to one side but after a while they stated to look so lonely. In the interests of transparency, it's only fair to report that even cold they were quite yummy.
Even so the evening had headed Deep South itself, only not in the delicious Zombie way. Although the Memphis ribs were good and meaty without giving me the protein sweats, and the sides, when they arrived, also good, especially those hot little numbers in their bacon dressing gowns, or whatever it was (the bourbon was really kicking in at that point), I couldn't get over my Baby Back ribs.
The Dino rib of two-day cooking fame was also less than successful. To be frank it tasted like the olfactory recreation of a World War II bombing you might find in a museum, all fake smoke and charred remains. At £22 Gen-U-Ine Americans must laugh at these prices, if they are not weeping.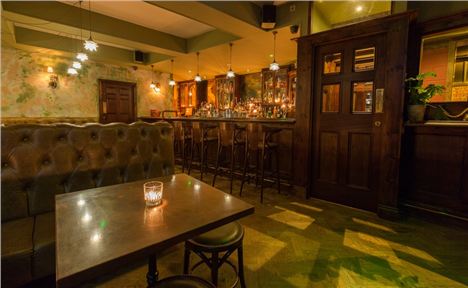 Cane & Grain First Floor
And yet. That menu. Those cocktails. I had to go back and try more sides. So one lunchtime I popped in and had me a fine mess o' beans (actually smoke pit beans and burnt ends (£4), ie baked beans with rib ends), some corn bread loaf (£2) with a steaming hot mug of truffle mac & cheese (£3). The beans and cornbread were superb, proper cowboy grub, gently smoky and mighty satisfying. The mac 'n' cheese was a bit too truffly and not quite creamy enough for my taste (macaroni cheese is a deeply personal issue I find). Plus serving it in a mug means you get less of the crunchy cheese on top. Add a few points for using elbow macaroni instead of the small stuff though and the service too was impeccable that day.
So Cane & Grain is definitely still working out its teething problems. Sins against the Holy Customer have been committed. But instead of being jaded, I'm intrigued. I've yet to try the watermelon salad (infused with gin, now that is my kind of salad). I want to know why they don't serve any desserts. Like some cheatin' heart who done me wrong, I can't quite forget C&G. And I hope that's the last Americana cliché you'll hear from me.
*I'd like to take a moment to point out that a money shot and swallowing without tasting are mutually exclusive endeavours. Call me a pedantic old prude who thinks that comparing a drink to a load of semen isn't actually all that appealing. But, hey, what do I know about marketing? Twitter credit to Almost Famous.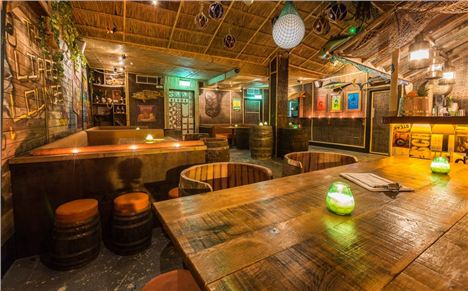 Cane & Grain tiki bar
ALL OUR SCORED FOOD REVIEWS ARE IMPARTIAL AND PAID FOR BY MANCHESTER CONFIDENTIAL. REVIEW VISITS ARE UNANNOUNCED AND COMPLETELY INDEPENDENT OF ANY COMMERICAL RELATIONSHIP.
Cane & Grain, 49-51 Thomas Street, Northern Quarter, M4 1NA. 0161 839 7033
Rating: 13.5/20
Food: 7/10 for the ribs and for each of the sides 
Service: 3/5 – a bad moment with my ribs but genuine and friendly the rest of the time. A shame
Ambience: 3.5/5 – very Northern Quarter
PLEASE NOTE: Venues are rated against the best examples of their kind: fine dining against the best fine dining, cafes against the best cafes. Following on from this the scores represent: 1-5 saw your leg off and eat it, 6-9 get a DVD, 10-11 if you must, 12-13 if you're passing, 14-15 worth a trip, 16-17 very good, 18 exceptional, 19 pure quality, 20 perfect. More than 20, we get carried away