THE WHITWORTH Gallery has been shortlisted for the RIBA Stirling Prize following its impressive redevelopment by MUMA (McInnes Usher McKnight Architects).
The Stirling Prize judges called the Whitworth extension "a project for all seasons"
The RIBA Stirling Prize is the UK's most prestigious architecture prize and is presented to architects of a building that has made the greatest contribution to the evolution of architecture in the past year.
The nomination adds to the Gallery's swag-bag of plaudits, including RIBA's North West Building of the Year and the Art Fund's Museum of the Year. Alongside the Whitworth, this year's shortlist includes housing projects, a school, a university building and a cancer care centre.
EXAMINED - DOES THE NEW WHITWORTH WORK?
The rebirthed Whitworth welcomed back visitors on 14 February 2015 following a £15 million redevelopment project which transformed the 126 year-old gallery into a 21st century gallery in the park. Since reopening, over 230,000 people have visited the gallery, breaking all previous annual records.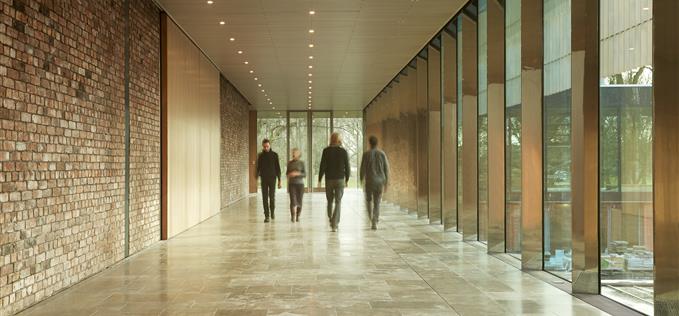 The Whitworth (credit: Alan Williams)
Following the nomination, Professor Dame Nancy Rothwell, President and Vice-Chancellor of The University of Manchester said,"The fact that RIBA has recognised the architectural importance of this new building makes me very proud. The Whitworth is a valued part of the University, housing internationally significant art collections. Now we also have a building which matches these collections and which can be enjoyed by local people, students, staff and visitors from around the world for many years to come."
Maria Balshaw, Director of the Whitworth commented, "MUMA's sensitive extension and restoration of our building unlocks our potential as a university art gallery in a park.
"The collection and the knowledge held inside now connects to our local community of park users and the elegant, generous spaces for art are drawing people in from all over the world. We are delighted to have the quality of MUMA's architecture recognized by inclusion on the Stirling Prize shortlist."
The Stirling Prize judges called the Whitworth extension "a project for all seasons".
The Whitworth is the bookies' favourite to take the prize - Paddy Power gives odds of 5-2 to win.
Also nominated this year are: Burntwood School, Wandsworth; Maggie's, Lanarkshire; Darbishire Place, London; University of Greenwich Stockwell Building, London; NEO Bankside, London. The Stirling Prize winner will be announced at RIBA headquarters in London on 15 October 2015.