I FOUND Rostron Brow but there was no sign of activity. No building work, no graphics being painted, in fact none of the usual hive of activity you'd expect to find three days before a restaurant plans to open to the public. I ask neighbouring businesses to direct me to Where The Light Gets In (WTLGI), only to be met with blank stares.
Buckley tells me he regularly loses sleep over things like the best way to set nut custards
I phoned Chef/Patron Samuel Buckley who came down to get me, but he seemed glad that I struggled to discover his hidden lair. "We don't have a sign," he says casually, "even our suppliers have trouble finding us. But those who want to find us will."
That's a bold assumption for a new suburban restaurant without a 'named' chef, but it's not the only challenge Buckley's customers will be expected to face. There is to be no published menu, only a set-price tasting menu at £65 with a matching wine flight for £35. Buckley refers to this as 'Freedom from Choice' and suggests it's actually quite liberating, "It means we have to do what we do incredibly well. There's nowhere to hide," he said, "When you go to a restaurant with fifty things on the menu, there's a lot of prep hanging around in the fridge, so there's less chance of everything being done incredibly well."
Buckley has worked in the kitchens of Gary Rhodes' restaurant, as well as at the Michelin-starred Juniper, previously in Altrincham, and latterly the two Michelin-starred L'Enclume in Cumbria, which has had a huge effect on his attitude towards food.
Stockport has been gathering acclaim for its emerging food projects recently. Its monthly street food event, Foodie Friday, won 'Best Food and Drink Pop Up' at this year's Manchester Food and Drink Festival, while Heaton Hops won 'Craft Ale Bar of the Year'. Fellow chef Matthew Nutter recently opened The Allotment vegan restaurant nearby and is already taking bookings well in advance.
Stage two of WTLGI will incorporate a grocer's shop selling vegetables and homemade produce. "We also plan to offer community cooking lessons, teaching families how to cook," reveals Sam, "we're working with the council to encourage wild plants to grow so we can take kids foraging. It's not all going to happen immediately, but the idea is to be socially responsible and influence change. Eventually we want to grow things on a community farm but that's all in the future."
Chef Samuel Buckley - loses sleep over nut custard
We climb up an external staircase to enter an open loft with tables and seating for about fifty covers. Sofas were still being built, plants were being potted up and windows polished – that's more like it. Huge windows revealed a vista of Stockport which Buckley has nicknamed 'Heaven and Hell' thanks to the view of St Mary's Parish Church on one side and Robinson's Brewery on the other. The rear third is taken up by an enormous open kitchen with a chef's table facing it.
The minimalist exposed brick walls give it a Scandinavian vibe. Does that hint at the style of food he'll be cooking? "Chefs like Reni Redzepi and Magnus Neilson are not telling us to eat Scandinavian food," says Buckley, "they encourage people to embrace the food they have in their area and to remember what people did before fridges and artificial flavours. We've been out foraging already three times this week."
Sam has spent the past six months creating a collection of homemade vinegars and sauerkrauts, "We use vinegar and salt instead of citrus. Lemon juice has a completely different set of connotations from a different part of the world."
How often will they change the menu that's not a menu? "It depends what we can get hold of," says Sam, "things will change naturally, like our pear juice which is already fermenting. We'll take 500ml off it every day and turn it into a gel for a pear and pine pre-dessert, so the flavour transforms on a daily basis. We'll be doing really simple, natural cooking to find those umami flavours in a lighter way of cooking."
I spied two enormous joints of Hereford beef, "We're going to take down the rib-eye cap and put it on the plancha, serving it alongside some raw ox heart." Sam gives me some pear kombucha to try. "Smell this," he then says, handing me a strange fruit, "this unripe quince is my discovery of the week. We foraged that." I see rosehips, "We'll be making a rosehip marshmallow tossed in grated chestnut for the petit fours." He unwraps some burnt pine for me to smell before talking about plum umeboshi, crab apples, foraged chestnuts and single variety native apples which he'll serve with a cheeseboard. Buckley tells me he regularly loses sleep over things like the best way to set nut custards to the right consistency.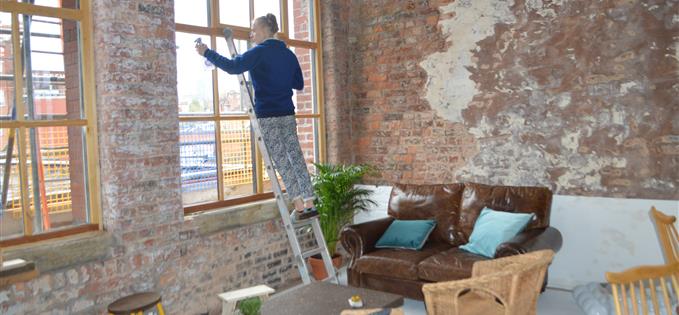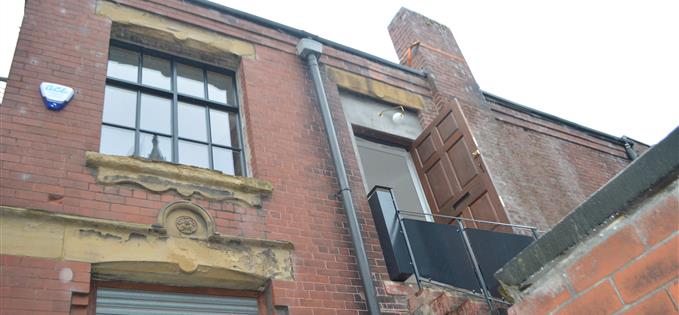 Where The Punters Get In
He is working with specialist suppliers to ensure controlled care from supply to service. He tells me about a Welsh farmer who raises black beef and feeds his cattle flowers when they're sick. "There's another guy who makes biodynamic sparkling wine," says Buckley, "He uses ancient techniques for composting soil using deer bladders and things like that. We're interested in the stories and we're in a position to tell customers thanks to our open kitchen and me waltzing around cooking and serving." Traditional boundaries between chefs, waiters and customers will change.
Pastry chef Jess will double as in-house expert after specialist training from coffee supplier Atkinsons, "We're going to have single origin coffee to match Jess's petit fours", says Sam, "she's going to weigh out and grind each individual cup at her station and then serve the coffee."
So referring back to the no choice, eight course menu which includes homemade bread and a pre-dinner cocktail, Buckley concludes, "We think it really is great value for money. We're completely honest about where things come from and the work that goes into it."
This new restaurant is entirely dependent on Samuel Buckley's cooking and his ability to convince enough customers to get on board with his purist philosophy, as they have with other independent culinary thinkers like Rogan and O'Hare. If WTLGI manages to survive the first six months in a hugely competitive market, there's a chance Greater Manchester could finally have something special.
Where The Light Gets In, 7 Rostron Brow, Stockport, opens Friday 21 October (Dinner is served from Wednesday to Saturday from 6.30pm). Tel 0161 477 5744
Powered by Wakelet