LAST NIGHT, between all the pumped-up, lip-glossed and spray-tanned escapades on ITVBe's new reality programme, The Real Housewives Of Cheshire, Sport England aired 'This Girl Can Advert' - a campaign to help stop women fearing judgement when working out. The internet rejoiced. 
"This ad is trying to reach women who have felt for whatever reason that exercise or sport is not for them, that it's an exclusive club they can't join."

Instead of the common workout ads featuring a spritely young woman jogging without breaking a sweat, viewers were presented with the jiggling, wobbling, powerful reality of women working out: 'sweating like a pig' and 'feeling like a fox'.
The ad features women of all sizes and abilities enjoying sport and exercise at various different levels: from the A+E nurse Julie who let's go of inhibitions in Zumba classes to stay-at-home mum Kelly exercising in her living room.
There's not been an empowering body confidence movement quite like it. 
The national campaign was developed by government programme, Sport England, after research revealed '2 million fewer women are regularly participating in sport or exercise than men, despite 75% of women aged 14 to 40 saying they'd like to do more'.
Sport England's chief executive, Jennie Price, believes fear of judgement is what is holding some women back from exercise.
She explained to the BBC: "Before we began this campaign, we looked very carefully at what women were saying about why they felt sport and exercise was not for them.
"One of the strongest themes was a fear of judgement. Worries about being judged for being the wrong size, not fit enough and not skilled enough came up time and again."
"This campaign says it really doesn't matter if you are a bit rubbish or completely brilliant."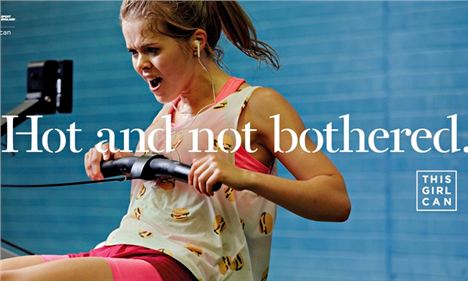 This Girl Can
Along with a growing Twitter community posting words of encouragement under the #ThisGirlCan hashtag, sports presenter Clare Balding also supports the movement. She told The Daily Telegraph: "We are all imperfect and let's celebrate that, it doesn't make us less valuable."
"We all have wrinkles and bags under our eyes and cellulite and pores and all those things that you don't normally see in images of women.
"This ad is trying to reach women who have felt for whatever reason that exercise or sport is not for them, that it's an exclusive club they can't join."
She added: "And I think the most powerful way of doing that is to show women who look like you doing it and don't be afraid if you wobble. It doesn't matter. We all wobble."
It's great, and certainly empowering, to watch a campaign that tackles head-on the culture of 'I can'ts' when it comes to women in sport and women in exercise in general. Beside the gloriously toned bodies widely used as 'fitspiration', the campaign sends out a postive push to those who are not quite there yet: If this girl can do it, then why can't you? 
Visit thisgirlcan.co.uk for all information about the campaign or follow on Twitter with the hashtag #thisgirlcan
Follow @LOreal_B on Twitter.