CHEAP, fresh, delicious and very good sums up Vnam Café on Oldham Road on the fringe of the city centre.
Spicy notes were tamed by citrusy flavours then came crunchy peanuts, pickled carrots and lotus root, fresh mint and succulent king prawns. It had a kick to it 
Opposite the main Post Office depot, it doesn't look like much from the outside. There are metal shutters of a flaking property and a huge billboard for neighbours, but inside it's an endearing and popular little hangout.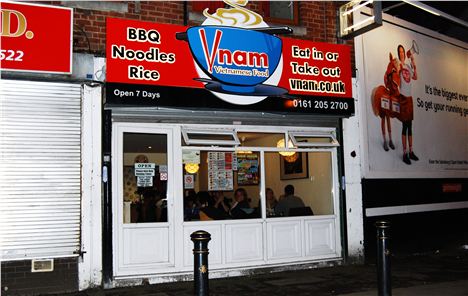 Scuffy surroundings
Having spent some time in Vietnam, I was looking forward to rekindling my taste buds with the lovely flavours I remember from my trip.
As with other Asian food, Vietnamese food adheres to the Yin Yang balance in meals with a careful mix of sour, bitter, sweet, spicy and salty.
It's made up of a number of influences and is believed to be one of the healthiest cuisines in the world: Buddhism adds plenty of vegetables, there's the tamarind and citrusy influence from South Asia with lemongrass and kaffir lime leaves, Chinese cuisine adds the five spices said to correspond to the five organs, and there are curries influenced by the Subcontinent.
My favourite thing when I was travelling was the goi con, or summer spring rolls - similar to typical take-away spring rolls, but not deep fried, so a much healthier version.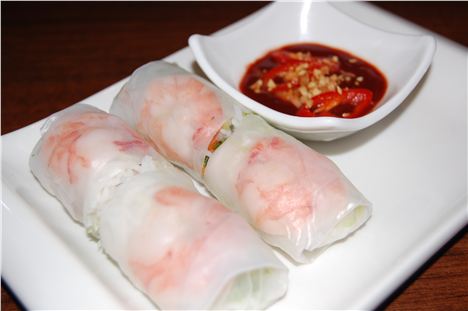 Spring rolls
When I had them in Vietnam they came with the rice paper on the side, and a huge plate piled with catfish, herbs, noodles and veg to stuff and roll yourself. They were delicious and addictive, I ate them nearly every night and have recreated them here many times.
The goi con at Vnam were as good. Instead of the catfish ones I'd had on my travels, here they are filled with king prawns, pork, glass noodles, fresh mint, shredded veg, and served with a peanut sauce. At £3.50 for two chunky rolls, they were a steal.
My fellow diner was drawn to the hen sot me to start, large, steamed green-lipped mussels (the main picture above) in tamarind sauce (£4.95). The sauce was so delicious that we were using the empty mussel shells to spoon it up like it was soup. The balancing principles were clearly evident with the sweet tamarind, sour kaffir lime leaves and lemongrass, and salty fish sauce. But unfortunately, the mussels themselves were overcooked and chewy. A real shame.
The menu at Vnam is a laminated wipe down affair, it's neither pretty nor extensive and whilst there are plenty of meat and seafood dishes, many can also be made veggie.
For mains I went for a lotus root salad and my mate had a black pepper pork belly stew with rice.
Eating the lotus root salad was how I imagine Violet Beaureguard must have felt in Charlie and the Chocolate Factory with her multi-flavoured chewing gum. Spicy notes were tamed by citrusy flavours then came crunchy peanuts, pickled carrots and lotus root, fresh mint and succulent king prawns. It had a kick to it and was a refreshing assault on the senses with the different tastes coming one after the other - eating it made me feel buzzing and alert.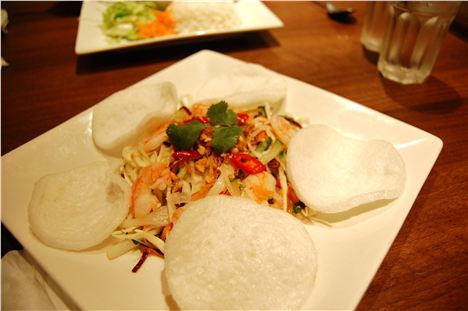 Lotus root salad
My friend wasn't as impressed with her pork belly stew (£6.95), which she felt was lacking in flavour and missing the black pepper taste described on the menu: "It's not Ho Chi Minh-ging," she said, "but it doesn't taste of much either." The broth was meaty, like stock, and whilst the pork was tender and there was the added bonus of a boiled egg, there was no star anise as would be expected in this type of dish (or any other aromatics for that matter), making it bland overall.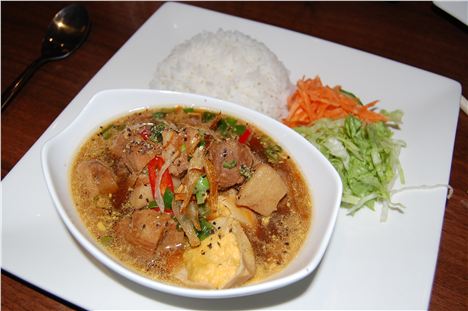 Pork dish
Being greedy, we also had some salt and pepper soft shell crab on the side (£4.75). It was simple and tasted like the seaside. It came with a sprinkling of fried onions and chopped chilli, spring onions and peanuts, and was a nice accompaniment to the lotus root salad. It loses marks for being paired with Thai sweet chilli sauce though, which we found too overpowering for the delicate flavours.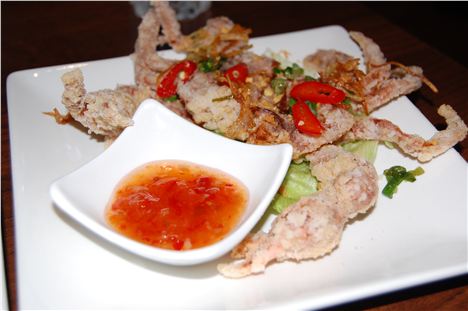 Soft shell crab
Vnam Café is a charming and homely family-run business. On a Friday evening it soon filled up with couples, parties and groups of friends. It's only a small place with maybe 40 covers but it has an endearing vibe which makes you want to visit again and again and keep trying things, indeed many of the diners must have been regulars as they knew about the BYO policy (£1 corkage, they don't have an alcohol licence).
They don't do puddings either but if you're after something sugary try a Vietnamese iced coffee - made with condensed milk it'll definitely satisfy sweet teeth.
When we came to pay, my friend and I were a little embarrassed that between us we had the total of £1.10 to leave as a tip. The service had been really good, prompt, and the waiters were very friendly.
I apologised hurriedly as we were getting up to go and in return got a big smile as the waiter said: "That's fine, it was a pleasure to have you here, just come back again some time."
And I definitely will because I want to try the traditional Vietnamese dish Pho (£7.35, pronounced 'fo'), I've heard it's pho-nomenol at Vnam Café (ho, ho or maybe pho pho). Not everything was perfect here with the food, but the place has that easy charm, that individuality, that marks a good independent. 
This is also a good place to bring the kids as well. The variety of food will provide youngsters with plenty of opportunity to collect their 'five-a-day'. At the same time the low cost of the food means failed experimentation does end up being a big waste of money. 
The total bill for two cost £30.05.
You can follow Rakhi Sinha on Twitter here @Rakhi_Sinha

ALL SCORED CONFIDENTIAL REVIEWS ARE IMPARTIAL AND PAID FOR BY THE MAGAZINE. 
Vnam Cafe, Oldham Road, Manchester, M4 6BG. 0161 205 2700. Website 
Rating: 14.5/20
Food: 7/10
Service: 4/5
Ambience: 3.5/5
Venues are rated against the best examples of their kind: fine dining against the best fine dining, cafes against the best cafes. Following on from this the scores represent: 1-5 saw your leg off and eat it, 6-9 get a DVD, 10-11 if you must, 12-13 if you're passing,14-15 worth a trip,16-17 very good, 17-18 exceptional, 19 pure quality, 20 perfect. More than 20, we get carried away.