"I woke up one morning to this text from Lyndon which read: 'I'VE GOT IT… CRAZY PEDRO'S PART-TIME PIZZA PARLOUR… MEZCAL AND PIZZA… TIL 4AM… ROCKING!' recalls co-owner Ross Mackenzie. "I just thought 'oh he's had a big night, he'll sleep that one off and we'll never hear of it again... turned out to be a stroke of genius!"
Pedro's always felt like it should have been a Northern Quarter bar
Two years later and Confidential's sat with Mackenzie and co-owners, Jobe Ferguson and Lyndon Higginson, in the bowels of Northern Quarter institution Affleck's Palace, eating a smashing slice of 'Jamaican Me Crazy' and supping their very own batch of Herradura Reposado – the only such personalised batch in Europe (£50 a bottle if you're interested).
Here on Friday 11 November the trio – who between them manage the likes of Blackdog Ballroom, Liar's Club and Cane & Grain - open their second branch of Crazy Pedro's, with outposts in Leeds, Liverpool and beyond already in the pipeline.
Perhaps surprising then that following a slow start at the original bar and pizza parlour on Bridge Street, they began to consider pulling the plug.
"I'll be perfectly honest, for a while it wasn't working and we were thinking 'f**king hell, bit of a weird idea this'," admits Higginson, "but then almost overnight it clicked and people got it.
"We received a massive boost from the industry. Crazy Pedro's became a bartender's bar, luckily the public followed and it just blew up."
With it's free-flowing booze, bonkers pizza mash-ups (a recent Greggs-inspired special, Dreggs, featured sausage roll, baked beans and brown sauce) and anarchic 4am vibe, Pedro's always felt like a little, come-one-come-all piece of Northern Quarter lobbed off and removed from the place where Dr Martens, exposed plumbing and moustache wax are held above all else.
Little wonder then that the new opening feels a little like a homecoming.
"Pedro's always felt like it should have been a Northern Quarter bar," says Ferguson, "at least, half the people who end up there come from Northern Quarter anyway."
"When we opened on Bridge Street it almost felt like this thing, this mad, mad thing, had landed here from another part of the city," says Mackenzie. "It just made sense to do the second one here."
"When Ross showed me this space it took all of one second to know this was a Pedro's," says Higginson.
Crazy Pedro's NQ opens on Short Street (just off Tib Street behind Sacha's Hotel) on Friday 11 November, then daily from 4pm to 4am.
The first 100 punters through the door will receive a limited edition Crazy Pedro's t-shirt and a free slice of pizza to slop down it.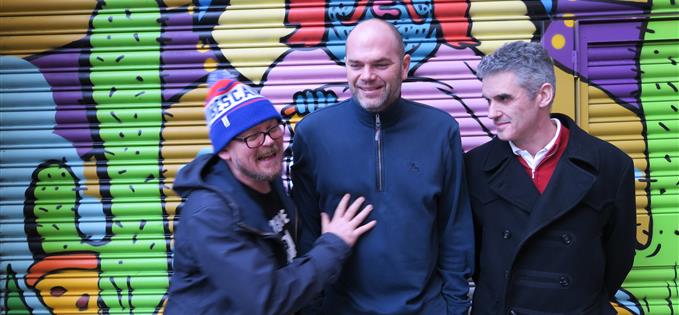 L-R: Lyndon, Jobe and Ross
Powered by Wakelet