YOU may be surprised to hear that Levenshulme is one of my favourite parts of Manchester. Not so much for what it is now, but for what it stood for then.
Located opposite another diamond in the rough, Levenshulme Antiques Village, Trove, much like my gran, knows how to appreciate the simple things in life.
By 'then', I'm referring to a period way before my time, all the way back to the start and end of the Second World War in fact, when my grandmother was growing up on Bowler Street, just off Stockport Road.
The picture she still paints so vividly of those times, is one of both hardship and camaraderie. The community didn't have much, but they had each other. From the butcher, to the greengrocer, to the baker; community spirit saw them through thick and thin.
It's all very hard to imagine now, driving down that same main road.
There's still a community of course, but the whole stretch of A6 through Levenshulme lacks that pride my gran knew and loved.
Now a sea of pound shops, tatty takeaways and car congestion to rival a Los Angeles freeway, you don't have to be in your 70s to see it's not what it was or could be again if given half a chance.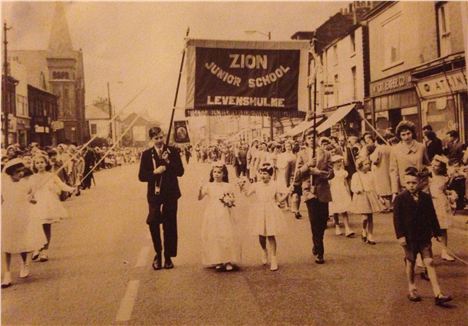 Stockport Road, Levenshulme, 1952. Lynda's great uncle to the left, holding a banner during the Whit Walks.
One such glimmer of hope for an area so woefully downtrodden is Trove.
Located opposite another diamond in the rough, Levenshulme Antiques Village, Trove, much like my gran, knows how to appreciate the simple things in life.
The cafe, owned by a husband and wife team, is independent right down to their spring water; Wenlock, which comes from another family business in Shropshire.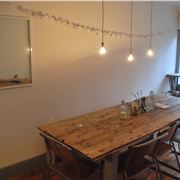 The TableSmall on the inside, you can see through to a bigger area at the back where the magic is made. Trove specialises in real bread and organic preserves made using seasonal and organic produce. That homely waft of fresh bread quickly detracts your attention from wondering where the hell you're going to sit in a place so modest. But then you see the table.
As is so proudly stated on their website, Trove 'is focused around a large table (made by Marcus and friend Matt) so that the people of Levenshulme can come and socialise and communicate. We love the idea that our neighbours can come to meet, talk and eat and new friendships could be made over a decent cup of coffee (or tea).'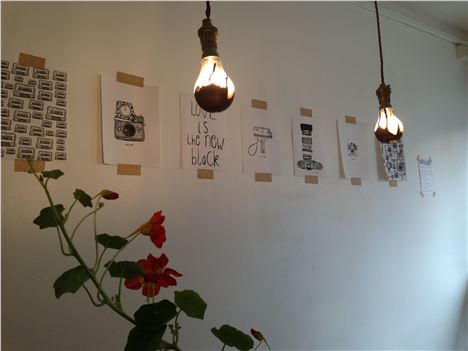 The idea works.
My friend Thea and I began our lunch date alone but were quickly joined by other customers and it didn't bother us one bit. It's social without being contrived, and the coffee really is decent.
I actually ordered a hot chocolate (£2) while Thea sipped on her creamy looking flat white (£1.45). Low and behold, the hot chocolate was hot.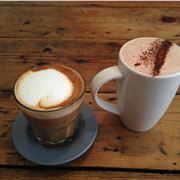 Shocked? If you're a hot chocolate lover you might very well be. Trove is one of the only places I've reviewed to serve a hot chocolate that lives up to its name in both temperature and flavour. For some reason most cafes just can't seem to get it right, but here they can and do.
Food wise, Trove's menu plays to their strengths. They are, after all, good at all things bready, so sandwiches and variations on hot breakfasts work best. Thea went for the bacon, brie and black pepper with apple, plum and chilli chutney sandwich on sourdough bread (£4.10), while my eye was drawn to the black pudding potato cake, bacon and fried egg with tomato chutney breakfast (£5.50).
The sandwich was the stuff of Tupperware dreams. Imagine opening up your lunchbox at work to find this beast squaring up to you?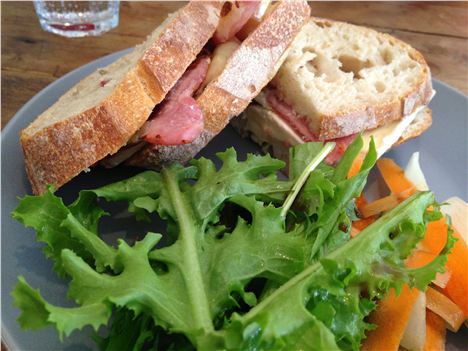 Thick, quality British bacon and creamy brie in soft sourdough, fresh off the baking stone, not just garnished but greatened by what Thea described as "a proper salad that actually tastes earthy." There was only ever going to be one winner.
Breakfast at 2pm was no slap-dash 'All-day' second-thought-slop here.
Trove understands that the most important meal of the day doesn't have to be when you wake up, nor does it have to be so bloody uninspired. It's to that end they've come up with several of their own takes on breakfast, where quality and taste override quantity and haste.
The black pudding potato cake (see top image) was a stroke of genius. Anyone who shudders at the sight of black pudding could easily be swayed with it in this fine disguise.
A welcome mixture of fluffy and firm textures with bitterness from the leeks intertwined with the richness of the black pudding, it's a wonder why more places don't try this crafty little combo. A runny egg alongside more of that thick cut bacon and homemade tomato chutney, this is the first breakfast in a long time that hasn't required salt, pepper or sauce of the HP or Heinz variety.
Bakers at heart, Trove also has plenty of cakes on display by the till. We went ahead and ordered the apple and almond cake before even knowing what it was, it looked that good. A slice of marble cake also made the mark.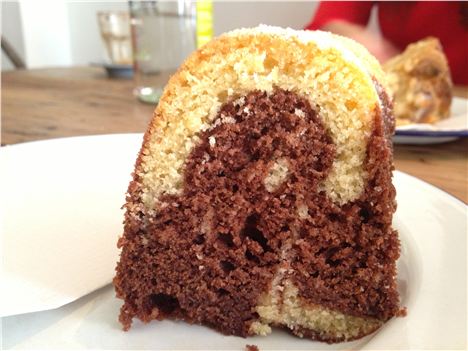 Marble cake
Both were faultless. Moist, light and diet-breakingly delicious. And so we sat, ate, digested, chatted and sat some more...
By gone 4.30pm it was time to leave and nearly time for Trove to close. Our delightfully easygoing waitress was sweeping up outside and hadn't so much as paused to check her watch, never mind hurry us along.
Time had passed us by but within the sanctuary that is Trove, amid the commotion of the A6, we'd stood still. You see it's not just about good food here, it's a whole state of mind.
Next time, I'm bringing my gran.
Follow Lynda on Twitter @lyndamoyo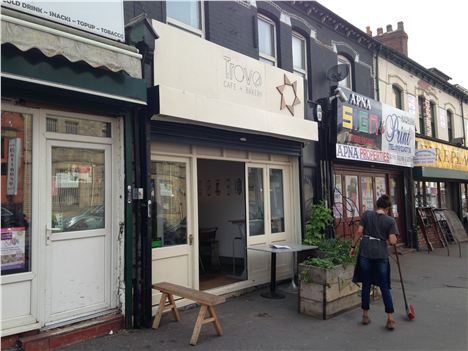 ALL SCORED CONFIDENTIAL REVIEWS ARE IMPARTIAL AND PAID FOR BY THE MAGAZINE. 
Trove, 1032 Stockport Road, Levenshulme, M19 3EX. 0161 224 8588.
Rating: 16/20 (please read the scoring system in the box below, venues are rated against the best examples of their kind)
Food: 9/10 
Service: 4/5
Ambience: 3/5
PLEASE NOTE: Venues are rated against the best examples of their kind: fine dining against the best fine dining, cafes against the best cafes. Following on from this the scores represent: 1-5 saw your leg off and eat it, 6-9 get a DVD, 10-11 if you must, 12-13 if you're passing,14-15 worth a trip,16-17 very good, 17-18 exceptional, 19 pure quality, 20 perfect. More than 20, we get carried away.