TIM BACON, the Chairman of Living Ventures - the bar and restaurant group behind such Manchester institutions as The Alchemist, The Oast House and Australasia - sadly passed away at his home on the evening of Friday 29 April following a long battle with cancer.
MARK GARNER - who had known Tim for two decades - is the founder and publisher of The Confidentials.
'Can I ring you in about twenty minutes, Mark? It is urgent. Jo Houlcroft'
At the time he told the door to treat me well, as I looked like 'an interesting old bastard'
That's a text I never wanted to see.
Jo is PR guru for Living Ventures, as well as her gaffer and pal, Tim Bacon.
A few minutes later I had to put the phone down. I was crying.
Tim Bacon, The Man, sat down in his armchair on Friday night around nine, after a day of business, laughs and jokes with his colleagues and business partners, and didn't wake up. Well, I like to think he did, just not in this world.
Tim had been battling cancer for over a decade.
I don't remember meeting The Man, mainly because I was blind drunk at the time. I was told the following day that he intervened in me getting a second prize from a couple of narcos in the newly opened Living Room on Deansgate, a place where genius, shadiness and aspiration all shared the tobacco-depleted oxygen.
It was fun and the food was good (I still fondly recall a very special rack of lamb) - turned out there were many hundreds of thousands of people who welcomed The Man's vision.
Back in those days, Manchester was in a twilight world, emerging from the industrial sixties and seventies where bent coppers, gangsters and piss-poor politicians ruled the roost. An English Gotham City.
Then the Man arrived.
Unlike Tony Wilson and myself, both Salford Lads with roots and reasons to love the city, The Man, although Cockney born, had moved to Tasmania as an infant. He arrived, having had a short affair with soap-opera acting in Australia, to work as a bar tender for TGI Fridays, later going on to open his first venue, JW Johnsons, on Deansgate in 1993, followed a few years down the line by The Living Room - his first major success.
At the time he told the door to treat me well, as I looked like 'an interesting old bastard'.
The door has now been treating me well for over twenty years. For that, I have The Man to thank. As some are aware, every full moon (or so it seems) the Irish genes, sparked up by midnight, have left me howling at the front door of many a Living Ventures venue....
And still, they let this interesting old bastard in.
The Man had genius for leadership, and has his irascible partner, Jez Roberts, to thank in building the group of brands - including Artisan, The Alchemist, Australasia, Manchester House, Blackhouse, Gusto and the New World Trading Co. (Blimey) - to an annual reported turnover of around £100m.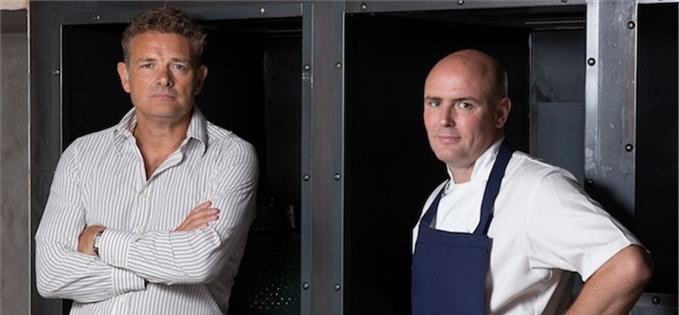 Tim Bacon with Manchester House chef, Aiden Byrne
The journey from Manchester's industrial collapse to it's renaissance as the most exciting city in Europe in which to live, work and play (with my Manc-tinted glasses on) was navigated by the visionary Wilson, but also by the straight politician, Graham Stringer, and, of course, The Man.
A few years ago, Tony Wilson, on stage at an awards ceremony, saw me in the audience, stopped what he was doing and walked over wearing Yohji Yamamoto tails and using a stick. We had been good friends, but had fallen out over a story I'd written about a bar. Getting ready for a battle, I got a hug. He whispered in my ear: "I love you Gordo".
Two months later he was dead. God's favourite 'off' switch, cancer, had made a mistake.
Recently, on a rare sunny day in Spinningfields (which was, of course, hammered), somebody grabbed me from the rear. It was The Man. He hugged me.
"Gordo, I love you mate!"
Tim was out with his kids and a grin. After a few words he was off, still smiling. That was the last I saw of him.
Recently, on his twitter feed, when his team had been wishing him a happy birthday, he wrote "Fifty two years! Where did that life go…"
Not sure about that Tim, but the rest of us would need a thousand to achieve what you and your team did.
My condolences to Tim's family, his friends and colleagues; you all see further than us now, because you sat on the shoulder of a giant.
Dear God, you made another mistake. Stop it.
(If you wish to leave your thoughts and/or condolences, tweet or Facebook using the hashtag #TimBaconRIP and we shall add it to this page, or simply write in the comments below.)
04/05/16 - Confidential has received yet more tragic news from the Bacon family. 11-year-old Jett Bacon, Tim's nephew and an extended part of the Living Ventures family, passed away in the early hours of Wednesday 4 May following a year-long battle with cancer.
Jett's father and Living Ventures security consultant, Chris Bacon, said: "We are all devastated. When your child has cancer it is the hardest thing you could ever imagine. He was a fun loving boy with a kind and vibrant personality and was much loved by myself, his Mum, Laura, and his brothers. We'll cherish forever the beautiful memories we have of him. As you can imagine, this is a very difficult time for us as a family. Losing my beautiful son and my adored brother in such a short space of time is incredibly hard to make sense of.
"We would however, like to thank both the medical teams at the Royal Manchester Children's Hospital who have cared so compassionately for Jett over the last 12 months, and also at The Christie who were amazing in their commitment to looking after Tim over an extended period of time".
Confidential extends its deepest sympathies to the entire Bacon and Living Ventures family at this unimaginably difficult time.