SHISHA, like snuff and the Swedish snus, is something I've never quite understood. They're all ways of consuming tobacco that make me want to turn all Nick O'Teen and direct people towards that new fangled invention, the cigarette.
So when Zouk invited a few of the Confidential team to try their Shisha Lounge, I was curious to find out why it was becoming so popular. Then they said they'd throw lunch into the bargain, and suddenly half the office wanted to come and try it too.
Simultaneously clean and smoky, cool and warm, relaxing and stimulating, its appeal was becoming obvious
This Indian restaurant off Oxford Road impresses by opting for authenticity (sheep trotters, anyone?) rather than an uninspired curry-by-numbers menu. They've won several awards and attract a busy trade thanks to their solid reputation.
The style here is chic and confident without being over-done. Clean lines of chrome and wood, and an open kitchen where you can watch chefs buzzing from chopping station to tandoori grill and back again.
We ordered a mix of starters and mains. As requested, they were served all at once, filling the table with a feast of colour and delicious-looking dishes.
The hardest part of this job is the enforced wait between food arrival and food consumption while the photographer gets her shots. And today everyone else also wanted to take pics on their smartphones. Can't we just eat it? No, we need to document it first. Here's what we had:
Paneer Tikka – sizeable chunks of paneer cheese with a bright red tikka coating. Spicy on the outside, mellow and melting on the inside. An all-round hit.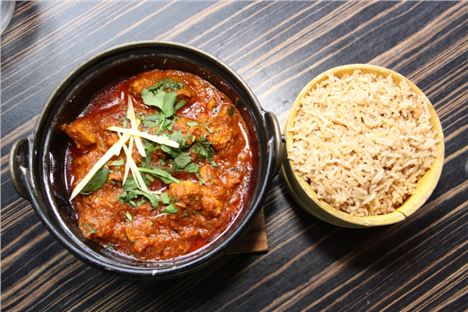 Alloo Partha – a request from Confidential's food-obsessed designer Mickey. This was chapatti filled with buttery mashed potato. Plain but homely, and delicious with a spoonful of raita. Like a mildly-spicy potato cake.
Lamb Handi – this was the stand-out dish. Lamb slow-cooked over flames with a rich curry sauce of tomato and onion. The slithers of fresh ginger and sprinkling of coriander made for an eye-opening first bite.
Tandoori Mixed Grill – a sensibly-sized selection of perfectly-grilled meats including a beautiful lamb chop and a delicately-spiced seekh kebab.
We devoured it all but now it was time for the second part of the bargain: the outdoor Shisha Lounge. Was that hail on the window? And we have to go outside?
Thankfully, they take care to protect you from the elements at Zouk (worth remembering if you're a smoker). We seated ourselves in a covered, outdoor area hidden from the street by neon-orange planters of fig trees. Heaters pulsed warmth from above and the cushioned chairs made it comfortable and cosy.
Two of our gang, Mickey and L'Oréal, are shisha regulars so they took care of the tobacco selection, ordering Double Apple and an Orange and Mint mix. The waiter prepared the water pipes then handed each of us a disposable mouthpiece, putting my hygiene worries to rest.
There's a sense of ritual about shisha, from the mixing of the tobacco, to the preparation of the ornate hookahs with their burning coals, to the inhalation, which is done cigar-style into the mouth rather than cigarette-style into the lungs.
That slow breathe in, the water bubbling beneath, was soothing. And the taste of flavoured tobacco was much more pleasant than a Marlborough Light. Simultaneously clean and smoky, cool and warm, relaxing and stimulating, the appeal was becoming obvious.
L'Oréal and Mickey recommend ordering a mint tea or hot chocolate with your shisha, but not alcohol (you'll be so light-headed you'll float away). They praised the quality of the tobacco at Zouk - the Al Fakher brand used here is considered one of the smoothest around. And they pointed out that Zouk is, they think, the only shisha place in Manchester city centre.
This was a lunchtime session with colleagues but you're more likely to go for shisha in the evening with friends. L'Oréal explained that the smoky, fruit-scented haze feels romantic at night, and the act of passing the pipes between you is sociable and intimate.
Chester Street just off Oxford Road is never going to be Marrakesh but I imagine that on a warm Spring evening with soft clouds of orange-scented smoke under canvas, it can do a convincing impersonation. For a taste of the exotic, Zouk delivers inside and out.
Shisha pipes at Zouk cost £10 and are typically shared by two, three or four people. You don't have to eat there (though why wouldn't you?) Zouk is on Chester Street, just off Oxford Road.