ONE of the best chefs we've had in Manchester for well over a decade now is Robert Owen Brown. Why should this be the case? 
Easy really. He knows what he's doing with food. 
That applies not only when he's on the tools in the kitchen but also when he's thinking up menus and sourcing ingredients. The result is stirring food that stays true to his principles of providing innovative versions of British, specifically Northern British, dishes. 
I adore the Addy. I adore the food Robert Owen Brown creates. It is one of the few places in the city I visit with real excitement wondering what he's crafting in the kitchen.
On his day Owen Brown cooks to a higher standard than most chefs in the region. This is because he has a better imagination and a better knowledge of the raw materials. 
It helps that he's a killer. A great deal of those raw materials he dispatches himself. Bang, bang. He's shot mallard, grouse, pheasant and all manner of beasts and fowl. He's fished in the seas and rivers too.
This direct knowledge of the slaughter and preparation behind what we eat seems to give his food an integrity that most other restaurants/pub-restaurants/gastrodised-boozers, lack. The fact that Owen Brown gets his hands red for our sake gives his food punch. Balls.
Literally balls - on one occasion Owen Brown fooled me into eating bulls' testicles. (They were good as it happens, a bit like bloated sweetmeats, but saltier. Naturally.) 
He's also fed me calf's brain, but I think I preferred the bits of bullocks.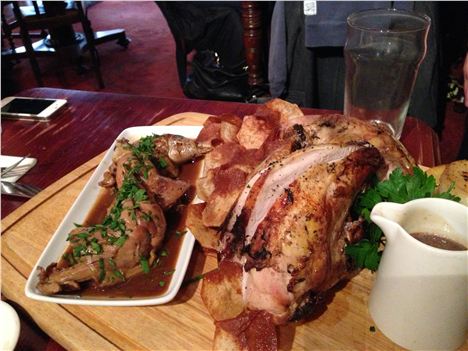 A fabulous pheasant at the Addy in December
A visit last week to sample steak for our impending Best of Manchester Steak feature was a case in point - not that we were eating anything Owen Brown had recently snuffed out. 
The ribeye steak was exactly what you want from a ribeye, a little communion with flesh, in all its fatty grandeur. The steak came simply garnished in the classic style with a big tomato and a big mushroom. But it also arrived with the proper Mark Addy hallmark of fat chips, tasting of proper potato, a million welcome miles from those tooth-pick missiles of sharpened fries.
The meat is 28 day aged and then kept for a few days longer in the Mark Addy to give it a tender, forgiving, yet rich character. The price of £16.50 is an absolute steal: most other restaurants charge well over £20 for the equivalent.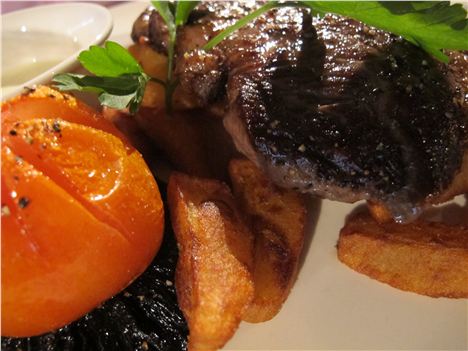 Steakly heaven
Meanwhile a roasted gurnard with lemon, fennel and thyme (£13.50) was delicate but chunky; all the fancy herbs didn't overwhelm the fish or the palate but went paddling along with them. A gurnard by the way is a curious fish with wing-like fins that looks like it's collided with very sharp rocks and come off worse.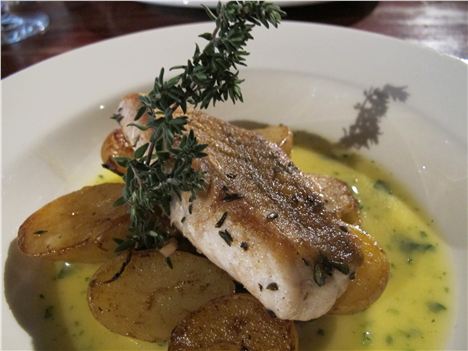 George Gurnard Shaw
The crispy 'Manchester thingymabobs', a starter to be shared by at least two people, costs £6 and provided one of Owen Brown's signatures; crisply battered spam fritters. I love spam fritters. I love them more than bulls testicles any day. In with the fritters there were some black pudding nibbles and a stab at bhajis. The latter didn't work but the black pudding was delightful.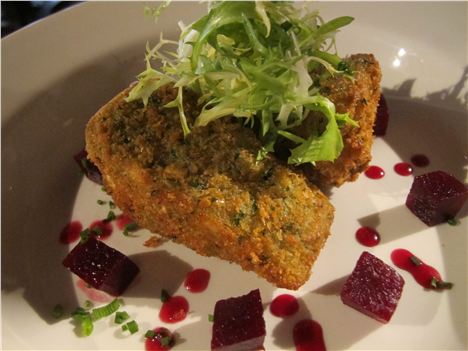 Brie and beetroot
Even more delightful was the filbert crusted, deep fried brie with honey and beetroot (£6). This was gooey genius with a happy chaos of flavour. Filbert is a type of hazelnut.
I've said before on these digital pages I'm hunting down sherry trifles, indeed any trifles.
My grandmother was a trifle concocter of note, famous across three counties. What she didn't know about sponge and Croft Original was not worth knowing.
Owen Brown's sherry trifle (£6) was almost as good as my grandmother's. Where it failed was in the lack of nostalgia inherent in the memories of my aged relative's long gone artistry. Even Owen Brown can't shoot nostalgia and add it to a dish.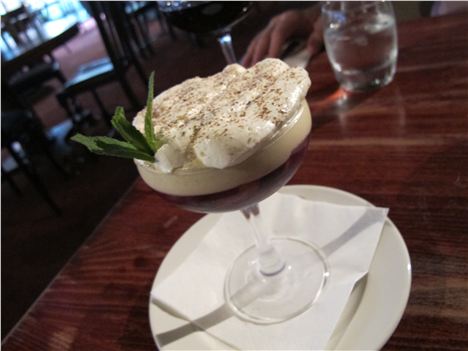 Mon sherry
With a cracking bottle of Cahors for £28 – yeah, yeah, an expensive indulgence at lunch – the whole experience was intensely gratifying. The wine list is excellent by the way, but there are also ales to spare and decent whiskies too. Our waitress was the very measure of polite amiability. 
Of course there are issues with the riverside Mark Addy. 
Design-wise the cheap, perspex, municipal-looking entrance is off-putting. This dates from the 1980s when the Mark Addy was the most popular gig in town and served piled plates of high cheese and pâté by the dozen.
The Mancunians and Salfordians who packed in during those heady days were astonished to find water flowing outside the windows. They'd never realised the slowly crawling mass of putrescence between the cities was actually a river, and with rapid de-industrialisation they could now sit by it with their pâté and cheese.
The Irwell is cleaner again now, much cleaner, but still jumps its banks intermittently and floods the Mark Addy. This can lead to a damp smell and distressed carpets. It's not ideal: the owners of the property need to spend some money on the Addy.  
But tish and tash, the venue can still wrap you up as snug as an old favourite coat - maybe one out of fashion but one that fits perfectly. The cast iron pillars and the gargantuan sandstone wall on one side of the long thin main room, add huge character. Meanwhile, on hot days the terrace provides riverside refuge of the highest order. Here you can quickly lose an afternoon lazily gazing as the university rowers glide past. Nature joins in too. The swans watch the geese watch the ducks go by.  
Despite its faults I adore the Addy. 
I adore the food Robert Owen Brown creates.
It is one of the few places in the city I visit with real excitement wondering what he's crafting in the kitchen, wondering whether it will work - it invariably does, sometimes it doesn't. Owen Brown has a competence and a rustic flair the city would be far poorer without.
Others agree.
In autumn I took sixteen Swiss architects for a meal there.
"Wonderful food," the boss of the group said, chewing and looking into the middle distance.
He paused to swallow, before saying: "How do you say? Yes. This is honest to goodness. I didn't know traditional British food was so good." 
The viewpoint of tourists with their fresh eyes is important.
If the Mark Addy were a stumbled upon bistro in some French town it would be lauded for its honest, genuine, clever food and people would scarcely bat an eyelid about the carpets or the canopy: the latter might even be mentioned as adding to the charm. 
Approval from discerning visitors is usually an accurate indicator of a restaurant's calibre, and the Addy seems to excel in gaining that approval.
The Mark Addy is refreshingly real compared to the formulaic and predictable cleverness of so many smooth Manchester city centre operators in which the love of food seems subsidiary to efficient systems control. 
You can follow Jonathan Schofield on Twitter here @JonathSchofield or connect via Google+
ALL SCORED CONFIDENTIAL REVIEWS ARE IMPARTIAL AND PAID FOR BY THE MAGAZINE.  
Mark Addy, Stanley Street, Salford, Manchester, M3 5EJ. 0161 832 4080 
Rating: 16/20 
Food: 8/10 (thingymabobs 7.5, brie 8, steak 9, gurnard 7.5, sherry trifle 8.5) 
Service: 4/5
Ambience: 4/5 (but read the description above)
PLEASE NOTE: Venues are rated against the best examples of their kind: fine dining against the best fine dining, cafes against the best cafes. Following on from this the scores represent: 1-5 saw your leg off and eat it, 6-9 get a DVD, 10-11 if you must, 12-13 if you're passing,14-15 worth a trip,16-17 very good, 17-18 exceptional, 19 pure quality, 20 perfect. More than 20, we get carried away.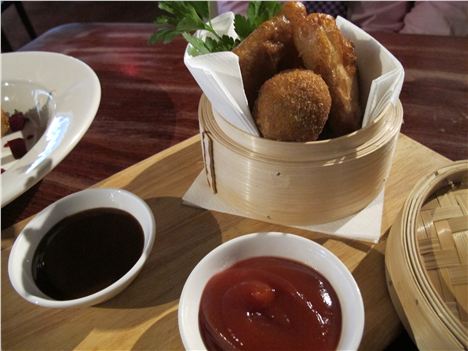 Thingymabobs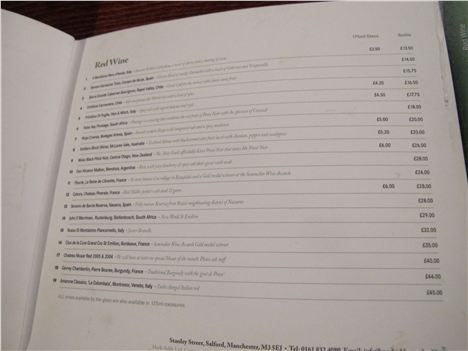 Wine on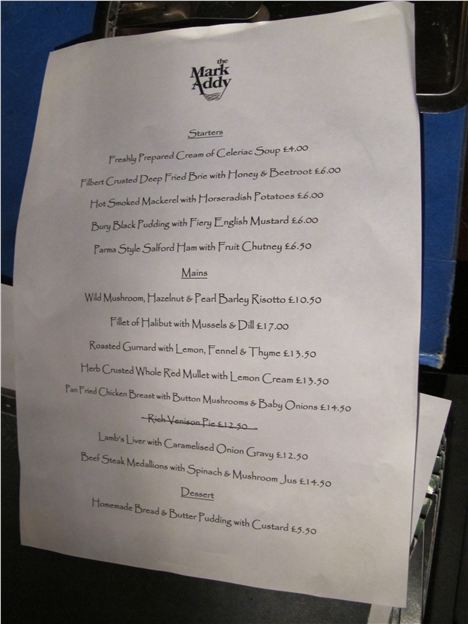 Special's menu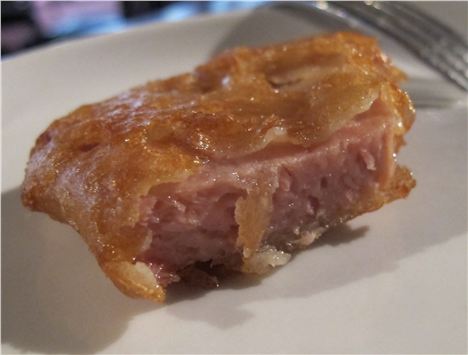 She walks in beauty like a spam fritter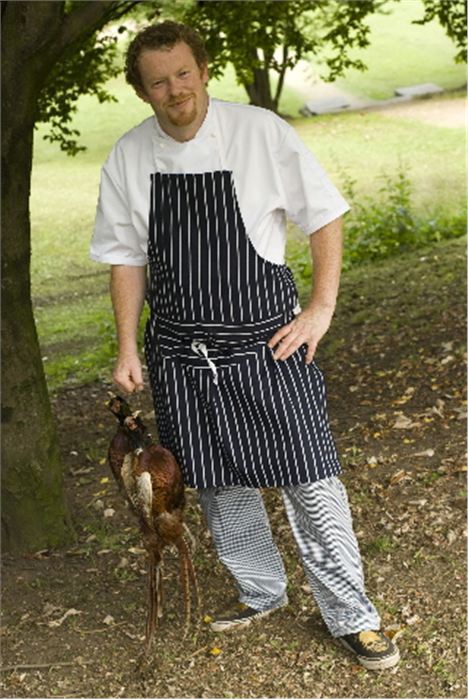 Owen Brown and friends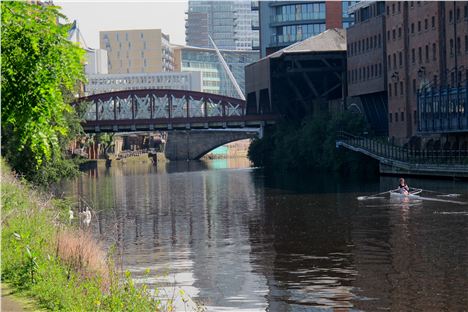 In the far distance the Mark Addy terrace and now clean waters of the River Irwell