CATEGORY: Very good.
Wow this looks exciting... What is it?
It's Manchester's maddest statue, it's called Adrift and it's by John Cassidy. He completed it in 1907. In 2014 it was placed between the Central Library and the Midland Hotel.
1907? That's more than a century old. Where's it been all this time?
Good question. It was in Piccadilly Gardens for decades until in 1999 it was removed and stored in whatever mysterious place the council stores such things. It was de-plinthed because it was in the way of that most popular (ho, ho) of buildings in our re-invented city, Number One Piccadilly – you know, the bright orange shoe-box thing with Kro bar in. Then it was brought into St Peter's Square and then it disappeared for several years as the Square was refurbished. Now it's here. But ask me why it was in Piccadilly in the first place?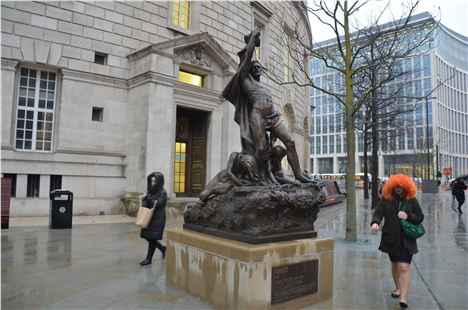 Adrift in full glory - that man doesn't care about the rain
Go on, why?
John Cassidy was an Irish sculptor from County Meath who'd made a name for himself locally. In Manchester his work is all over the place and includes the statues of John Rylands and Enriqueta Rylands in John Rylands Library and King Edward VII in Whitworth Park. He fashioned Adrift in his Plymouth Grove studio and it was snapped up by a fan, one James Gresham, the owner of a local engineering firm. When the Infirmary moved out of Piccadilly and down to its present Oxford Road site, the plan was to replace it with a huge Art Gallery. Gresham donated Adrift to the project. The art gallery wasn't built but Adrift found a home in the gardens close to where is should have graced the city. You can see how the gallery would have looked in our 'BEST OF MCR: The Buildings That Were Never Built' article here.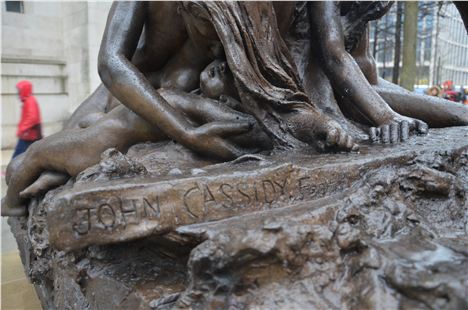 John Cassidy signs off with 'Fecit' which isn't him swearing in his Irish accent but is Latin meaning 'John Cassidy made this.'
What does the sculpture mean?
John Cassidy himself described the work thus: 'Humanity adrift on the sea of life, depicting life's sorrows and dangers, hopes and fears, embodying the dependence of human beings upon one another, the response of human sympathy to human needs and the inevitable dependence upon divine aid.' Cassidy probably drew a breath at that point. He's grand here, conceptual, allegorical too. He's jumping on the 'New Sculpture' movement of the time which was freeing itself up from the strictures and demands of corseted Victorian society.
So what does it actually show?
It shows a family on the smallest raft in the world in rough seas. The adolescent boy and girl seem close to death. The mother is trying to protect the baby, the father is standing up giving the statue a strong vertical presence, and is a picture of angry resignation, or determined resistance, to what seems like an inevitable fate. Given Cassidy's description you'd have thought he would have given the family more of a chance. They seem doomed. He might at least have given them a bigger raft.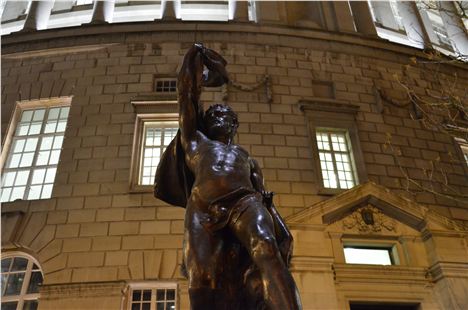 He's a fighter
Is it any good?
Yes, it shows Cassidy was a competent sculptor who could handle emotion. He's not a Rodin (his contemporary) but he can still sculpt powerfully. The mother and baby are handled very well (main picture), the body and features of the mother tight with devotion, misery and worry for her child, despite her own tenuous hold on life. She's fruitily topless as well: the Edwardians loved a bit of that, arty soft-porn. I wish we had more Adrifts, although not for that reason.
What do you mean?
Manchester was a bit harder hearted than its neighbour cities. Leeds especially got some magnificent Belle Epoque crazily romantic and allegorical sculpture, mainly from Alfred Drury. Liverpool is better for this sort of thing as well. Of course Adrift is very melodramatic, it's a style that has perhaps had its day as far as designers are concerned. Not that the public seem to agree. It would appear they yearn for the florid and dramatic. Stand close to Adrift for ten minutes and you'll see how many people come over and stare. At the statue that is, not you.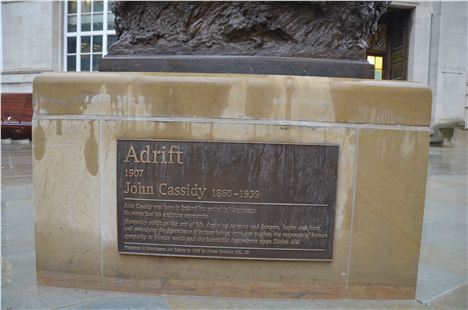 The plinth and description
And the new location?
The new position suits the mood of the piece. The streets were once full of music halls and that audience loved melodrama. Today, close by, we still have the Bridgewater Hall, Albert Hall, the Palace, the Opera House, Home (soon). Adrift's new location is fine, I might even fib on guided tours and say its about the Peterloo Massacre that happened on this site - but that's another story. I wish the lamp post a few metres away on the Midland site wasn't so close but otherwise it's good to have Adrift tied down. Now I just want one more sculpture to return.
Which one?
B of the Bang by Thom Heatherwick at the Etihad stadium. God, I loved showing off that work to guests. Ok, it might have threatened to impale the odd bus, but surely that was worth the epic nature of the art.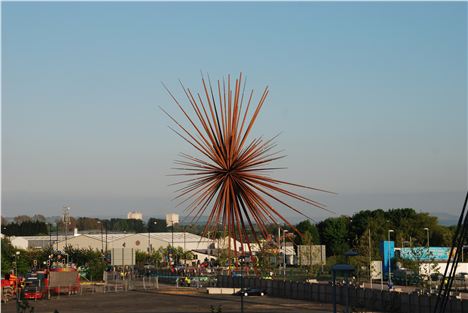 B of the Bang, wherefore art thou?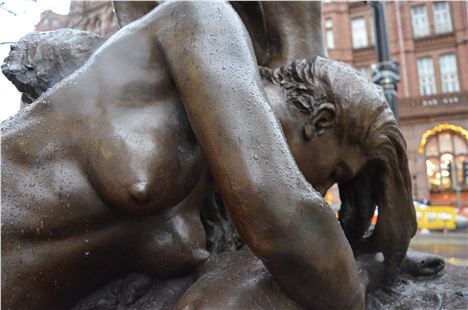 Protective mother