AHEAD of International Women's Day, 'suffragette' bikers donned tweeds and flamboyant hats before riding through Manchester on Saturday to highlight gender imbalances in cycling.
Women still love the freedom of the bicycle but our roads can feel dangerous to some
The historic bike tour was organised by charity Sustrans and Manchester Bike Tours. Cyclists (including men) visited the Pankhurst Centre - former home of Emmeline Pankhurst - and finished in Alexandra Park, where many rallies were held. The event was part of Transport for Greater Manchester's Women on Wheels activities in March.
Suffragettes often attended demonstrations on bikes, yet today's research shows that only a quarter of cyclists are women: Sustrans' recent Bike Life survey of over 4000 people in Greater Manchester found that fear around cycling on the roads was a principal factor. In cities such as Copenhagen, where there are bikes lanes and other facilities to separate bikes from traffic, more women cycle than men.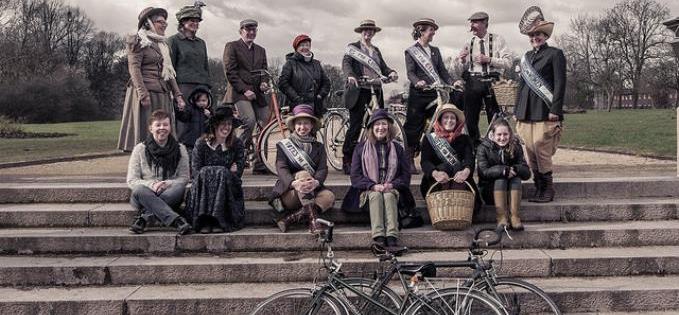 In the UK, only one in four cyclists are women
Rosslyn Colderley, Sustrans North Director, told Confidential:
"In the Bike Life survey many women told us that cycling is not a real choice for them at the moment as they say the roads don't feel safe. The suffragettes got on their bikes to fight for the right to vote. Today we ask for a long term commitment to investment in separate cycle lanes so we have the freedom to ride our bikes, get healthy and improve our environment.
"We've made a great start in investment for cycling in Greater Manchester but to really make the kind of conditions where people feel safe to choose cycling as their regular form of transport we need to commit to long term funding to build and maintain cycle routes, much as we do for roads. If you feel strongly about this, please write to your MP using the form on our website."
Glynis Francis of Manchester Bike Tours, who leads suffragette-themed cycle rides, said: "Manchester streets and parks are full of the history of the suffragettes on their bicycles. Their efforts gave us the right to vote and also helped challenge perceptions about women, such as the clothes we wear. Today women still love the freedom of the bicycle but our roads can feel dangerous to some. We want to change that."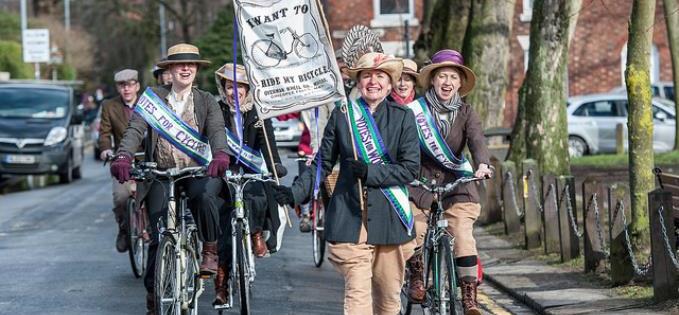 The bike ride celebrated Manchester's suffrage history
Helen Ramsden, Transport for Greater Manchester's Head of Active Travel and Travel Choices, said: "Women on Wheels is all about inspiring more women to get out and enjoy all the benefits cycling has to offer, from keeping fit and making new friends to saving money on your daily commute. It doesn't matter whether you're a seasoned cyclist or if you haven't been on a bike since you were young; I'm sure there will be a fun activity that's right for you.
"You don't have to be competitive or spend a fortune to ride a bike. Cycling is for everyone and I hope this month of activity will help give more women confidence to enjoy life on two wheels. All the events offer an easy way to get on your bike and have some fun."
The Suffragette Ride was supported by CTC and formed part of the Women on Wheels event programme organised by Transport for Greater Manchester in March. Manchester Bike Tours runs regular bike rides on the theme of the suffragettes.
More info at tfgm.com/women-on-wheels
Picture credit: Livia Lazar/Sustrans