WHEN it comes to exercise, I'm not one for strenuous routines.
A brisk walk along the canal does me nicely; no extra puffing, panting or sweating involved. So when I arrived at Manchester Aquatics Centre for my Diverse Dance Mix class, I had my reservations. Being a self-confessed Strictly nerd, I had mainly booked to see Darcey Bussell (embarrassing admission, I know) so it was with some apprehension I took my place in the sea of lycra-clad ladies and started to limber up.
I felt about as fleet-footed as a particularly undexterous elephant
Darcey, however, couldn't have been more encouraging. Widely considered one of the greatest ballerinas of all time, she has also modelled for the likes of Vogue and enjoyed a successful literary career with bestselling children's book series The Magic Ballerina. Then there are the acting stints, OBE, CBE, judging on Strictly...safe to say her resume is pretty intimidating. Yet, on meeting her, my main impression was of a down-to-earth mother of two who injected the class with a light-hearted humour and girlish enthusiasm.
Diverse Dance Mix is her brainchild, a new type of fitness class - developed alongside choreographer Nathan Clarke - that combines high-impact aerobics with an all-encompassing medley of dance moves.
As the title suggests, styles span both era and genre and the sheer potential for variety makes it far more interesting than your typical workout. That was Darcey's intention: she admits her main inspiration was a propensity to get bored and lose attention while trying to keep fit (although, judging by certain sections, Strictly Come Dancing undoubtedly played a part too).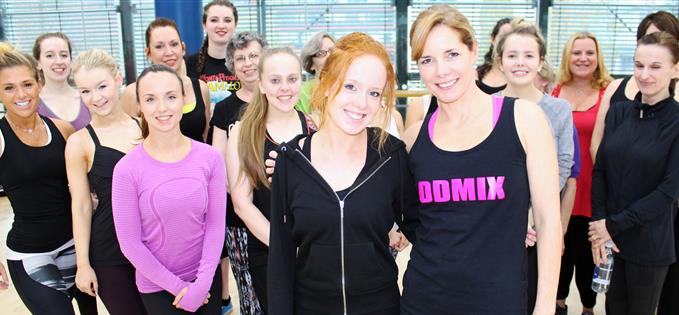 Ready to rumble - Vicky Smith meets Darcey Bussell
First up was a standard warm up to sweeping balletic strains, in the vein of Swan Lake - unsurprising given our teacher's background. However, the tone immediately switched to something more upbeat once the routine properly begun with a cheesy 1960s piece - complete with equally naff, animal-themed moves: think funky chicken and pony. Despite being fun and slightly absurd, getting everyone in a flap quite literally, the routine cleverly focused on the arms; by the end I could feel a perceptible burn.
Between each section of music, Darcey previewed the main moves we'd be doing next. They weren't too challenging, although I quickly realised my coordination needed some serious practise. Those childhood days of doing complicated Irish dancing routines were long gone; I remember my teacher once said I had the lightest feet she'd ever seen but, when trying to mirror certain steps, I felt about as fleet-footed as a particularly undexterous elephant. Fortunately there was absolutely no pressure to get things right or keep up the pace; the emphasis was clearly on wellbeing and enjoyment.
Sections that followed included: Arabian-inspired, complete with shimmying and Egyptian walks; a cowboy line dance including grapevines and gallops (that's when my heart started really started pounding); jiving, alongside much thigh-slapping and clapping; aerobic, sumo-style wrestling with plenty of punching and crab runs; a more artistic piece with echoes of salsa, pasadoble and a generous sprinkling of 'armography' (luckily there were no judges to comment on our lack of line extensions and whatnot); and a Saturday Night Fever-esque boogie. Phew.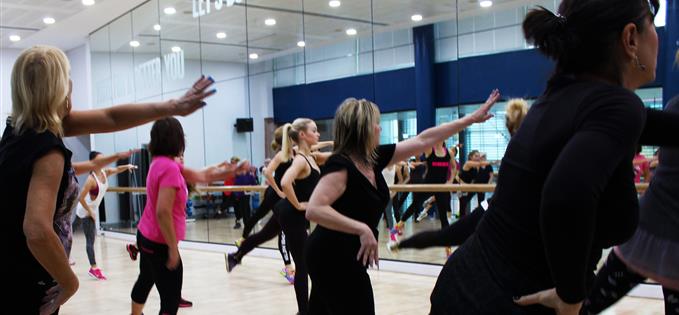 Toning and honing
When it was finally time to cool down, I felt the endorphin buzz that comes with a good full body workout, without being overtired; for me 45 minutes was the perfect amount, although classes can be longer or shorter depending on the group's ability. Ours was a mixture of young, old and everyone in between; demonstrating just how inclusive exercise can be.
Instructors are currently being trained and DDMIX should be rolled out nationwide next year, meaning we can all have some Strictly sparkle in our lives. That's not to mention a great camaraderie, upbeat tracks and a workout that really does make you smile. My verdict? A resounding 10 out of 10.
Find out more about Diverse Dance Mix and where you can take part on the website.