PUMPKIN. The name sends shivers through my spine every time I see it on a train station platform.
Tepid pastry products and over-priced coffee. Occasionally an apologetic and grubby bar tacked on, like at Manchester Victoria. They're everywhere. They're horrible.
"The food is an extra at this place - designed to soak up the beer. Had I not been driving, I'd have stayed all afternoon."
So rejoice, then, for the staying power of incurably British curiosities such as the Station Buffet Bar on Platform 1 of Stalybridge train station.
The station is a short walk out of the town centre - but close enough to pay a visit even if you have no need for a train.
The rewards are simple. Plenty of real ale, cheap hearty food and an open fire. On top of that, the walls are decked with loads of...stuff. Interesting stuff, most of it train or beer-related.
As I settled down with a pint of dark and robust Ice Breaker (4.1 per cent), my companion ordered a Light Brigade (4.8 per cent) and surveyed the menu.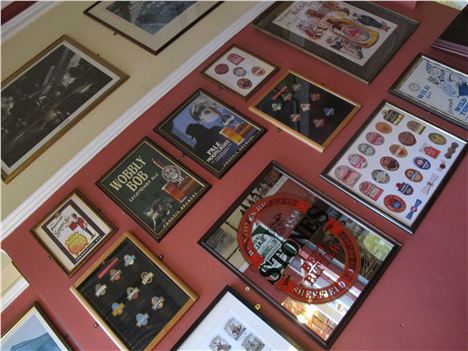 Stuff. Everywhere.
We'd come for the black peas. They were 90p. Or they would have been. But they didn't have any.
Heartbreaking. Genuinely heartbreaking.
A promise of ciabatta with 'various fillings' lightened the mood as we imagined one huge sarnie stuffed with a dozen different things.
As it was, matey ordered the beef sandwich, presented with the almost mandatory British unispiring tomato/cucumber salad combo. 'Slghtly upmarket supermarket fare,' was the verdict. Visually, it was hard to disagree.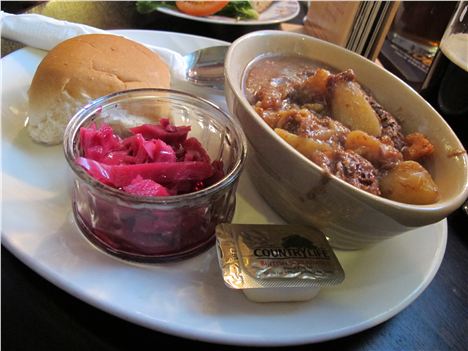 Corned beef hash
I struck slightly better with a warming bowl of corned beef hash, but the picked cabbage came out of a jar and was too acidic.
The whole lot came to about nine quid.
The food is an extra at this place - designed to soak up the beer. Had I not been driving, I'd have stayed all afternoon, chatting to the pleasant owners and the friendly locals who had already settled in.
It's a great place to wait for your train and then let it idly pull out as you order another drink, promising yourself you'll get the next one.
It's days bygone in an interesting setting. And we all need a bit of that in our lives, don't we?
And the best thing? Not a Pumpkin in sight.
You can follow Simon Binns on Twitter @simonbinns
The Station Buffer Bar, Stalybridge Train Station, Rassbottom Road, Stalybridge SK15 1RF; 0161 303 0007    
Rating: 15/20
Food: 6/10
Service: 4/5
Ambience: 5/5
All Confidential reviews are independent.
Venues are rated against the best examples of their kind: fine dining against the best fine dining, cafes against the best cafes. Following on from this the scores represent: 1-5 saw your leg off and eat it, 6-9 get a DVD, 10-11 if you must, 12-13 if you're passing,14-15 worth a trip,16-17 very good, 17-18 exceptional, 19 pure quality, 20 perfect. More than 20, we get carried away.