SPINNINGFIELDS and St John's developer Allied London have confirmed the acquisition of Manchester's iconic Grade II-listed London Road Fire Station - to be renamed Manchester Fire House.
I believe this building presents a unique opportunity to create something truly iconic...
Altrincham-based Britannia Hotels - which acquired the structure back in March 1986 and have since let it fall into grave disrepair - finally conceded to sell the building in April following threats of a second Compulsory Purchase Order from Manchester City Council and tireless campaigning by the Friends of London Road Fire Station.
Confidential revealed back in May that Britannia were 'unlikely' to consider offers below £10m.
After months of speculation, three key bidders emerged in Allied London, Kampus developers Henry Boot and Old Trafford-based property firm Generation.
Rumours that a deal had been struck between Britannia and Allied London have been doing the rounds for a few weeks, now Allied London's announcement ends three decades of uncertainty for the crumbling Piccadilly icon.
Sir Richard Leese, Leader of Manchester City Council said:
"The acquisition of London Road Fire Station is very welcome news. It's a magnificent landmark building which had become a blight on the regeneration of the Piccadilly area during its long years of disuse.
"The Council has consistently championed efforts to bring this important building back to life, and we look forward to working with Allied London – who has a strong track record of successful delivery in Manchester – to help bring forward early development proposals.
"Bringing this Grade II listed building back to life will improve the appearance of the wider area, create new jobs and maximise the opportunities created through other investments such as HS2."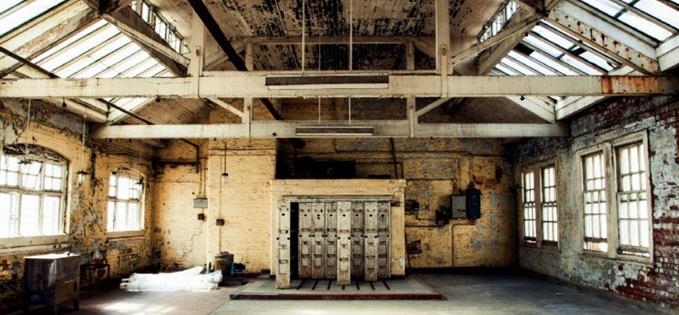 London Road Fire Station interior
Michael Ingall, Allied London's Chief Executive, said: "We have been grateful for the huge amount of public and media support that we have received throughout the sale process and are buoyed by the scale of interest already being shown in the property, which we are calling Manchester Firehouse.
"It is very rare that we would wish to go beyond our focus of Spinningfields and St. John's, but I believe this building presents a unique opportunity to create something truly iconic, particularly at a time when there is so much focus on Manchester as it enhances its international credentials."
A spokesperson for Britannia Hotels commented: "Following an open and transparent sales process, we are delighted that Allied London has purchased the London Road Fire Station and we wish them all the best with their exciting development."
Allied London have reportedly appointed Levitt Bernstein - also commissioned to convert Granada Studios into an event hotel - to draw up a mized use scheme for Manchester Firehouse, including workspace, apartments and hotel rooms.
Confidential has approached Allied London to disclose the paid sum and are currently awaiting a response.