"HELLO, may I have a table for two for lunch at one o'clock please?", asks a terrified Gordo on his phone, being driven at speed in the fast lane on the motorway in his Scottish pal's 'new' 1987 BMW something or other.
Its pale, touching on translucent white flesh was packed with the flavour of a million flicks of its tail looking for wild food. Masterful.
The pair were heading north towards Cumbria, the land of weird locals, sheep botherers, would be poets and writ-dodgers.
The Scot had suggested to Gordo that she takes him out for a drive. Gordo thought it might be nice to go up to Cartmel to try out Simon Rogan's other gaff Rogan and Company. This is the man's second venture after L'Enclume, now pretty famous for weird molecular food.
It's ten minutes to twelve.
"You want a table for two for this lunch?" asks a sceptical lady.
"Yes please", replies Gordo, rattling badly in the pimpmobile.
"I will have to check. Can you hang on a minute?"
"Yes dear, that's exactly what I'm doing already", says Gordo, tearing his eyes away from the speedo.
"Are you still there"?
"Yes," says Gordo, losing patience and wondering whether to carry on up the M6 and see if he can do a walk-in at Sharrow Bay.
"We can fit you in," says the lady triumphantly. Gordo relaxes enough to knock a couple of valium back, still fifty miles to go.
Cartmel is a beautiful place in the sunshine, all stone and low gentle buildings and the restaurant is in a stone built cottage to the right just over the bridge. Beams, brickwork and white washed walls, a bar at the back. About sixty covers. With only twenty taken.
'They must come to lunch late this lot,' thinks Gordo as he is taken to a very nice table by a window, with a sign saying, 'This table is reserved'.
Oh.
It appears that the rest are all walk-ins. Which is probably what confused the lady on the phone, who clearly wasn't used to anyone trying to book a table on that new-fangled contraption, the telephone.
Gordo can report that the staff are all charming; once they have worked out that you're not a Viking, fresh off a longboat looking to roger their daughters. A friendly place, but it has the atmosphere of a tea room and contains all the usual furnishing suspects, pasty blond wood and cheap chairs, the Halo shiny Chinese leather roll-backs. No table cloths either. Where have all the good restaurant designers gone?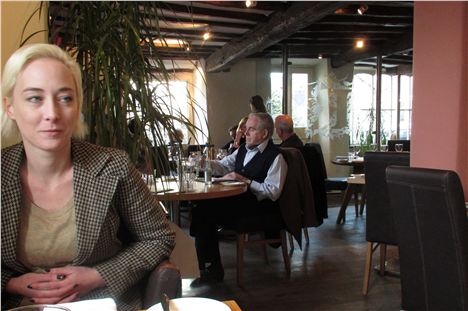 The Female Stirling Moss and The Room
A glass of non-descript white from a non-descript wine list disappoints, but Gordo spots an old pal, Dr Loosen Blue Slate 2007 Riesling, which had a sticker on it every bit as disingenuous as the BMW's stated mileage. It had apparently won an award in 2005, not bad for a 2007 wine.
It was really good mind you.
Perfect for seafood, light, bright and fairly dry with a light whiff of petrol and papaya.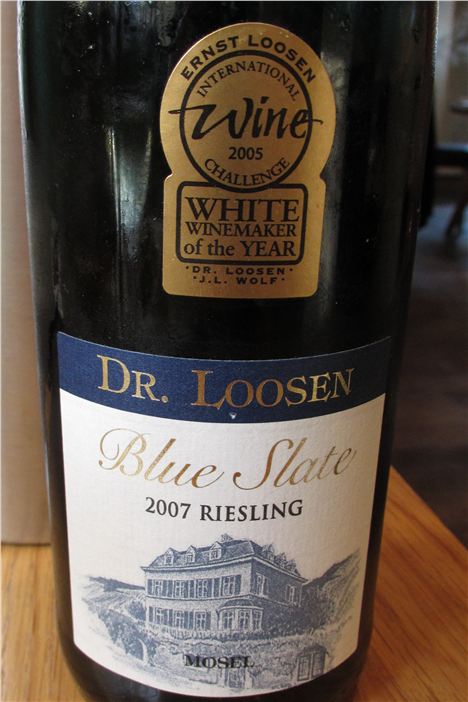 Fab Riesling
The menu didn't look like it was going to disappoint, Gordo took a picture of it for you lot - see the gallery below.
For the next hour and a half, Gordo started to believe he was in heaven. Given the room and the ride this was totally unexpected.
Soused mackerel, pickled vegetables, mustard and dill (£7.50) was the French Lieutenants' Woman of a dish, like walking along that quay covered in sea spray, an absolute star and the reason why the dish is so popular when done well. The pickled vegetables were sharp and sweet, the mackerel had committed suicide in a small boat that morning. It's what the word fucking was invented for, so it could go in front of the word fantastic.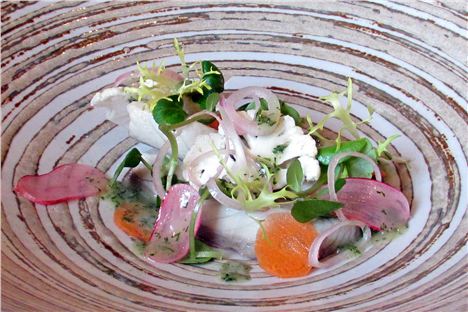 Soused Mackerel
The crab with little gem, buttermilk and avruga (£7.90) was the mackerel's pale skinny pal, it missed depth of flavour and texture, a bit like baby food (see the main picture at the top of the page). Gordo doesn't know what avruga is either, hang on a minute… Aah, it's a kind of caviar apparently.
Not a bad effort as it happens, but the dish needs a bit of brown crab meat for flavour and a pinch of cayenne maybe. Definitely bigger, more manly, Melba toast. The quiet flavours did come through though – it was all a bit like Kirsten Dunst standing next to Cate Blanchett. You wouldn't say no if Cate buggered off with your pal.
The pan fried sea bream, bay cockles, white cabbage and potatoes (£17.50) and wild brill, roasted sea scallops, mustard, purple sprouting broccoli (£19.50) both used fish of such quality that Gordo thanked the good lord that Ms Wotherspoon had offered to take him on a drive.
The bream was simple and straight forward, whilst the wild brill was woven into a dish of such ambition that only one in a hundred restaurants would have succeeded in its ambition; the mustard was that meaux stuff, mixed into something like a very runny mash, the wild brill had its skin crisped off yet its pale, touching on translucent white flesh was packed with the flavour of a million flicks of its tail looking for wild food.
Masterful.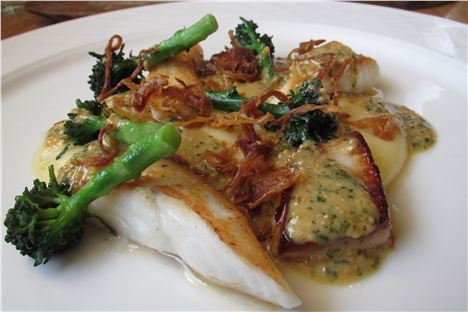 Wild Brill
Puddings were spiced pineapple tart, coconut ice cream and iced passion fruit parfait with liquorice and black sesame, both seven quid and both stand out. Coffee and petits fours £3.70 were a bargain.
Apparently Simon Rogan was on the tools and was responsible for the starters and puddings. Whoever did the main courses deserved a pat on the back.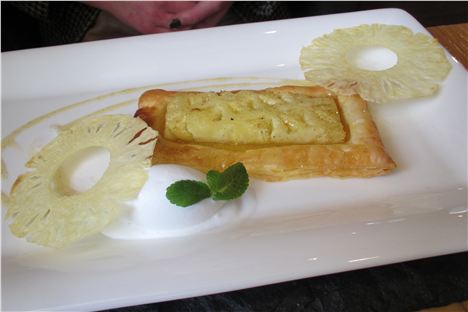 Pineapple With Coconut Ice Cream
The service is charming, timely, not too fussy, all orchestrated by a fabulous manageress who kept everyone, including Gordo, in check.
This was a lunch worth travelling for, but the comfort of the place is a little lacking; it just doesn't seem to be anything special until the girls and the food wrap you in cashmere.
If it was in Manchester it would stand alongside Australasia, whilst pipping 63 degrees and Sole by a point. Manchester is getting better, but we need more DNA here, Mr. Rogan would be a great start.
Highly Recommended
Follow @GordoManchester on Twitter.

ALL SCORED CONFIDENTIAL REVIEWS ARE IMPARTIAL AND PAID FOR BY THE MAGAZINE. 
Rogan and Company, The Square, Cartmel, 015395 35917. www.roganandcompany.co.uk
Rating: 17/20
Food: 8.5/10
Service: 5/5
Ambience: 3.5/5
Venues are rated against the best examples of their kind: fine dining against the best fine dining, cafes against the best cafes. Following on from this the scores represent: 1-5 saw your leg off and eat it, 6-9 get a DVD, 10-11 if you must, 12-13 if you're passing,14-15 worth a trip,16-17 very good, 17-18 exceptional, 19 pure quality, 20 perfect. More than 20, we get carried away.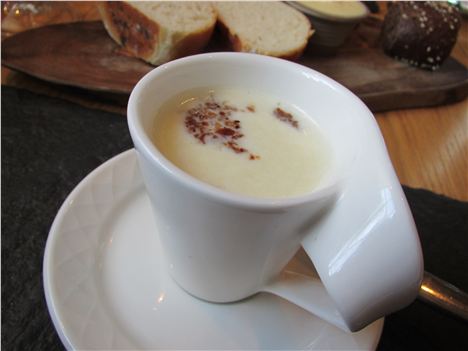 Celery Smoked Bacon Bits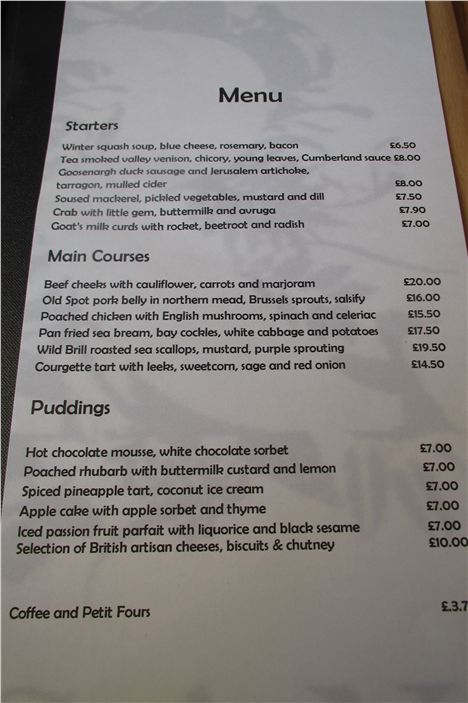 For Menu Perverts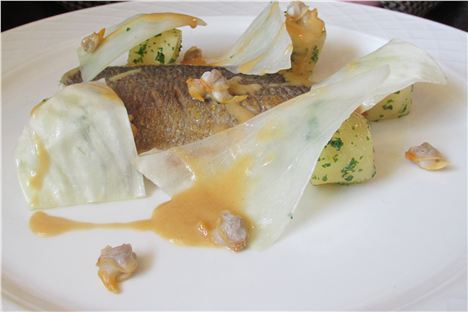 Sea Bream And Baby Cockles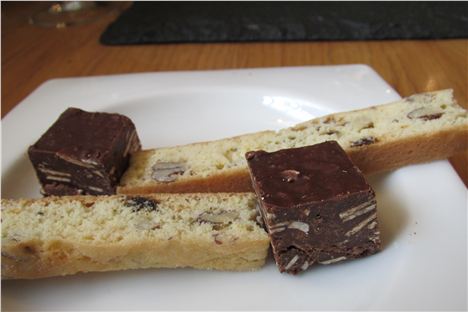 Coffee Kit Great