THE obsession with cuisine authenticity or unusual foods is a game of frustration - a bit like the pursuit of perfection. Foodies suffer terribly from this ailment.
The sticky goo of honey and lemon sauce on and around the crispy fried sea bass was sort of good glue, you could have hung wallpaper with it and enjoyed a hearty snack at the same time.
Like drugs or sex (or the love of steam trains for that matter) it can turn into an end in itself; in which you chase your passion into rarefied and curious corners eking out extremities of experience.
What starts off with bacon sandwiches ends up with calves brains and pigs maw. And a blog. Offal becomes normalised.
Has food addiction – not just gluttony – been diagnosed as a mental illness yet?
When Red Chilli opened in Manchester – a decade ago was it? – we were suddenly exposed to Chinese food on a menu printed in English that seemed honest, frighteningly so, with dishes such as stir fried intestines and Chinese black pudding. 
Middle Kingdom stuff stuffed with innards became 'the thing'. The old standards, often Cantonese, often cooked for a Western audience not a Chinese one, were derided by the cognoscenti as people tore into the soft parts of beasts and fowl and bored each other into a stupor about the 'authenticity'.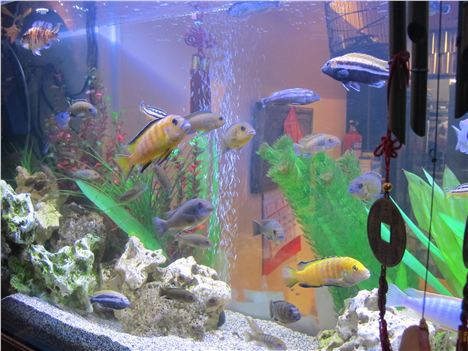 Rice bowl fish bowl
This was understandable with the food addicts of course.
But beneath the giddiness operations such as Rice Bowl on Cross Street jogged along, providing food that was consistently good and always far more than your standard take-away chow mein and sweet and sour chicken. Not that I don't adore a good chow mein, or for that matter the post-hangover gloop of a Pot Noodle. I'll eat anything apart from sandwiches laden with mayonnaise. 
If nothing else Rice Bowl has the ability to survive, deftly surfing the wave of foodie fashions.
According to the website the place has been open since 1960 after a fella called Wing Lau fled Shanghai when the Cultural Revolution started to bite. In 1955 he opened in Liverpool, and five years later he relocated to Manchester. Rice Bowl became a basement feature on Cross Street.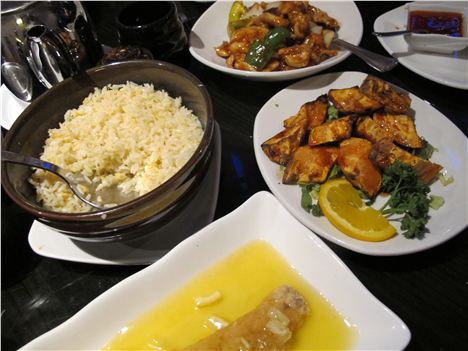 Let's get stuck in - the roasted sweet potato on the right is a cracking side dish
A 1960 opening date makes Rice Bowl the fourth oldest restaurant in town I reckon, after Sam's and Thomas's Chop Houses and The French at the Midland. It's the second oldest if you go for an establishment that is purely a restaurant, the oldest if you go for a place that's still owned by the same family.
Ffity three years on, the basement venue is looking sharp.
It has a clean design that feels light and modern despite its subterrannean location. To place Rice Bowl in the East there are, of course, Chinese accoutrements hanging about: ceramic horses, fish tanks, Buddhas and screens. (See Food and Drink Round-up Wk 20 here for a piece on the decline in basement Manchester venues in the area.)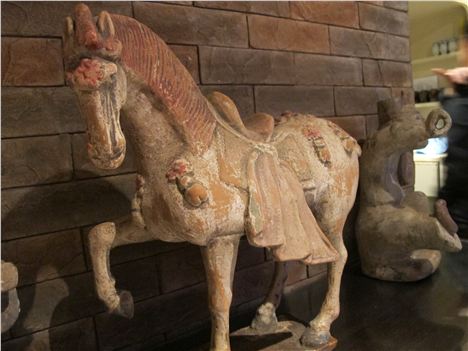 I tied up my ceramic horse and swaggered pompously into Rice Bowl
The food on two recent visits didn't make me punch the air and bellow 'Huzzar!' but it looked good and tasted better and makes me want to return. This was crafted and competent grub which occasionally tickled the heights.
A Sichuan snow crab meat and prawn ball with spices (£6.95) was the only ugly thing to look at in its mauve Scotch egg externals but was a lovely soft, fishy gem, cleverly hot with spice, when savaged with a knife. Try this if you go, it's excellent.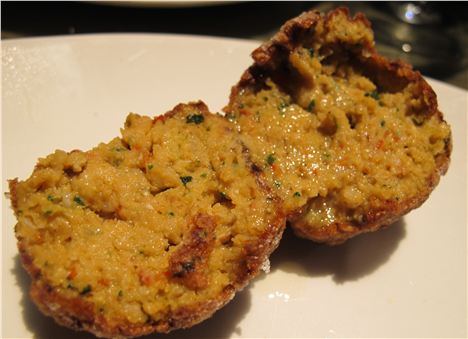 Crab and prawn meat balls
A scallop and prawn dumpling on the dim sum menu for £4.95 had more finesse, better looks, but was not up to the crab meat and prawn balls in terms of gob satisfaction.
Two mains were delightful though. 
The sticky goo of honey and lemon sauce on and around the crispy fried sea bass (£13.95) was sort of good glue, you could have hung wallpaper with it and enjoyed a hearty snack at the same time. But when it mingled with the delicate fish under the batter it elevated its own flavour and that of the sea beast. A side of roasted sweet potatoes all spiced up and again timed just so was a joy too (£4.95). 
Meanwhile the finesse and colours in the basket of shredded fillet steak with asparagus and half a world of perfectly timed veg (£13.95) was another winner. Look at the shine on the food below. I'm having that for lunch again. Any pompous fool could really it.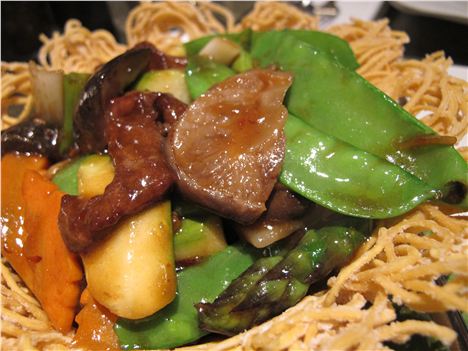 A magnificent basketcase
Service was Chinese casual but pleasant enough. In the corner sat the reassuring presence of 'Jenny' the lady of a certain age, and niece of Wing Lau, who sits at her booth and silently manages the restaurant. 
A couple of hours slid by without touching the sides - so to speak. Rice Bowl isn't a place for those chasing the food dragon, food addicts might want to look elsewhere for say, five spice pig's head with husband and wife lungs, but listen, for a steady, pleasantly delivered, competent diversion in a handsome restaurant then it's a winner. There are good lunchtime offers as well.
You can follow Jonathan Schofield on Twitter here @JonathSchofield or connect via Google+
ALL SCORED CONFIDENTIAL REVIEWS ARE IMPARTIAL AND PAID FOR BY THE MAGAZINE.  
Rice Bowl, 33a Cross Street, City, M2 1NL. 0161 832 9033
Rating: 14.25/20
Food: 7.75/10 (crab and prawn balls 7.75, dim sum 7, sea bass 8, basketcase 7.75, roasted sweet potato 7.75)
Service: 3
Ambience: 3.5
PLEASE NOTE: Venues are rated against the best examples of their kind: fine dining against the best fine dining, cafes against the best cafes. Following on from this the scores represent: 1-5 saw your leg off and eat it, 6-9 get a DVD, 10-11 if you must, 12-13 if you're passing,14-15 worth a trip,16-17 very good, 17-18 exceptional, 19 pure quality, 20 perfect. More than 20, we get carried away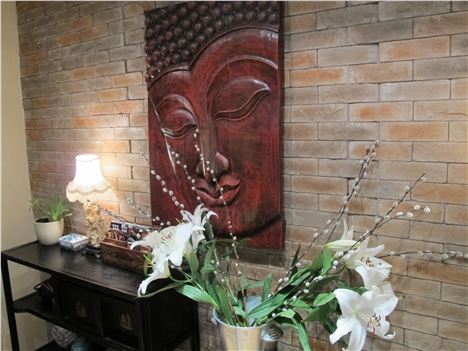 Tranquility is a cheesy lampshade