BORDER towns have mixed allegiances. Few can be quite as culturally schizophrenic as Todmorden. Part of Calderdale, West Yorkshire, its cricket team plays in the Lancashire League, while its postcode is shared with Oldham, its dialling code with Rochdale. The imposing Town Hall straddled both Lancashire and Yorkshire until the county boundary shifted north west in 1888.
All the dishes come with curiouser and curiouser little names, so among the starters I couldn't resist 'Squashed Rabbit'. Not roadkill involved. I asked.
On its classical frontage a carved stone pediment is shared by two tableaux, the left one representing Lancashire (cotton spinning), the right Yorkshire (engineering and agriculture) with friezes bringing the two together. Today in the shadow of that municipal edifice a small White Rabbit is a hive of industry, too, in a very contemporary way.
Open just over a year, it has made it into the 2017 Good Food Guide with a score of 3. Wonderland indeed. In ManCon's recent round-up of Greater Manchester entries only four places out of 29 scored more than three – the likes of The French and Manchester House. And those establishments are a far remove from a twenty cover postage stamp of a place run by a young husband and wife team with scant assistance.
David and Robyn Gledhill are both trained chefs of good pedigree; on the evening we visited she was also front of house. I imagine she's involved in the prepping too.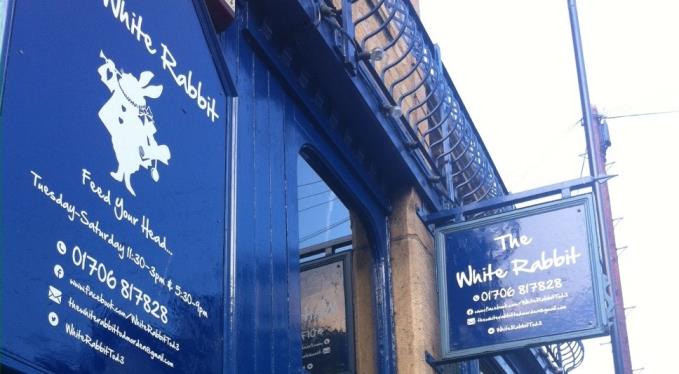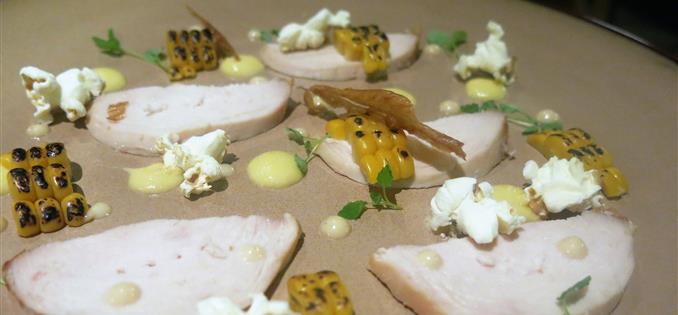 Chicken popcorn
One weekend every month under the quirky 'Feed Your Head' bunny sign the pair host tasting menus that push back the culinary boundaries in homage to their culinary heroes. For Rabbit read O'Hare maybe? But while Michael can get away with all kinds of lop-eared lunacy now at 'Man Behind The Curtain' in Leeds, local logistics mean the Gledhills have to tread more carefully.
Their lunchtime menu (all starters £4.75, all mains £8.95) is not going to scare punters away, nor on the surface will the monthly changing a la carte, but the devil is in the detail and each immaculate detail of our midweek dinner added to the enchantment of the whole. All the dishes come with curiouser and curiouser little names, so among the starters I couldn't resist 'Squashed Rabbit' (£6.50). No roadkill was involved in the making of this dish. I asked. Just braised bunny, sweet squash and the delicate aniseed lick of chervil, my favourite herb.
There was a similar delicacy to 'Flower King' (£7.95, main image), a classic scallop partnership with bacon and cauliflower but here as bacon crumb and aesthetically pleasing flowerets of purple cauli adding intense taste and texture.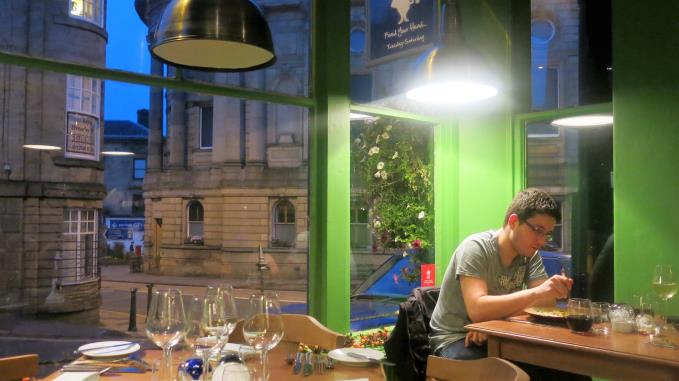 The view of Todmorden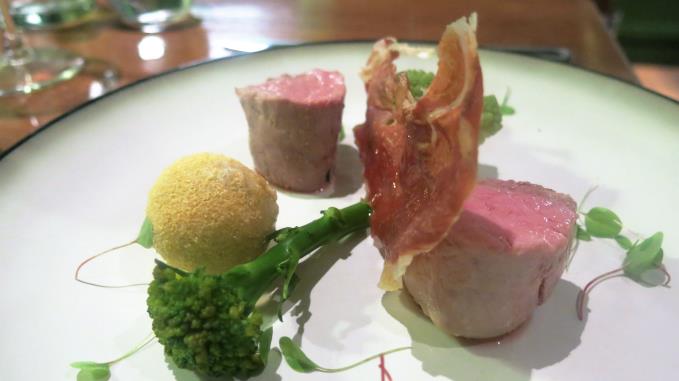 Piggy Devil
Alongside we shared, out of curiosity 'Chicken Popcorn' (£6.95), which in presentation terms came on a bit objets trouvés. Slices of their own smoked chicken mingled with home-made onion popcorn, little belts of grilled sweetcorn and nutty beurre noisette mayo. It worked a treat, especially with the peppery, peachy fruit of our Friendly Gruner Veltliner (£28 a bottle, £9.50 250ml glass) from Austria's Kamptal.
My pan-fried main of plaice (£17.95), a gorgeous fillet, suffered in comparison. It is the most unassertive of fish, so brown shrimp and some sharp condiment might have been a better partner than a rather callow citrus and crayfish butter on a bed of blanched out roast onions. 'Well Placed' it wasn't quite.
The Rabbit redeemed itself big time with my partner's covetable 'Piggy Devil' (£17.50) based on Todmorden's moortop free range rare breed providers, Porcus, and Pextenement its organic cheesemakers – exemplary local sourcing.
Porcus provide the tender roseate towers of pork fillet and the crisp swirl of cured pork on top, while Pextenement's Devil's Blue injects molten potency into a fried 'bomb'. A quite glorious dish with a proper rich jus.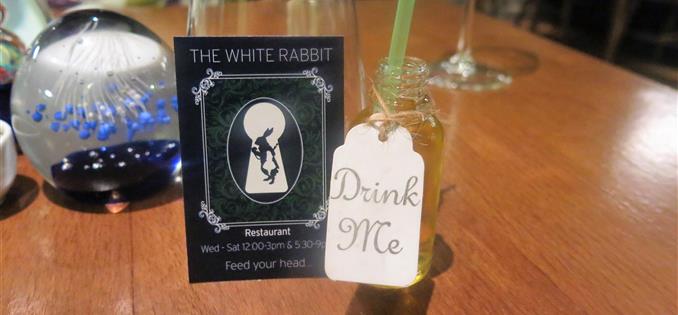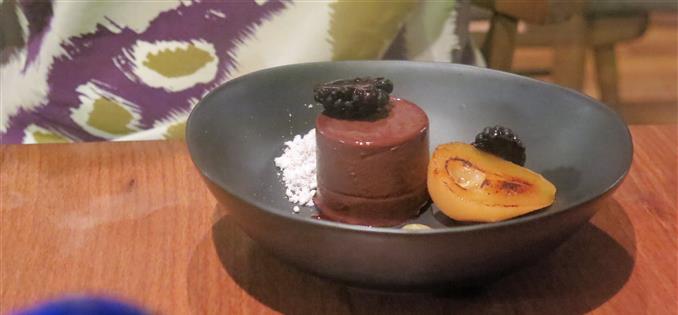 Dark Black
Leaping into the Rabbit's dessert menu is no let down, though perhaps the puns are a little wearying by now. Still hard to separate 'It's a Peach' from 'Dark Black' (each £6.95); the first a ripe delice with ginger madeira crumb and pressed honeycomb; the second sumptuously marrying dark chocolate, peach and blackberry.
The vivid concentration and technical nous of the food is a little hard to reconcile with the setting – a cosy cave saved from claustrophobia by a large people-watching window along the front. Exposed stone walls, stripped wood floor, a quirky Alice in Wonderland theme bubbling under, it's a work in progress on a budget.
They are certainly not sparing on the quality of raw materials (veggies too get a good deal) and the normal seven course tasting menu for £55 (paired wine flight £50) showcases the fine dining ambition in so unlikely a setting.
Next time we'll check out that once a monthly 'experimental' tasting menu. Who knows what the Rabbit might bring out of the hat? Check out the Lewis Carroll quote painted on one of their walls: "Have I gone mad? I'm afraid so. You are entirely bonkers. But I'll tell you a secret. All the best people are."
The White Rabbit, 1 White Hart Fold, Todmorden OL14 7BD. 01706 817828.
Rating: 17.5/20
Food: 8.5 (rabbit risotto 9, scallop 9, chicken popcorn 8, pork fillet 9, place and crayfish 7, peach delice 9, dark chocolate 9)
Service: 5/5 Attentive and friendly, very Yorkshire and Lancashire
Atmosphere: 4/5 Air of contentment all around. In such a confined space you'd notice anything amiss.
PLEASE NOTE: All scored reviews are unannounced, impartial, paid for by Confidential and completely independent of any commercial relationship. Venues are rated against the best examples of their type: 1-5 saw your leg off and eat it, 6-10 stay in with Netflix, 11-12 if you're passing, 13-14 good, 15-16 very good, 17-18 excellent, 19-20 pure quality
Powered by Wakelet