THE great lost leader of English chefdom is one Richard Neat. I caught up with the maverick genius over a decade ago, rustling up tagines deep in the heart of the Marrakech Medina shortly before he upped sticks for Costa Rica, where in a cafe come antiques store he still displays the wondrous levels of skill that earned him two Michelin stars at London's Pied a Terre in the early Nineties and later helped him become the first Englishman to gain a star in France.
I'd go so far as to say the experience was revelatory
That was in Cannes and one of his young sous chefs there has never forgotten Neat's inspiring influence. Michael Shaw, head chef at the White Hart, Lydgate, is much travelled himself, starting his career at Le Manoir aux Quat'Saisons under Raymond Blanc, taking in Gordon Ramsay-founded Aubergine in London, Hambleton Hall, Gilpin Lodge in the Lakes and a spell with Marco Pierre White. Quite a CV for the Greenfield lad, who returned to his roots four years ago at the handsome, stone-built hostelry on the hills high above Oldham.
After all that glitz, surely a pub, however posh and perfectly equipped for weddings, is well off the radar (and nearly off the Sat Nav, it seemed, as we criss-crossed the moors from Grain Bar to finally get there)?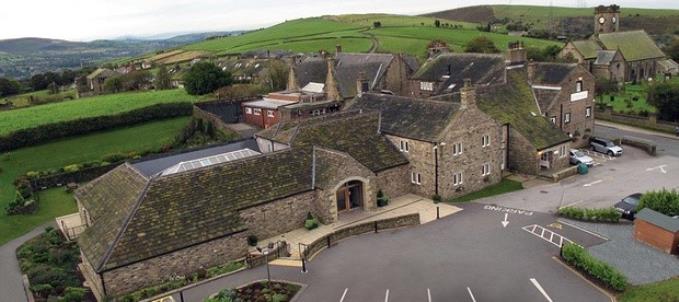 White Hart, Saddleworth
It is easy to take the White Hart for granted. A long-term fan, perhaps I have in recent times despite its consistent presence in the Good Food Guide's Top 50 pubs. At the very top of that list is the Freemasons at Wiswell (review here) which sets the bar high for the North West, not just through Steve Smith's cuisine but for the sheer smartness of its contemporary pub interpretation. White Hart owner Charles Brierley's determination to up their own game is evident in the reinvention of its restaurant as 'The Dining Room', elevating its cocktail offering, sprucing up dramatically what was a dowdy space and providing a more upfront showcase for Shaw's talents.
But does it work? Decidedly so. I'd go so far as to say the experience was revelatory. The ghost of Richard Neat at the chef's elbow perhaps, as he unleashed a fascinating eight-course tasting menu, accompanied by near faultless wine pairings (congrats due to another local lad who started here at 16, manager Ian Howard).
All this against a backdrop of charcoal walls and canny globe lighting. Quite a contrast to the unreconstituted pub/brasserie bit where a pint of Brightside pale ale had served as my aperitif. I passed on sampling from the swish new cocktail bar in 'The Dining Room', where the list looked a mite staid.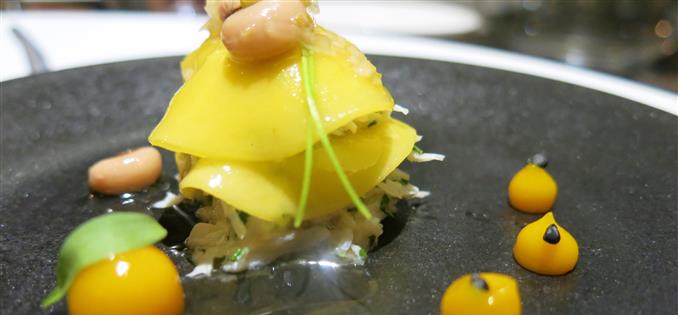 Sweet crab and spicy mango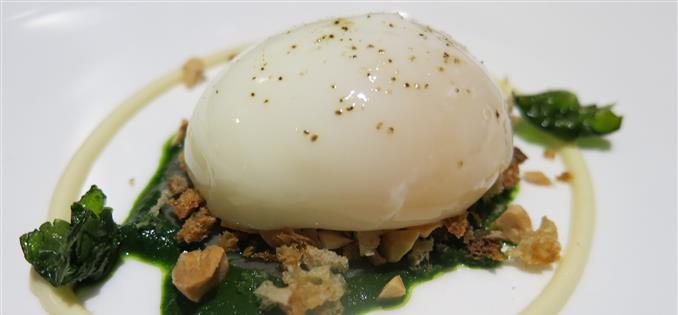 Egg, watercress, Iberico ham
The Dining Room's tasting menu is quite a bargain – £55 a head with wine flight package an additional £25 each. Compare that with city centre newcomer Quill, where the eight-course tasting menu is £80 and wine matches ratchet that up to £145 per person. Quill's chef, Curtis Stewart, is perhaps more avant-gardiste (a term foodie bible Gault Millau once stuck on that man Neat in his pomp), but Shaw's subtler technique is in evidence from the first course of sweet crab and spicy mango (well matched by the bold choice of a Chilean Gewurztraminer). After sixteen hours in the water bath, a soft free range egg then combines with jamon iberico, almond crumbs and a slick of watercress puree for a cute version of ham and eggs, while pan-fried foie gras on a sliver of toast gets its tart counterpoint from a scattering of poached cranberries.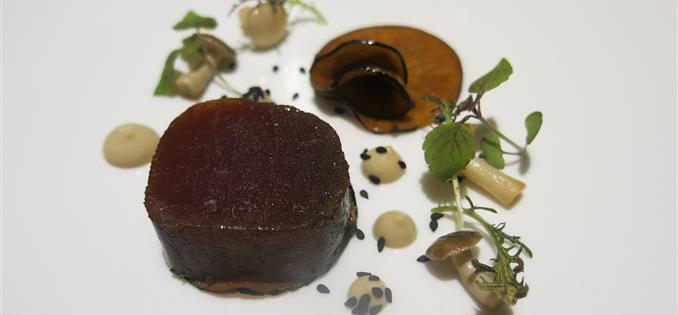 Marinated tuna, pickled mushroom
All fine but just an overture for the punch of umami that arrives next – tuna marinated in a soya emulsion with black radish and pickled mushrooms. A Moko Black Kiwi Sauvignon has the cruiserweight fruit to handle all this.
Curried monkfish to follow is delicately spicy, alongside the clean crunch of Granny Smith apple slices and cauliflower caviar. A limeful Aussie Riesling from Wicks in the Adelaide Hills is a perfect fit. As is a floral, strawberryish Californian Pinot Noir from Byron Estate (a red finally making a bow) with a yielding leg and breast of partridge, not overpowered by the accompanying beer-braised red cabbage with black fruits and turnip.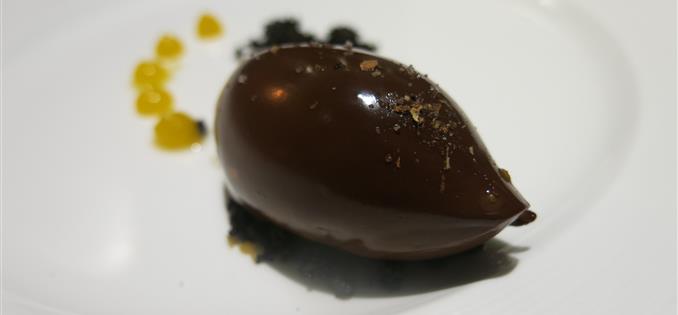 Chocolate mandarin
Both puddings maintained the standards. I was surprised to be presented with a Chilean Caliterra Cabernet Sauvignon with Michael Cluizel chocolate and mandarin (not sure that worked); not so the Clos de Nouys sweet Vouvray, smoky and discreetly tropical, that was so convincing with a passionfruit cheesecake and mango sorbet.
I am often wary of the moneymaking exercise wine matching to tasting menus can be. This cleverly restored the faith. As I said, this is a bargain from a chef and sommelier on top of their game. Really Neat!
White Hart, 51 Stockport Road, Lydgate, Saddleworth, OL4 4JJ. 01457 872566 (The Dining Room is open for bookings between 6.30pm and 9.30pm from Wednesday to Saturday)
Rating: 16/20
Food: 8/10 (crab 8, egg/ham 8, foie gras 8, marinated tuna 9, curried monkfish 7, roast partridge 9, chocolate 8, cheesecake 8, wine flight 9)
Service: 4/5
Ambience: 4/5
PLEASE NOTE: All scored reviews are unannounced, impartial, paid for by Confidential and completely independent of any commerical relationship. Venues are rated against the best examples of their type: 1-5 saw your leg off and eat it, 6-9 stay in with Netflix, 10-11 if you must, 12-13 if you're passing, 14-15 worth a trip, 16-17 very good, 17-18 excellent, 19 pure quality, 20 perfect, 20+ slap us.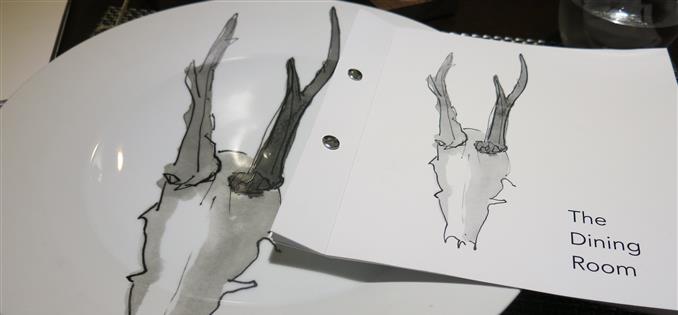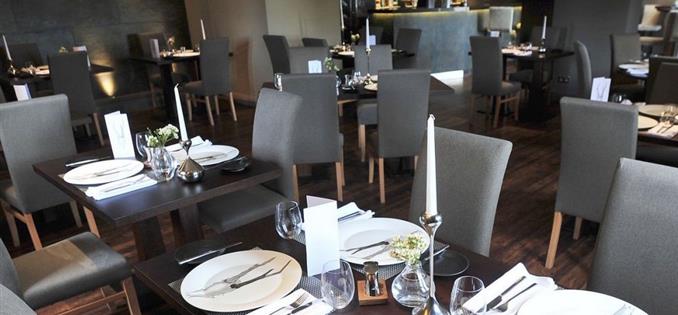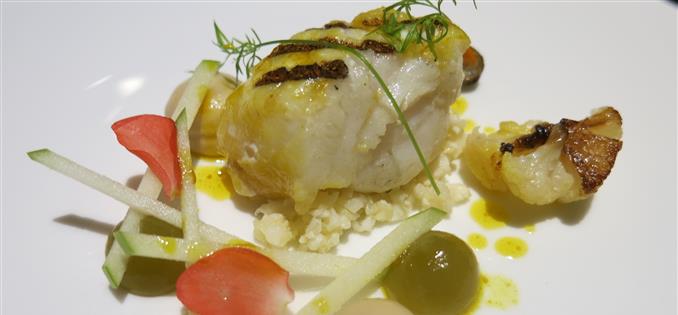 Curried monkfish
Powered by Wakelet