ARRIVAL. Consult instructions. Opposite the church, sign says Rostron Brow. Look up. I do and see the light. It comes from a window high in a warehouse straight out of Dickens. As I stumble up the penumbral iron staircase I half expect the Artful Dodger to poke his head out and yell: "Scarper, Fagin, it's the rozzers."
As I left Chef lamented that I wouldn't be around to benefit from the consignment of monkfish liver that had just been delivered
Departure. Three breathless hours later. Clutching kilner jars of kimchi and sauerkraut, gifts both; tucked in my top pocket a slip of paper with a haiku penned by chef Sam Buckley. It reads: "Tree roots set the milk/Bright leaf swims in salty vines/Heat shrouds rib, then bean…"
I'm still pondering the significance of these words as I digest the significance of the most mind-expanding culinary experience I've had in these parts since our last Michelin maestro, Paul Kitching, quit Juniper in Altrincham. There is a link – Sam Buckley, creator of Where The Light Gets In, worked there as a callow sous chef.
Paul memorably told me once: "Sourcing the best ingredients isn't my priority. I could cook the sole of a shoe and make it taste good." I remember multi-course tasting menus extending the culinary range of the cornflake or introducing a raspberry coulis served on a toothbrush (no wonder he was the favourite chef of pal Heston Blumenthal's kids).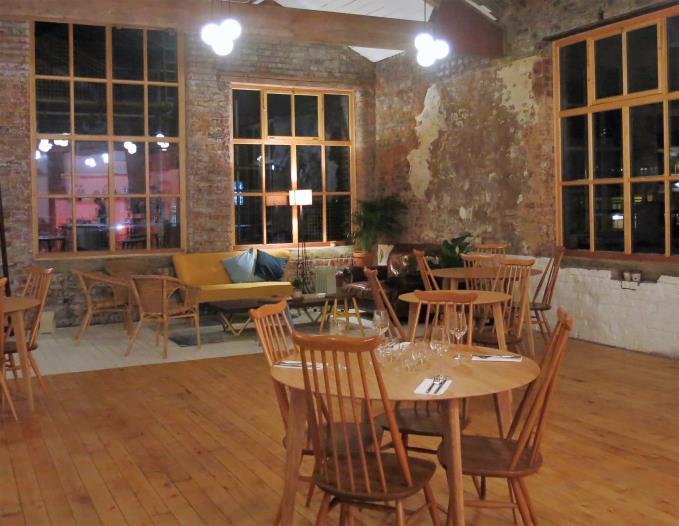 Where The Light Gets In - the windows
Now in his ambitious Stockport restaurant project Sam serves only a tasting menu, ostensibly seven courses, but you lose count as he chucks in, say, a plate of the tiniest chestnuts foraged that day in Delamere Forest – and yes, they are the tastiest mini-marrons you'll ever munch.
Nothing in print. For £65 they choose for you; matching wines too for a further £35 a head. The dinner you'll get is based on what ingredients are at hand on the day – creating "a dining experience from the day's catch, harvest and slaughter" as the website so pithily teases. As I left Chef lamented that I wouldn't be around to benefit from the consignment of monkfish liver that had just been delivered; he was likely to lose sleep wondering how best to treat it.
If all this and the haiku, and the workshop he ran on creating experimental bar snacks for NOMA's nascent hand-crafted pub The Pilcrow (Nepalese timur and zesty orange one novel flavour) makes WTLGI sound self-indulgent, pretentious even, think again. This is something special, akin to boundary-pushing restaurants such as Timberyard in Edinburgh or The Ethicurean in the Mendips. What they have in common is a casualising of fine dining, immersing the customer in the whole experience. We're all on this culinary stage together. Fortunately it's nothing like those experimental theatre groups who used to drag playgoers on stage to join in productions involving nudity and woad.
As Buckley told my ManCon colleague Deanna Thomas pre-launch: "The area by night is incredibly picturesque, but the main reason we chose a site a little out of the way of the burgeoning Manchester food scene is because we wanted somewhere quiet where we could work on our craft. Where we have the space to grow and evolve without being affected by city centre trends or over saturation. We hope that people will make the small journey out to experience our ideas and approaches to dining and go away feeling that it was worth it."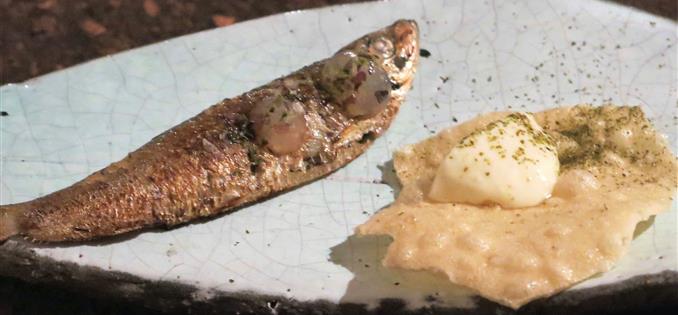 Lemony sprat and a curd-topped scrap of poppadom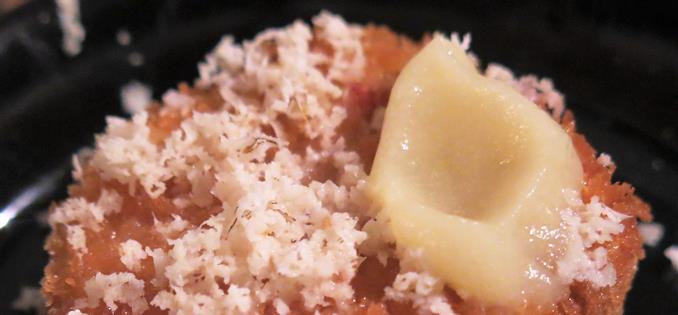 Bull's testicle and quince puree
Spot on. Any initial awkwardness at finding myself in a minimalist brick-centric urban cruck barn with widely scattered Ercol furniture and what looked like a designer kitchen showroom at the end was soon dispelled by a hugely natural welcome and the proffering of an equally 'natural' glass of tart Prosecco, followed by palate-perking snacks.
First a lemony sprat accompanied by a curd-topped scrap of poppadom, then a wondrous deep-fried thick disc of bull's testicle, texture of sweetbread, smeared with unripe quince puree. Windfall-wizened British quince, intenser than its scented continental cousin. That was almost a haiku, I'm getting into this.
On my own on a quiet night, I was offered the chance to sit at the open plan kitchen counter, which I accepted. The last time I did the chef's table thing it was in a starred joint on the Cote d'Azur and you could have cut the simmering tension with a Sabatier. Here it was all calmness and good karma with the chippy, bearded chef/proprietor very much the mentor in a small team supposed democratically to divide duties.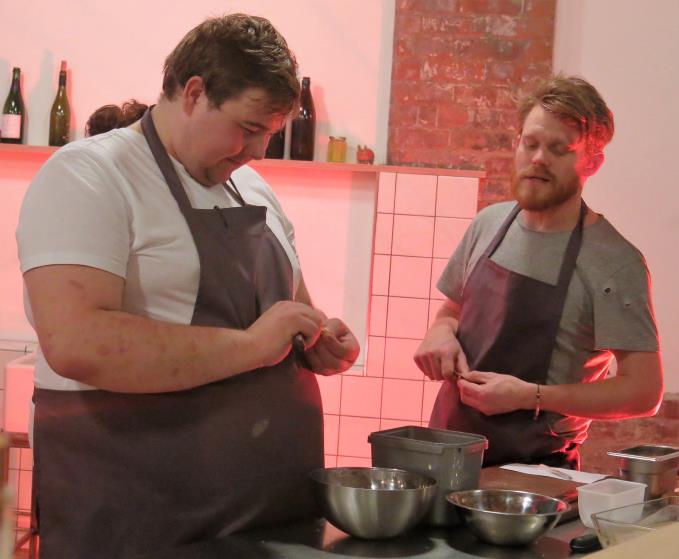 Buckley (right) the mentor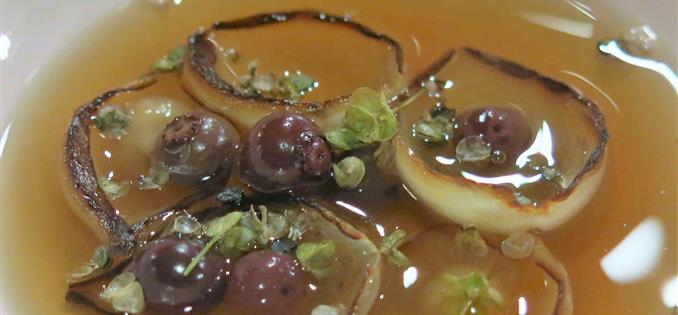 Scorched onion broth
First dish proper salt-baked beetroot with hazelnut custard (main image), felt very L'Enclume, where Buckley further honed his skills. I was more impressed by my springy cushion of sourdough with home-churned butter and dessicated chicken salt. It helped soak up every last speck of scorched onion broth with blueberries – an iridescent, sumptuous bowlful.
There is much attention to presentation from the look of the place (his partner is a designer) to the crockery (Pilcrow artisan guru Joe Hartley is a key influence). All this would be so much style if there wasn't so much substance in the food.
A bergamot emulsion miraculously married a fillet of plaice to grapes in a lo-fi take on Sole Veronique. Fennel sauerkraut and a nasturtium crumb added anise sweetness and a herbal texture to a beef rib main. This came quirkily in two tranches, one with soft, creamy fat attached (served on the side of the plate "because that's where folk leave their fat") that was utterly delicious while – the one carping note of the evening – the meat itself was barely chewable. Oddly the fatless chunk was impeccable.
Sitting by the team, it was fascinating to watch close up the final composition of a dish and I definitely got more chat here, which smoothed over occasional longueurs between courses. So I got to know the provenance of the juiced blackberries and diced apple in a palate-cleansing shooter and was assured the wild horseradish daringly (and successfully) shredded over my chocolate tart only worked if it was as freshly dug. That wild mushrooms come from a foraging French expat was also reassuring.
Such foodie exchanges and my obvious interest led to the fermented carry-outs mentioned earlier. But as the personable sous chef peeling knobbly root veg next to me explained, this style of dining is not for everyone. Definitely not first date stuff, I'd say.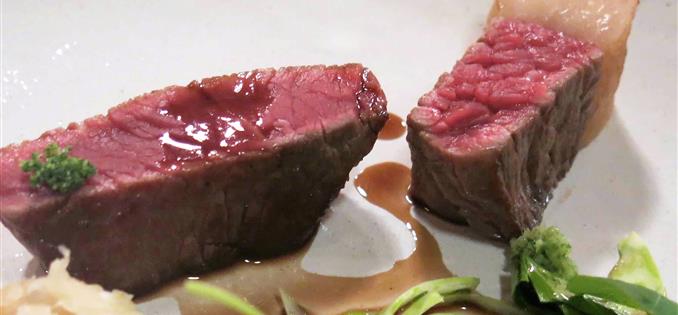 Beef rib and creamy fat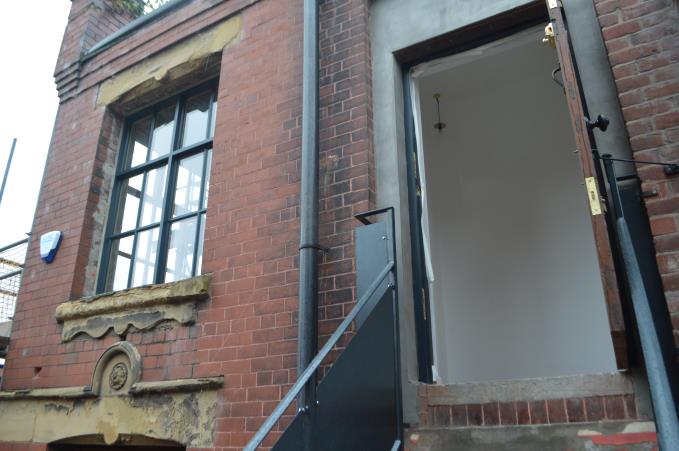 Where The Punters Get In
I couldn't resist the remarkable six cheese selection (£10 extra), sourced from the best cheese shop outside London, Courtyard Dairy near Settle, whose neighbours, biodynamic wine specialists Buon Vino, supply many of the esoteric bottles that make the pairings a key part of the whole WTLGI experience.
As with the food, serendipity rules. Pours on the night included a fino-like Chardonnay-Savagnin from the Jura, a lush white blend of Feteasca Regala, Muscat Ottonel, Sauvignon Blanc and Chardonnay from Romania, a ripe smoky Pra Morandina Valpolicella Ripasso and a limpid red muscatel dessert wine from Corsica. All were a major contribution to the fascination of the evening.
Finally – the restaurant's name? I had to ask. Surely not from the title of that track on the current Primal Scream album? No. Surprise from Buckley, whose Thursday evening soundtrack had ranged from jazz to Gram Parsons. When Leonard Cohen died they had played the great man wall to wall all night. So it's an adaptation of his immortal lines from Anthem – "There is a crack in everything… that's how the light gets in." Another negative but close. It may be about "makers leaving a space to breathe in fabric" or, and WTLGI sure is a moveable haiku-worthy feast, "it's just about the big windows in the warehouse". Which is where I came in, Bill Sikes.
Where The Light Gets In, 7 Rostron Brow, Stockport SK1 7JY. 0161 477 5744.
Rating 17.5/20
Food: 8.5/10 (Sprat 8, Testicle 9, Beetroot 7, Scorched onion soup 9, Sourdough 9, Chestnuts 9, Plaice 9, Beef 8, Chocolate tart 9)
Service: 5/5
Ambience: 4/5
PLEASE NOTE: All scored reviews are unannounced, impartial, paid for by Confidential and completely independent of any commercial relationship. Venues are rated against the best examples of their type: 1-5: saw your leg off and eat it, 6-9: Netflix and chill, 10-11: only if you're passing, 12-13: good, 14-15: very good, 16-17: excellent, 18-19: pure class, 20: cooked by God's own personal chef
Powered by Wakelet