VIVID Lounge is good for Ancoats.
These are full of textures, full of flavours with that lemon grass lightness and lift that is the essence of Thai food
After two post-industrial clearances this part of the inner suburb is desperate to develop a community amongst the incomers living in flats.
Food and drink is always at the heart of this process and Vivid provides the proof. On our Wednesday evening visit a stream of locals popped in. People from further afield will really enjoy this place as well.
It's a tiny venue, lurking under an overhang of the Islington Wharf development, but with a generous terrace above the attractive civil engineering of the 219-year-old Ashton Canal. The interior is happily indie in feel, easy-going, not the victim of an interior designer over-thinking and over-spending.
The food is schizophrenic, in the morning British breakfasts, at lunch chicken and mash, in the evening Thai. Very good Thai cooked by a very happy Thai lady.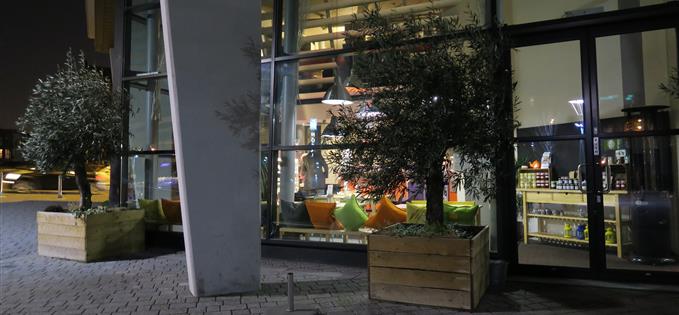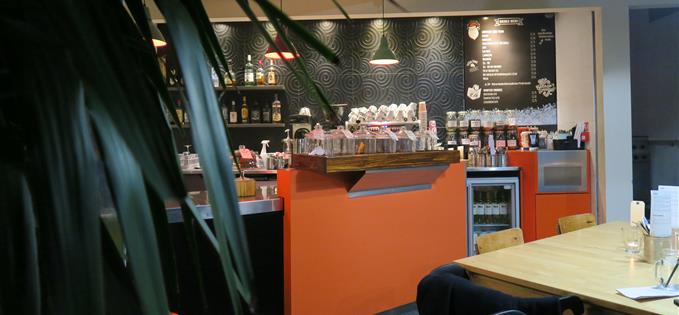 Vivid Lounge, Ancoats
People should flock to Vivid for the Thai corn fritters at £4.95. These are full of textures, full of flavours with that lemon grass lightness and lift that is the essence of Thai food. In the mix there's 'sweet corn, shallots, garlic, fresh ginger, chilies, fresh lemon grass, lime, rice flour and spring onions'. You get every one of the flavours and don't really need the homemade chili dip, although there's no problem with the latter. I will be back to snack on these very soon.
The spring rolls (£4.95) weren't so much standout as standard, the shitake and oyster mushroom interiors understated. A special extra with both starters were the exquisite slices of marinated ginger prepared with rice, vinegar, sugar and salt.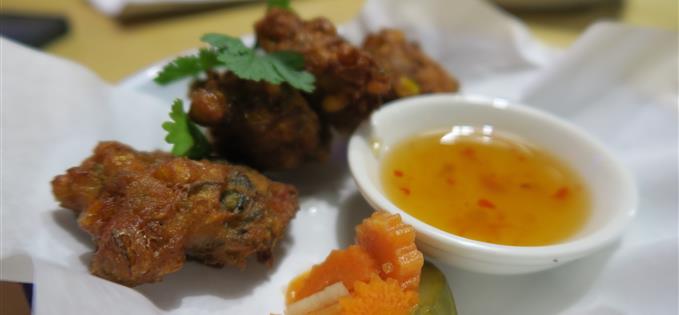 Genius Thai corn fritters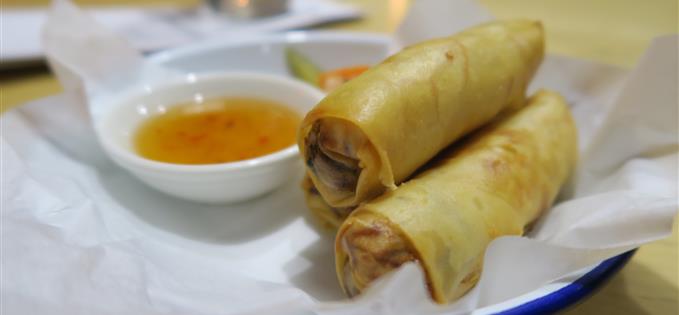 Adequate Spring rolls
The beef massaman (£11.95) too was very good, delivering heat, pungency and a lovely fluid character that was given weight with halves of potatoes as part of the deal mix along with the beef. The jasmine rice was lovely especially when doused in the massaman but best of all was the quite exceptional roti which broke beautifully and tasted wonderful.
But the star of the mains was the duck and tamarind sauce (£11.95, main image) which was simply delightful. It was aromatic, nicely heated with great crispy meat, and that sweet/sour tang of the tamarind - which I learned is also a key component of Worcester Sauce. The jasmine rice was as good as ever and the whole ensemble presented a very pretty picture.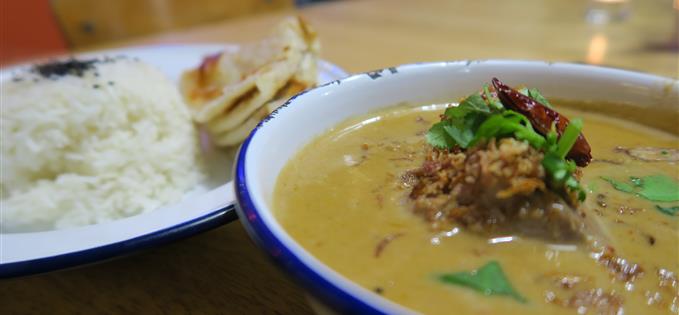 Beef massaman with lovely Jasmine rice and exceptional roti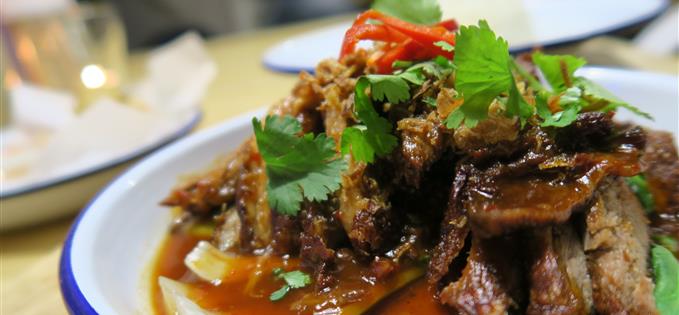 The star of the show: a delightful duck and tamarind sauce
The service was prompt and jolly, while questions were answered pleasantly with knowledge. I asked advice about what to order and would never have gone for the excellent corn fritters unless I hadn't been directed to them. Drinks include draught lagers, some bottled Marble Brewery ales and organic wines.
All in all as an informal restaurant experience Vivid is a winner. The banks of the Ashton Canal have a fine little neighbourhood community builder here, but as I say, other people should venture this way too - it's five minutes from the Northern Quarter.
There's even the bonus of a very pleasant walk to the restaurant along the Ashton Canal from Piccadilly crossing over an important piece of building history, the Store Street aqueduct, skewed at a 45 degree angle across the street, was the first major aqueduct of its kind in the country. I know you all really wanted to learn that. I'm good to you, I know.
Vivid Lounge, 151 Great Ancoats St, Manchester, M4 6DH, 0161 272 8474
Rating: 14.5/20
Food: 7.5/10 (corn fritters 8, spring rolls 6, beef massaman 7, duck and tamarind sauce 8)
Service: 4/5
Ambience: 3/5
PLEASE NOTE: All scored reviews are unannounced, impartial, paid for by Confidential and completely independent of any commerical relationship. Venues are rated against the best examples of their type: 1-5 saw your leg off and eat it, 6-9 stay in with Netflix, 10-11 if you must, 12-13 if you're passing, 14-15 worth a trip, 16-17 very good, 17-18 excellent, 19 pure quality, 20 perfect, 20+ slap us.