I'M IGNORING the fact that Victor's refers to itself as an 'Eatery' because my scorn for that word is irrelevant to this review. It doesn't matter that I think it's a lazy term used by journalists and PR's who know little about food, when they've written 'restaurant' too many times. So let's just forget I even mentioned it and move on.
This fish had died a worthy death; its flesh had been anointed with delicately balanced earthy soy-based flavours

Victor's is owned by the team behind Manchester's successful Neighbourhood and Southern Eleven in Spinningfields, who have worked out that their main demographic might want to occasionally leave the 4x4 on their Cheshire gravel drive and venture somewhere more local.
It describes itself as an American restaurant, but there are no towering burgers, sticky ribs or hot dogs, no jambalaya or gumbo, grits or cornbread. In fact, they don't serve 'dirty' food at all. They serve very clean and tidy food, the sort you'd imagine Gwyneth Paltrow or Sarah Jessica Parker waving a fork over in LA.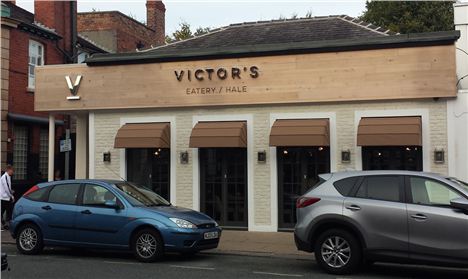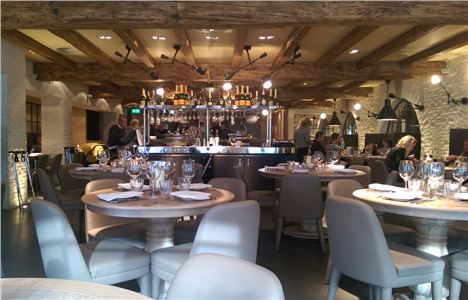 Victor's
The interior is glossy chic with whitewashed brick walls, thick oak beams, pale wooden tables, stone hued leather chairs and perfectly plumped steel grey cushions. It's the kind of place that made me want to spend an extra hour in front of the mirror that morning making sure I appeared especially effortless when I arrived.
The menu reflects the way California embraced Japanese cuisine and conceived a native take on sushi with dishes such as the California Roll. The kitchen team have chosen more subtle flavour enhancing ingredients such as teriyaki sauce, togarashi seasoning, miso and kimchee, infused mayonnaises and pickling techniques. Raw fish, meat and shredded salads are served in various Asian inspired ways to keep the flavours in and the carbs mostly out.
Hungrier types can opt for a decent steak ranging from the 12oz flat iron (£16) to the Porterhouse (£55) or choose from a range of pasta dishes such as Wild Boar Bolognaise (£7/£11).

Tuna Sashimi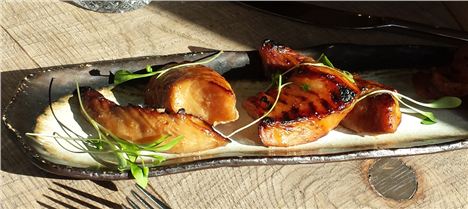 Black Cod
The dishes are listed on the menu in groups for grazing or sharing rather than the more standard three course meal; sashimi, inari, appetisers, lunch plates, entrées and 'scattered sushi in a bowl' called 'Chirashizushi' which is impossible to pronounce without sounding drunk.
We turned up at lunchtime on a Sunday and although there is a traditional roast on the menu (£16.50 beef, £15.50 chicken), a bit of nosey-parkery revealed that most people seemed to be enjoying a brunch of perfect looking Eggs Benedict.
Roasted eel Chirashizushi with cucumber and mango (£9.50) is as small and exquisitely formed as your average movie star. Every ingredient had been manicured and fully serviced; soft fanned eel was coated in a umami rich marinade, mooli was as finespun as an angel's barnet and scattered with perfect cubes of exactly ripe mango. I think the chefs might be working alongside a team of stylists.
Victor's take on the lobster taco (£12) came in tiny tasteful triplicate. Three circles of soft tortilla topped with a slice of delicately pickled Granny Smith apple and avocado mayonnaise with nuggets of lobster inside a very light tempura batter.

Lobster Taco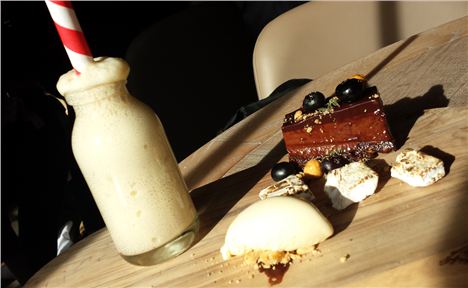 Chocolate Pave
The next round of dishes brought baked aubergine with honey, pumpkin seeds and courgette fritter (£6) which my usually carnivorous friend thought was delicious and really satisfying. I tried barbecued black cod (£12) which came highly recommended. This fish had died a worthy death; its flesh had been anointed with delicately balanced earthy soy-based flavours until it took on the delicate hue of milky tea whilst the outside was delicately caramelised and only slightly sweet.
Puddings were a chance to show that Victor's had a sense of fun. Chocolate Pave with Miso ice cream and brown sugar (£7) turned heads when it arrived at the table. A miniature bottle was filled with a bubbly honeycomb milk shake which I thought a little pasty but the friend loved. Chocolate pave, as rich and smooth as a successful Hollywood producer, was topped with fresh blueberries and candied hazelnuts – although they could lose the fresh thyme. The brown sugar marshmallows tasted a little burnt so were less successful but the slightly savoury and more unusual Miso ice cream balanced the dish well.
There is a mostly reasonably priced wine list (including a £700 Magnum of Crystal just in case a local millionaire wanders in with a cause for celebration) and a cocktail list inspired by The Hamptons and the beach.
I had taken a friend who had been down on her luck recently but a spontaneous afternoon of gossip, lobster and Prosecco in this glamorous venue lifted her up a treat.
Follow @DeannaThomas on twitter.
ALL OUR SCORED FOOD REVIEWS ARE IMPARTIAL AND PAID FOR BY MANCHESTER CONFIDENTIAL. REVIEW VISITS ARE UNANNOUNCED AND COMPLETELY INDEPENDENT OF ANY COMMERICAL RELATIONSHIP.

Victor's Eatery, 169 Ashley Road, Hale, Cheshire, WA15 9SD. 0161 928 4651
Rating 15/20
Food: 7.5/10 (lobster taco 7, eel 7.5, aubergine 7, black cod 8.5, chocolate pave 8)
Service: 3.5/5 beautiful but made us repeat everything.
Ambience: 4/5 where glamour meets stylish for cocktails and gossip.
PLEASE NOTE: Venues are rated against the best examples of their kind: fine dining against the best fine dining, cafes against the best cafes. Following on from this the scores represent: 1-5 saw your leg off and eat it, 6-9 get a DVD, 10-11 if you must, 12-13 if you're passing, 14-15 worth a trip, 16-17 very good, 18 exceptional, 19 pure quality, 20 perfect. More than 20, we get carried away