SPECTACULAR place, The Refinery. A lot of London money from the Drake and Morgan-owned group has been heaped upon it with shiny, shiny results.
There is always something attractive about a sweet and loose Scot
Confidential's L'Oreal Blackett summed it up very well in November: 'The Refinery is refined; plush fur throws, flickering candlelight and homely, Kinfolk-esque furnishings fit the bar and restaurant as if it was ripped from a hip Scandinavian interiors guide. Modern yet welcoming, the new 80-cover restaurant with large outdoor terrace is very a la mode; from the chic monochrome tiled floors to the Pinterest-approved cushions and a 'wipe-your-feet-before-entering' fluffy carpet in the large living room-style lounge area.'
The restaurant is on one side of the bar area, with the big kitchen prominently on view, while the food is a round-the-world trip. There are burgers and salads, Thai curries, steaks, fried squid, a mezze board and a curiously named dish of 'giant cous-cous'. Thank God, at last, cous cous is usually so small.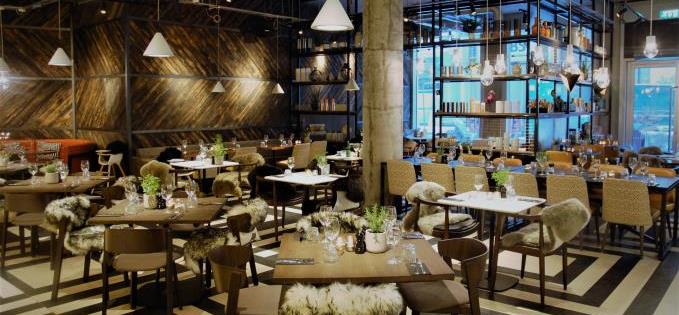 Sparkling and expensive interior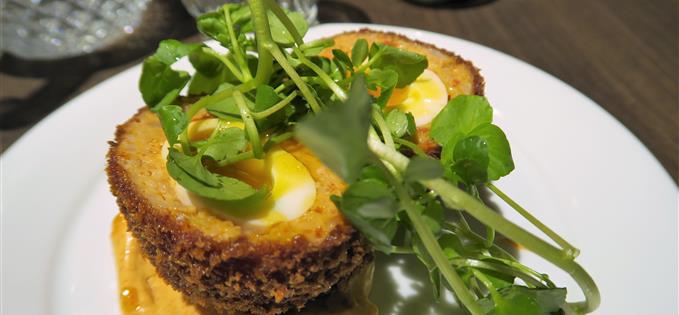 Loose Scotties but sweet and camouflaged
Sat next to an attractive tree and a big column on high seats (all the regular tables were booked up), we comforted ourselves first up with a bottle of Ruca Malen Chardonnay from Argentina, a Scotch egg with smoked paprika (£5.95) and the chestnut mushrooms with ricotta (£6.50). The Chardonnay lived up to its price point (£29.95) but went no further, a good quencher, simple and cheerful, perhaps a fiver too expensive.
The Scotch egg was strange, the sausage surround came flecked with chorizo, which didn't seem to add much at all, and seemed to have made the mix soggy. The egg was runny as it should have been. The whole dish was simply too sweet and too loose, a deficiency emphasised by an anodyne smoked paprika mayonnaise. There is always something attractive about a sweet and loose Scot as we all know, but maybe not on your plate and covered with so much water cress it's as though the dish was on manoeuvre and hiding camouflaged in a hedge.
The chestnut mushrooms and ricotta was a win, the soft and tender ricotta bolstered by the robust mushrooms and all helped along by sitting on a bed of sourdough. The plate was finished quicker than a 100m dash on motorbikes.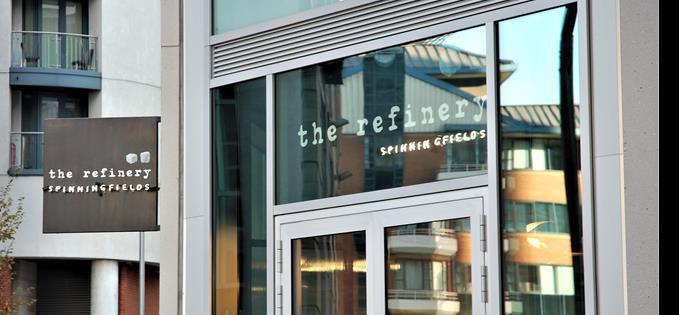 The Refinery has opened in Leftbank, Spinningfields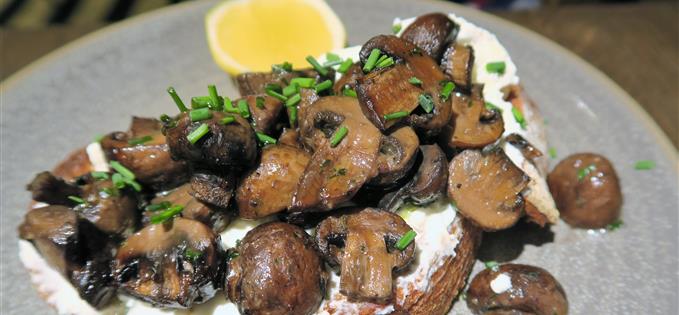 Chestnuts ricotta and our friend sourdough
The rise and rise of sourdough is intriguing. Five or six years ago sourdough was rare to spot. In fact, for most people it was two separate words, now it's one word and is ubiquitous. Yes, it has texture and a rugged taste but I am beginning to feel sorry for all the other loaves left on the shelf. Sourdough has become the bread equivalent of sea bass, which for a while seemed the only fish in the sea.
Mains next with Drake and Morgan 'favourite': lemon chicken, sweet potato and caremelised onions for £12.95. This was the best dish we tried. The chicken was a substantial lump and was as rich with citrus as its name suggested. The sweet potato, spinach and onion all added to a feeling of a proper filler with plenty to entertain. The stock could have been thicker but otherwise this was a goodie.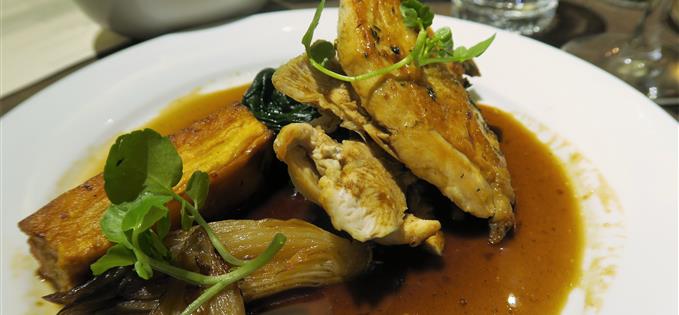 Big meal, good stuff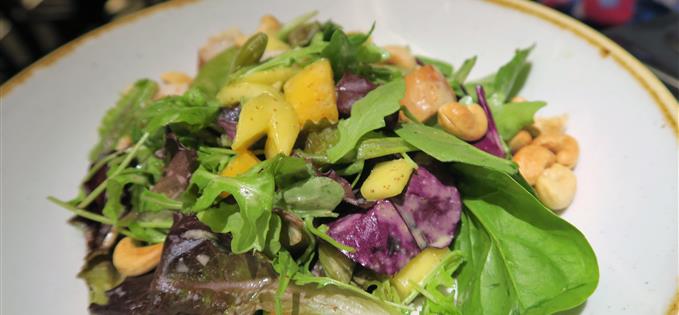 Salad of strangeness
A salad was chosen by my dining companion ("A salad? For a main?" I said with a cruel and puzzled tone). It cost £11.95, a quid less than my hotstuff, and included leaves with mango, avocado, smoked chicken and cashew nuts. I love a simple tossed salad and this wasn't. Avocado and mango will never hit it off on the same plate. The chicken was ok but the cashew nuts seemed to be there to add texture alone, otherwise there was little reason to have them along for the ride. Ok, the bowl of salad could have filled a camper van but scale isn't everything.
A dessert of chocolate, orange, jaffa cake (£5.95) with a large dollop of ice cream was excellent. Eating a cheeky packet of jaffa cakes for no reason on a wet Sunday is one of life's food pleasures. The weight and heft of this babe was almost the equivalent of a fifteen jaffas in one go.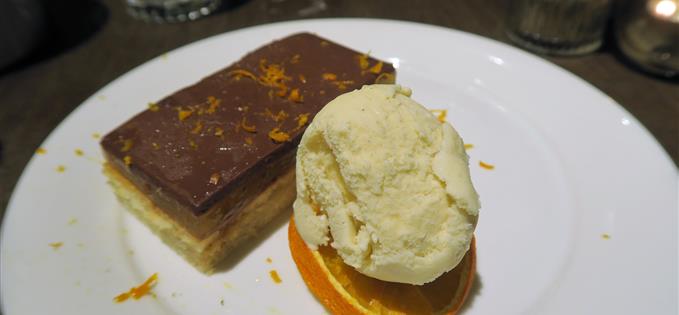 The dessert: rich and big
I liked being in The Refinery, I enjoyed the atmosphere, the topsy-turvy chrome yet homely design, the good service. But still it confused me. The level of investment didn't seem reflected in the menu. This, in truth, is average pub grub. I'd make it more glam, chuck some exotica in there, have more fish, less gratuitous greens, more finesse and more drama. It might then match the big decor.
This is not the kitchen's fault. The Refinery is part of a Drake and Morgan chain, and no doubt the menu is common across the group, but the food simply doesn't tally with the rest of the sparkling experience. I'll be back for a drink but I'm not sure I'll be rushing back for the menu.
The Refinery, XYZ Building, Spinningfields, M3 3AQ. Tel: 0333 210 0016
Rating: 12.5/20
Food: 6/10 (scotch egg 5, mushrooms and ricotta 6, lemon chicken 7, salad 5, chocolate orange jaffa cake 6)
Atmosphere: 3/5
Service: 3.5/5
PLEASE NOTE: All scored reviews are unannounced, impartial, paid for by Confidential and completely independent of any commercial relationship. Venues are rated against the best examples of their type: 1-5: saw your leg off and eat it, 6-9: Netflix and chill, 10-11: only if you're passing, 12-13: good, 14-15: very good, 16-17: excellent, 18-19: pure class, 20: cooked by God's own personal chef
Powered by Wakelet