I BAGSIED this one. I marked my territory by spraying Manchester Confidential with direct messages to make sure they all knew that this twelve week 'pop up' collaboration in Alderley Edge between Mughli restaurants and Chef David Gale was MY PRECIOUS.
From 'fish', we ordered popcorn shrimp with cumin batter and citrus so (£8.50) which paired perfectly with the rhubarb gin I'd chosen to wash it all down with. 
The family-owned Mughli began about 20 years ago in Rusholme and they've since opened another branch in Knutsford. They have also migrated daarn saarf (ah yes, one of my favourite Indian dishes. Ed) with restaurants in Soho and Battersea under a different brand name. The Arshad family clearly have plans.
Mughli is the epitome of the modern Indian restaurant with sleek design, a menu that doesn't rely on generic base sauces and a dedicated social media strategy. The idea of a menu collaboration originated last year when they did a one off event with blogger's favourite Chef Ernst Van Zyl. Mughli owners Haz and Sax started chatting to David Gale and once the Alderley site came up, the idea got some legs. David Gale was the Executive Head Chef at Deansgate's Hilton Hotel and more recently The Lawn Club in Spinningfields.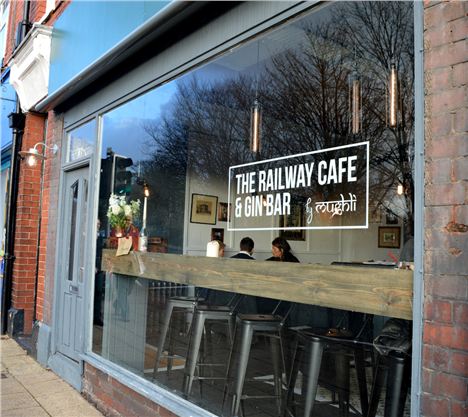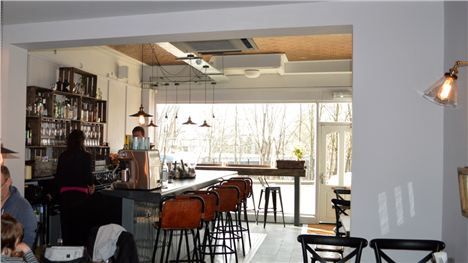 The Railway Cafe
Haz has met me before, so although I prefer to review anonymously, there was no point in pretending. At least it gave me an opportunity to get some background information. Haz explained that the idea behind The Railway Café was to revisit the influence India had as part of the British Empire by offering a series of small plates incorporating the flavours and cooking styles of both.
The combination of gin with tonic was invented in India at the beginning of the 19th century when British troops were susceptible to malaria. Doctors treated the disease with quinine which has a really bitter taste on its own. To make it more palatable, English officers started combining it with sugar, lime and soda. Chucking a good measure of gin in only enhanced the pain-killing effects.
Mughli asked Manchester-based 'World's Best Gin Bartender 2013' Jamie Jones to oversee the gin offering and we counted over a dozen varieties plus a list of infusions and cocktails. They intend to host weekly gin tastings and classes, so if you're fanatical about botanicals, I'd recommend you book in.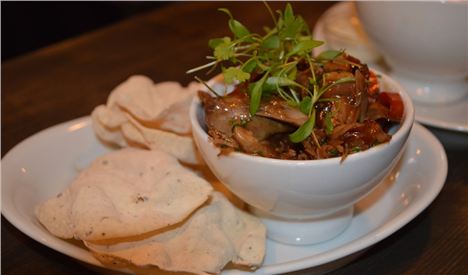 Tamarind duck: delicious but modest
The food menu is a one-page affair subtitled 'snacks, salads, meat, fish, vegetarian and desserts'. The Railway Cafe is also open for brunch at weekends from 9am-2pm. Obviously we wanted to order everything but had to prioritise. Lamb lollipops with chickpea purée and pomegranate seeds (£11.50, main image) was our first choice; four chops with criss-crossed, charred and lightly spiced fat lining perfectly cooked and tender meat. My 6-year-old couldn't get enough of these but had to settle for two which he stripped clean before amusing himself by using the bones as mammoth tusks.
We ordered the sweet and sour tamarind duck with onion, strips of roast red pepper and papadum wafers plus a plate of crispy chicken, spiced rice and tomato curry (both £8.50). What we got was delicious but portions were modest, so they weren't kidding when they said 'small plates'.
From 'fish', we ordered popcorn shrimp with cumin batter and citrus soy (£8.50) which paired perfectly with the rhubarb gin I'd chosen to wash it all down with. We all agreed that tuna tartare with coconut, chilli, cucumber and wanton crisps (£8.50) was the least successful dish as all its many different components were fighting with each other until in the end, none of them won.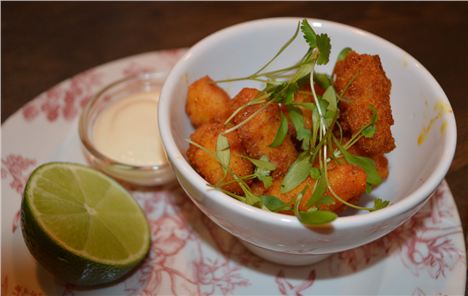 Popcorn shrimp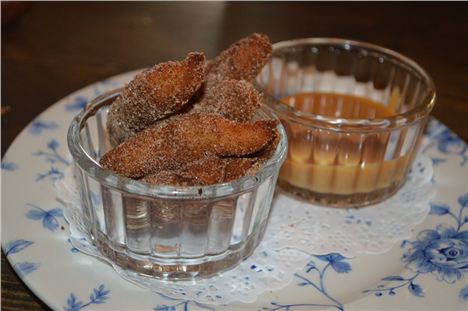 Cinnamon churros
Mushroom and spinach pakora with garlic mayo (£6.50) was another gin pleasing match with its salty, spicy and crunchy chick pea flour coating making for perfect pickings. We had ordered Green papaya and mango salad with radish, cashews and coconut (£7) but in the whirlwind of dishes we hadn't realised it had been sent to another table until we were halfway through that tables pineapple, mango and pomegranate brunch. The 'we always choose one too many dishes' award went to 'gunpowder masala chips' (£5) which were an upmarket take on spicy potato wedges.
Indian restaurants tend to struggle with desserts, offering too sweet syrupy carbohydrate bombs or freezer friendly things packed into fruit, but Gale's come up with some crackers. Rose scented panna cotta or sticky Indian treats with chilli chocolate dip were strong contenders, but in the end we chose warm cinnamon churros with caramel sauce (£5.50) ignoring the geographical culinary error as much as the original brief did.
The Railway Cafe and Gin Bar is highly recommend for drinks, snacking and drinking and grazing, chatting and more drinking sorts of evenings. I had suggested that we'd probably be in for brunch every weekend during its twelve week incarnation (they're turning it into a more permanent Mughli after that) but looking at the bill, we couldn't afford it every week.
All scored reviews are unannounced, impartial, paid for by Confidential and completely independent of any commerical relationship.
The Railway Café & Gin Bar, London Road, Alderley Edge, Cheshire. SK9 7JT
Rating 15/20
Food:  7.5/10 (Lamb Lollipops 8, Tamarind Duck 8, Crispy chicken 8, Tuna Tartare 6, Popcorn shrimp 7, Sandpiper 7, Pakora 7.5, Gunpowder chips 7.5, churros 8)
Ambience: 3.5/5
Service: 4/5
PLEASE NOTE: Venues are rated against the best examples of their kind: fine dining against the best fine dining, cafes against the best cafes. The scores represent: 1-5 saw your leg off and eat it; 6-9 call the Golden Dragon and stick Netflix on; 10-11 if you must; 12-13 only if you're passing; 14-15 worth a trip; 16-17 very good; 18 exceptional; 19 pure quality; 20 perfection. More than 20, slap us back around.