I'VE ALWAYS liked Jesse Horsfall of Todmorden, even though I didn't know who he was and I never met him - unfortunately he popped his clogs in 1910. Yet it was he who designed Rochdale Library, Art Gallery and Museum which was central to me falling in love with words.
A new restaurant that feels like it might become a proper Northern Quarter local
He also designed the glorious Arts and Crafts building from 1904 which houses The Pasta Factory. This is one of my favourite Northern Quarter buildings and was originally a branch of the defunct Lancashire and Yorkshire Bank. Rosso Restaurant occupies the old headquarters of the same bank on Spring Gardens/King Street, maybe they should partner up. Banks to Italian restaurants - so it goes.
Certainly for several years now opening an Italian restaurant seems to have been a banker for food operators.
One of our favourite April Fools was when in 2011 we said the council had ordered all future Italian restaurant plans to be put on hold because Manchester was full up. This caused one of the PR people for Jamie's Italian, due to open the following year, to ring up Confidential in a panic. "Call the Councillor who is quoted in the article," we said. The name we'd given was Councillor D.Ol Mio. Not long after the PR bod rang back and said, "I've been a fool, haven't I?"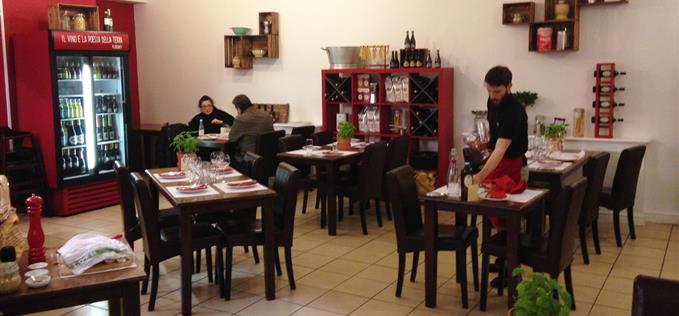 The Pasta Factory
But there's always room for something different, for individuality. And sometimes for modesty and humility - a more down-to-earth approach typical of one of those cosy places you trip over in the tight medieval streets of an Italian city. Salvi's Mozzarella Bar when it opened in the Corn Exchange (re-opening 16 December) followed by Salvi's Cucina on John Dalton Street and then Lupo on Chapel Street have that about them.
So does The Pasta Factory, which unlike Salvi's very welcome and very robust Neapolitan accent, takes as its spiritual heartland Piedmont in North Western Italy. The owners are a group of fresh faced friends who've worked in various Manchester restaurants and now want to go their own way. They've taken the former Korean restaurant of Baekdu and with a light touch made it very much their own with pasta cabinets, drink cabinets, a somewhat half-finished mural above the kitchen plus a heavy presence of tables and chairs. On my two visits these have often been filled with Italians.
As the name implies the emphasis is on pasta and this is feisty stuff with interesting ingredients. All three I've tasted have been a success. The pick was perhaps the veggie one, the radiatori verdi (£9.50). This basil pasta came with a rich mix of sun-blushed tomatoes, ricotta salata and olives - the whey sheep's cheese, the ricotta salata, was lovely. The gnocchi funghi (£10.50, main image) with mushrooms and pancetta was suitably creamy, filling with a good balance of ingredients. The ravioli di lepre (£12) was a crafty piece of work with rabbit and herb stuffed ravioli and a butter and sage sauce. The whole dish defined 'earthy'. I liked it, I suspect bunny lovers might find it a challenge. The sage was effective and the pasta parcels were little works of art.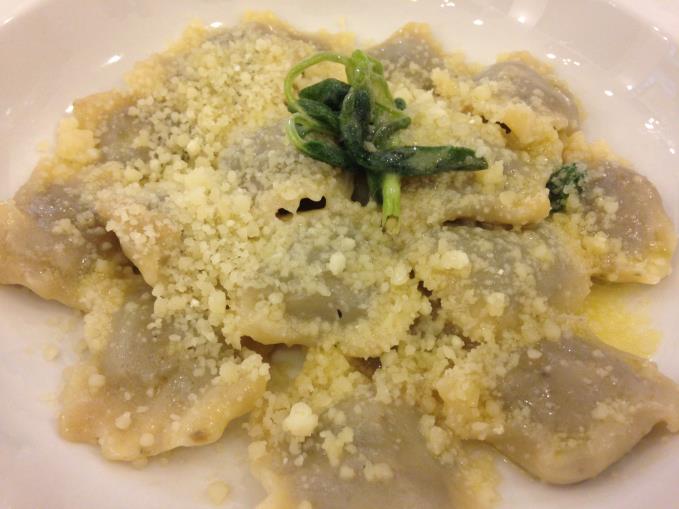 Run rabbit, run rabbit...
A starter plate of antipasti for £7 had been notable for an unbelievably good and scoopable taleggio cheese, a northern Italian speciality. The salami was ok, the pesto on peppers better, the feta, rich with herbs, exceptional. The home-made crackers were clever and full of flavour, the mosaic of the seed cracker was very pretty. The latter from a recipe gifted, apparently, from one of the owner's grandparents.
Still, I do wish the owners would stop telling people about the authenticity of the food. Authenticity can be taken to breaking point. Whether the Marsala wine custard thingy with the biscuits (the Torcetti di Zabaione - £4) was authentic or not, didn't matter. It was bloody awful, the consistency of the custard disturbing, resembling some sort of bodily secretion or the collective squeezed spots of an entire comprehensive school. The word 'authentic' is not a synonym for 'good'. The whole pudding selection resembles an after-thought, The Pasta Factory should get rid or re-think it.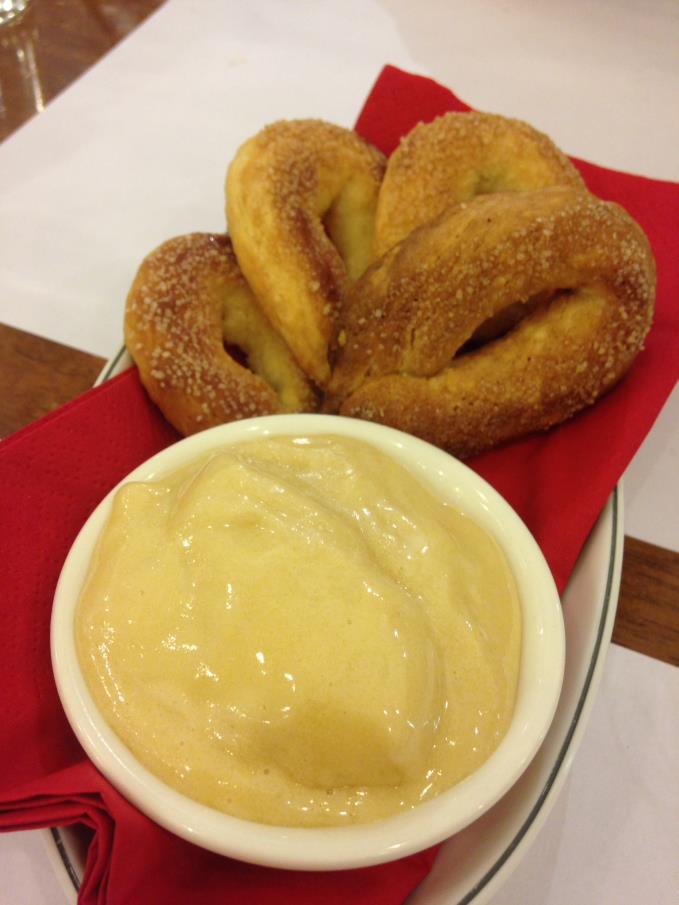 Authentically challenged
The Pasta Factory are on to a winner with their drinks including great value wines - for example a bottle of good Barberesco for £28. Though it's the beer that's the star here.
Unless its a sunny day and you want a refreshing Peroni to chill you down and gas you up then Italian places are not renowned for their beer. The Pasta Factory has reversed that by importing a whole range of Italian craft beers often with ale-like character. They even have a couple on tap. I went for the 'IPE' pint from a small brewer in Turin, San Paolo Birrificio. The brewery describes the beer as 'Stile USA purosangue de questa American pale ale ambrata con riflessi arancio' in a curious mix of English and Italian.
It's a lovely thing, if strong at 6.5%: full, fruity with a glorious almost perfumed head. The price is £4.50 a pint. Beer enthusiasts should stop by and give it a go. Pasta lovers should give the place a go too. There's a lot of originality in this new Shudehill venture. Jesse Horsfall would have approved of the way his colourful building has been reinvented and is being enjoyed.
The Pasta Factory, 11 Shudehill, Manchester M4 4AN. 0161 222 9250
Rating: 13.5/20
Food: 6.5/10 (antipasti 6.5, radiatori 7.5, ravioli 7, gnocchi 7, zabaione 3 - score dragged down by the latter)
Service: 3.5/5
Ambience: 3.5/5
PLEASE NOTE: Remember venues are rated against the best examples of their type. All scored reviews are unannounced, impartial, paid for by Confidential and completely independent of any commerical relationship. Venues are rated against the best examples of their kind: fine dining against the best fine dining, cafes against the best cafes. Following on from this the scores represent: 1-5 saw your leg off and eat it, 6-9 get a DVD, 10-11 if you must, 12-13 if you're passing, 14-15 worth a trip, 16-17 very good, 17-18 exceptional, 19 pure quality, 20 perfect. More than 20, we get carried away.