*****
'WHY was it that every Jewish boy growing up in Manchester in the 1950s could play table tennis?' So goes the premise of Howard Jacobson's 1999 novel The Mighty Walzer. It arguably remains his most popular, despite his 2010 release The Finkler Question scooping the Man Booker Prize.
A hilarious homage, addled with lust and ping pong, to Howard Jacobson's youth
Why? Because it crackles with empathy, wit and the fully rounded characters that Simon Bent has adapted so well in its namesake play. Whilst the plot is fairly slow-going, as in the novel, the personalities are strong enough to compensate: bookish protagonist Oliver Walzer, for whom ping pong not only gives him a social life but ultimately the affections of Lorna Peachley; his well-meaning father Joel, prone to hairbrained business schemes that eventually leave them bankrupt; Sadie, his overbearing mother, who suffocates him with expectations yet is disbelieving when the poor boy reaches them; and Oliver's 'nerdy' group of ping pong friends, who provide an alternative escape to reading on the toilet as his parents bicker.
Table tennis - more humorously called 'whiff whaff' - was a popular sport within the Jewish community in the mid nineties, providing a sense of solidarity in a society where anti-Semitism still lingered. The references to this somehow manage to be light-hearted, although I felt the Auschwitz allusions fall a little flat in a play that's primarily humorous.
That said, there are touching moments; towards the end, for instance, when Oliver's wheelchair-bound father is still telling his (now adult) son to 'think big'. This would have been a profound scene for the play to end, yet the narrative then jumps back to Oliver's last tennis match with his nemesis Gershom Finkel: a somewhat confusing leap that detracts from the moment.
However, Sheeny Waxman (his father's extravagant sales assistant) trying to jump into the story before his time - 'you're not in it yet! - I thought an inventive technique, whilst Oliver (Elliot Levy) looking back over his journey from childhood to adulthood also works well. The fact that Levy successfully acts the story, right from a small introverted boy through adolescence and maturity, is impressive: a grown man playing a sex-obsessed teenager shouldn't be convincing, yet somehow it is.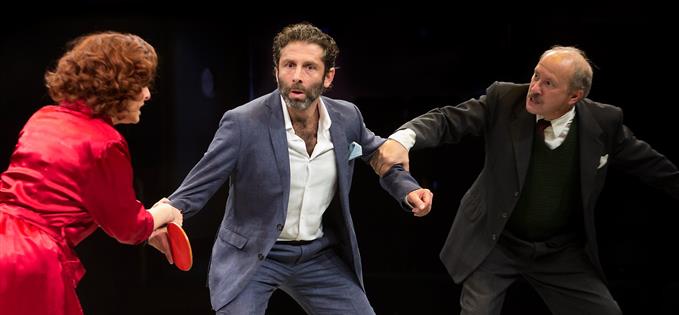 Photo credit: Jonathan Keenan
Jonathan Tafler and Tracy-Ann Oberman as his parents are strong, conveying the tensions between protective mother and a father desperate for his son to venture into the big wide world - so much so that he makes him a ping pong bat from an old yoyo and forces him to attend the local club. Ann Marcuson as Dolly/Dora - Sadie's twin sisters, who confuse Finkel with amusing consequences - is a bold personality too, despite her minor part.
Class stereotypes are prominent throughout, with Sadie so alarmed at her son going to see the promiscuous Sabine Weinberger that she threatens him with a knife. Contrastingly, Oliver's acceptance into Cambridge and his embarrassment over their fake garden palm tree and doorbell that plays the Chinese national anthem highlight the disparity between a working class Manchester family and a son who ultimately ends up living in Venice. That he is, nevertheless, a bartering tour guide is an ironic finale: he may have ascended his 'grafters' background but the Walzer penchant for salesmanship is deeply ingrained.
Special effects are relatively minimal but complement the dynamic arena theatre setting and highlight the characters, rather than overshadowing them. The use of lowered props - like a ping pong ball, as Hallelujah plays in the background - is a suitably eccentric touch. Finkel appearing spotlighted in the audience is also effective; befitting his underhand character.
My companion - who thought the first half stronger than the second - was surprised when a Shameless actor she spotted in the audience left halfway through. Perhaps he had other commitments but I personally thought the play was slower to start than finish: stick with it and you'd find a production that - whilst not as fast-paced as others - delivers what it says on the tin: a hilarious homage, addled with lust and ping pong, to Howard Jacobson's youth.
The Mighty Walzer is at The Royal Exchange until 30 July, alongside Chess in Shorts: a free accompanying exhibition curated by the Jewish Museum.
Powered by Wakelet