IS IT just the Brits or do other nations take things they already do really well, give them an overseas name, and somehow make them more real?
It was brutal dish and I mean that as a compliment, honest, forthright, bags of duck and loads of superb bread
You can't move for 'hygge' this year.
Broadly defined (although you'd need to have recently arrived from Mars to need it explained) 'hygge' is a Danish word that sums up cosiness, warmth and good company, probably with some throw rugs, drink and food too, candlelight maybe; everybody clumped round a fire while through the window the wind howls and despairing Scandi-noir serial killers lurk waiting for victims to nip outside for a quick naked sauna.
Aside from the naked sauna, we already have a British 'hygge'. It's a proper pub, pubs I've been going to for years. I could list scores of the beasts. The Marble Arch is right on the 'hygge' mark. A fire, a glistening interior with light flashing off the shiny tiles, good food, chatter and better beer than any 'hygge'-bugger.
Oh and lots of postmen. There's a big sorting office round the corner, so on weekday afternoons expect a few off duty servants of Hermes chugging pints down. Indeed the variety of life in the Marble Arch is part of its charm. During our Sunday afternoon visit, there was everybody from 22-year-old beardy boys and their wrapped-up ladies to a party of 70-year-olds giving the beer range a good seeing to. There was also a 16-year-old saying, "Nice, can we go as soon as we've finished the food."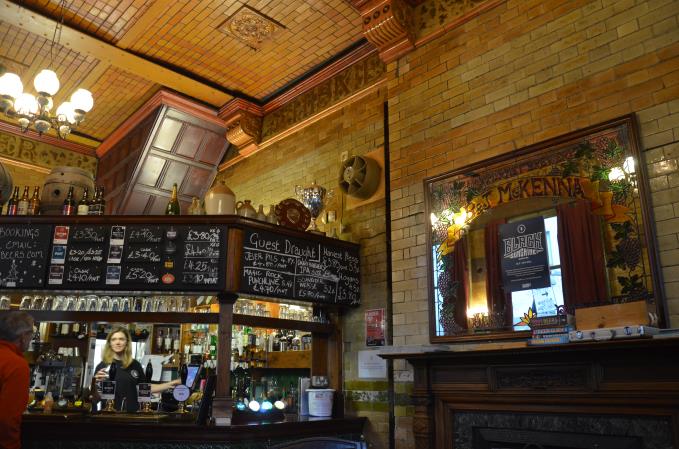 The perfect interior
Outside one winter's night
I'll go on about the interior later because it's special, but so were starters of duck terrine and French onion soup on the two courses for £17.95 menu.
The duck terrine was as textured, rugged, gritty and earthy as a ploughed field. I think the chef had made it using the woodcutter's axe from the shack next to that 'hygge' place in Denmark and just down from the naked sauna (and what dark secrets does that woodcutter hold eh? Give that lady from The Killing with the jumpers a call.). It's a brutal dish and I mean that as a compliment; honest, forthright, bags of duck and loads of superb bread.
I stole some of the black rye to help mop up the yolk and clever green peppercorn sauce that came with the decent black pudding starter. I had to keep turning the plate as the yolk and sauce was annoying in its obedience to gravity. The Marble Arch, as far as I'm aware, is unique in that it has a floor that slopes at around eight degrees from east to west, seemingly following the path of nearby Gould Street down to the River Irk. It's sort of entertaining. Rarely does food flow on the plate.
Duck terrine exemplar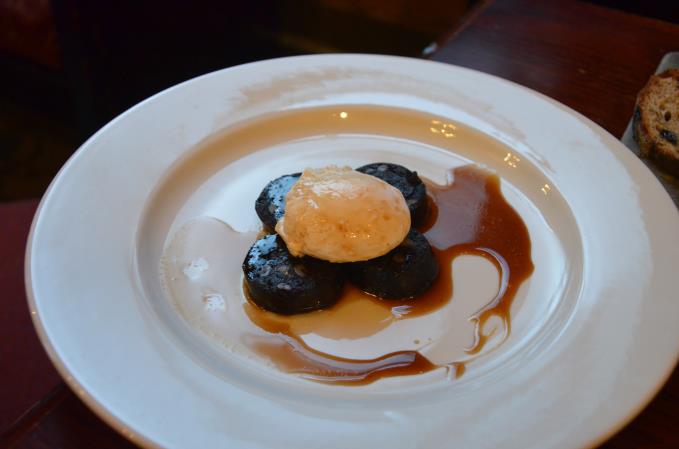 Good but needs a presentation lift
Better than the black pudding and as good as the terrine was the exceptional French onion soup which had been cooked for three days and was as thick and rich as Kim Kardashian, but far sweeter and much more authentic with fewer agents. This was a real star, although given its deep and even brownness beyond photography.
Sunday roasts should by rights be cooked at home for a limited number of guests. They're too labour intensive, too sensitive to timing, but here the beef and lamb roasts were more or less spot on. Roasties crisp, Yorkshire pudding firm not flabby, rich gravy, excellent meat (both with the moo-moo and the baa-baa), good veg, parsnips too. Nothing wrong with it at all. Two caveats though. We didn't need boiled potatoes as well as roasted and The Marble needs to bring out a generous gravy boat rather than waiting to be asked for more. This being Christmas I'd add chestnuts too.
The plaice was so familiar as British pub food from down the generations it nearly winked at me and said, "All right, mate?" Very good though, with flesh timed to perfection. Slightly too much salad though, and a knob of butter missing from the peas, but again there was nothing wrong with this and the plate was cleared.
The carrot cake was a failure, dry and with ice cream still frozen. We should have gone for the well-known cheese boards.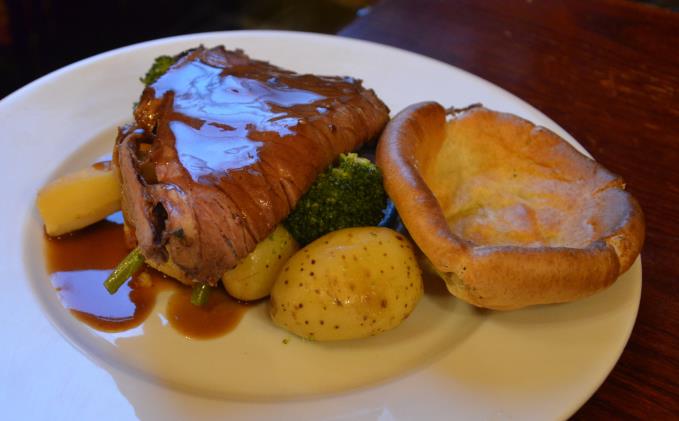 Correct in all the essentials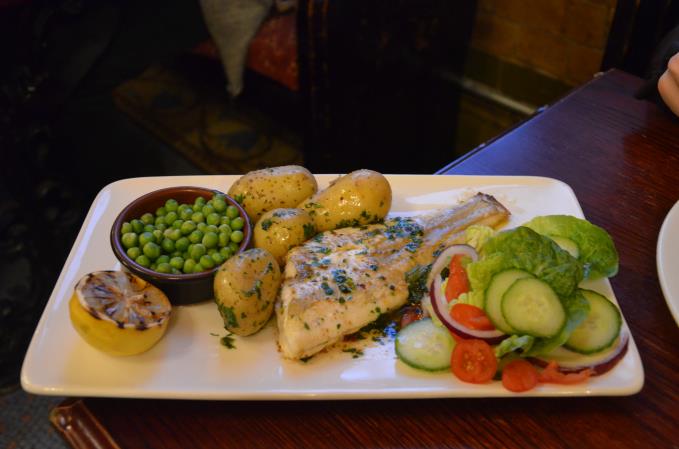 Time and plaice for everything
I had the 'Stouter' stout at £3.50. This was as thick and rich as the other Kardashian but far better company for a chill day. The stout is one of Marble's own brewery staples, along with 'Pint', 'Bitter', 'Lagonda' and so forth. They are worth delving into aside from, in my humble opinion, the Earl Grey beer because I'm just not sure about mixing tea, one of my favourite hot non-pub drinks, too intimately with one of my cold pub drinks. There are loads of presentation boxes of the Marble's fine booze for sale from the pub or online including James Kemp's Marble Metal Series which, it should be pointed out, are more Black Sabbath than 'hygge'.
A note about the tile and mosaic interior of the Marble Arch with its curlicues, elaborate drink advertisements, lush bunches of faience grapes and vivid mosiac red roses. Dating from 1880 and designed by Alfred Darbyshire it is one of the best pub interiors from the time in the country. Born in Salford, Darbyshire was as flamboyant as the Marble Arch, an architect, theatre-designer, theatre-safety pioneer, actor, friend to artists such Dante Gabriel Rossetti, and a Manchester Guardian journalist. He was a remarkable and energetic man. If you are a theatre-goer and the Marble Arch seems at least a little familiar, then that's because Darbyshire also designed the interior of the Palace Theatre on Oxford Road.
Back to the menu. Our meal was dished up by new kitchen staff, with a new menu also on the way. Given their recent arrival they did very well, providing a fine meal, which with just a few tweaks (more gravy, a knob of butter on the peas) would really fly. So good food, splendid interior, 'hygge' and great drink: if you've not been to the Marble Arch there's little excuse not to do so.
The Marble Arch, 73 Rochdale Rd, Manchester, M4 4HY. Tel: 0161 832 5914
Rating: 14/20
Food: 7/10 (terrine 8, black pudding 6, onion soup 8, beef roast 7, lamb roast 7, plaice 7, carrot cake 5)
Atmosphere: 4/5
Service: 3/5
PLEASE NOTE: All scored reviews are unannounced, impartial, paid for by Confidential and completely independent of any commercial relationship. Venues are rated against the best examples of their type: 1-5: saw your leg off and eat it, 6-9: Netflix and chill, 10-11: only if you're passing, 12-13: good, 14-15: very good, 16-17: excellent, 18-19: pure class, 20: cooked by God's own personal chef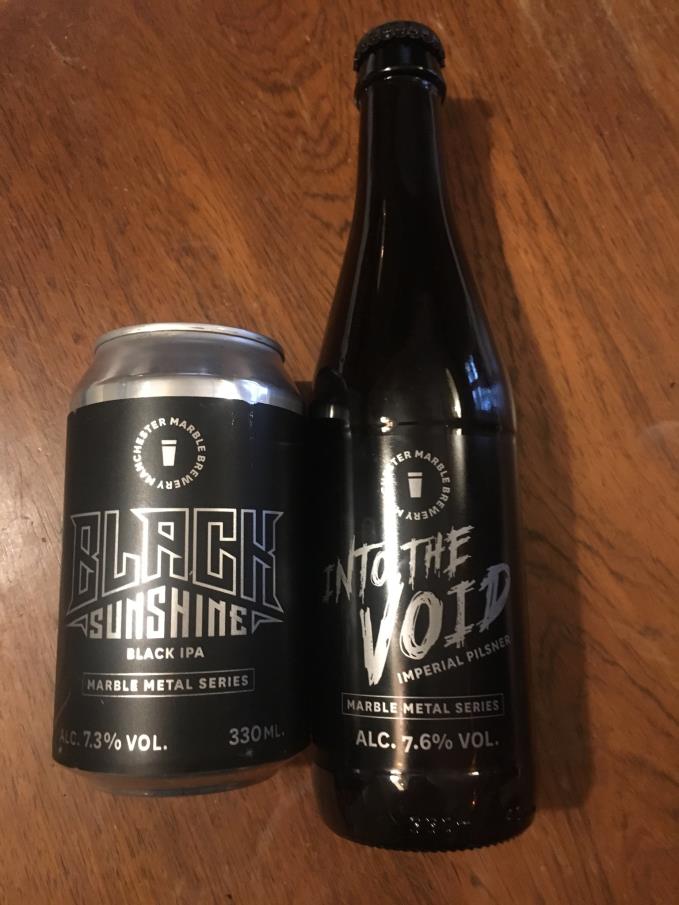 The rock range of takeouts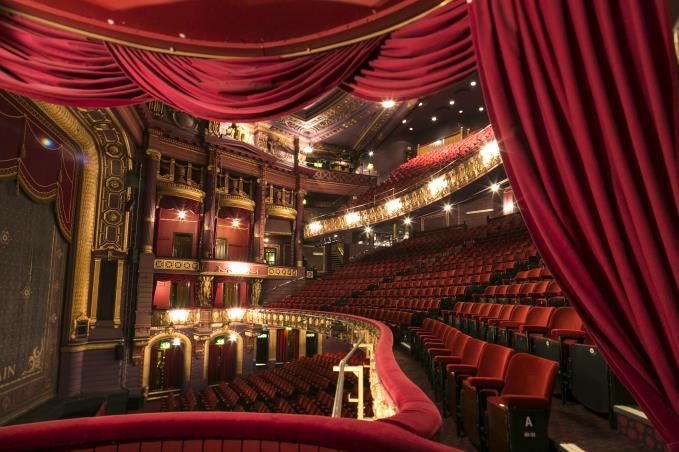 The Palace Theatre: another Alfred Darbyshire Manchester interior
Powered by Wakelet