THERE's always one clever clogs who can't wait to point out that we're reviewing a restaurant in Chester on Manchester Confidential, so let's address this. My jokey response is that I'm focussing on the 'Chester' part of Manchester. My less jokey response is, get in your car or get on a train and try somewhere else worth visiting less than an hour away.
It is owned and run by a small group of food lovers
In fact, you'd better pause here for a moment to book at The Chef's Table, because it's getting more and more difficult to get a table. A table of four on a Saturday lunchtime meant a three week wait. This is partly due to word of mouth, getting louder since it opened in April 2014, but it's a tiny place, limited for prep, storage and kitchen space. Because of this, they have restricted opening times for lunch and dinner and close on Sundays and Mondays.
I'm sure their books are fine, but this is a concept engineered to satisfy customers, not accountants. They even save faffing about with prices; two courses for lunch cost £15 and three courses £18 – portions are generous.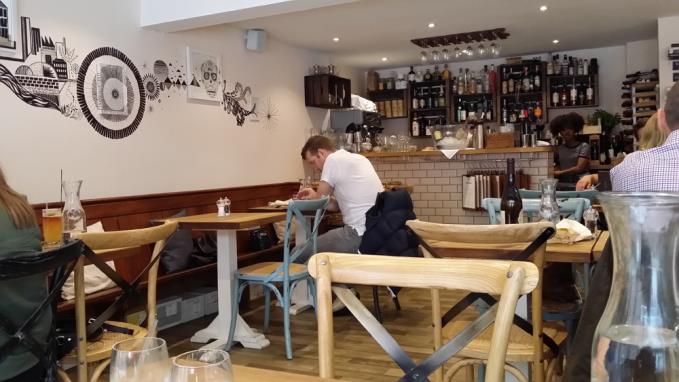 The Chef's Table Bar
It is owned and run by a small group of food lovers who devise each daily menu based on available ingredients that are at their best at that time of year. The dinner menu has five options for each course and the lunch menu around three. Menus are printed every day and most dishes evolve gradually with ingredients being swapped in and out, dictated by availability.
The Chef's Table has developed a close relationship with Cheshire's Natural Veg Men, a committed group of local, organic growers who operate a veg box scheme around areas of Cheshire. The Veg Men have now devoted a whole area to growing specialist fruit and vegetables exclusively for The Chef's Table and a basket of their gorgeous seasonal produce is always on display by the open kitchen – part art installation, part storage solution.
After perusing the menu over a dish of perfectly salty and charred Padron Peppers (£3.50), my husband did something I've never seen him do before; he ordered a salad for a starter. Don't get me wrong, he loves vegetables and maybe that's why he finds them so disappointing in this country. But this wasn't an ordinary salad (and it most certainly wasn't from M&S either) this was 'Homage to the Veg Men' – a summer salad including broad beans, peas, onion, courgette, chard, kohlrabi, and heritage tomato (main image). Leafy components like lemon balm and some edible flowers made me want to shout in the general direction of Italy and France, 'look, see what we can grow in England, our green and pleasant, fertile land.'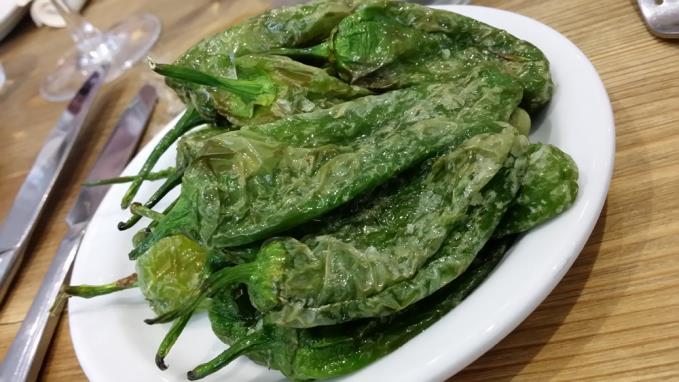 Padron Peppers
I ordered 'flamed and smoked mackerel, cucamelon, juniper ash, pink grapefruit, raspberry, radish and beetroot', the beauty of which solicited a gasp from my daughter as it was put down before us – I must make more effort when plating up her fish fingers. The smokey juniper ash was a revelation, cucamelon looked like a tiny watermelon and tasted like cucumber, and the overall dish was so good I was more than disappointed to reach the end.
Monkfish tail with squid ink risotto, saffron aioli, ricotta stuffed courgette flower, kale and semi-dried tomato was a colourful plateful inspired by the Mediterranean. I added the Monk's Beard Agretti garnish to my list of 'foodstuff I have never heard of before' (along with cucamelon) making me a potentially fearsome opponent when someone invents the game 'name the ingredient'.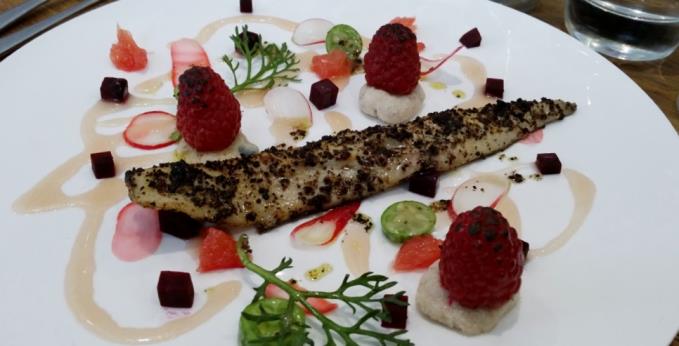 Smoked mackerel
My slow cooked belly pork with soy and ginger stuffing, smoked bacon lentils, cherry ponzu sauce, kai-lan, tamarind, French beans and pickled ginger was another hearty and delicious plateful. If I'm being critical, which I am, I'd say the balance was knocked of kilter by the sour components as the vinegar and tamarind were a bit on the heavy side, but this was what I'd call a happy meal.
On that note, there is no dedicated children's menu but they said that knocking something up would not be a problem. Along with our starters came chicken sandwiches (£4) on freshly made herb bread, triple cooked chips (£3.50) and homemade tomato ketchup so good, the boy ended up scooping it out of the little Kilner jar directly into his mouth.
One perfectly executed hot chocolate fondant with a dark and refreshingly sour cherry sorbet completed one of the best lunches we'd had for a long time.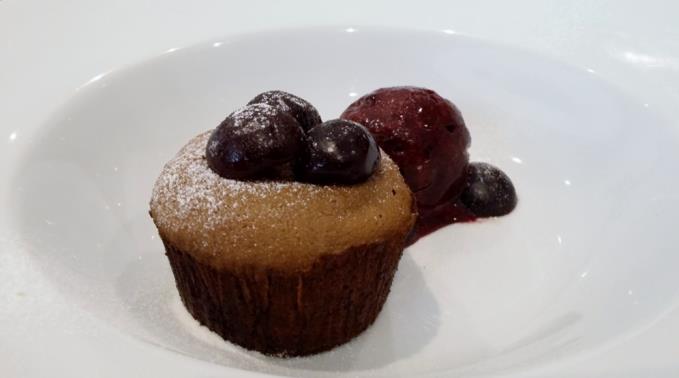 Hot chocolate fondant
The Chef's Table left me with the feeling that this is what restaurants and ingredient-led menus are supposed to be like and how they have happily been for hundreds of years. It shows us how removed we've become from what is supposed to be a simple concept; experts cooking and serving, who understand ingredients and have a close relationship with their suppliers, offering delicious, well priced dishes in reasonable portion sizes. The Chef's Table is like a refreshing glass of water (naturally filtered and locally sourced, obviously.)
Follow @DeannaThomas on twitter.
The Chef's Table, Music Hall Passage, Chester, Cheshire, CH1 2EU. 01244 403040 - two courses for lunch cost £15 and three courses £18.
Rating: 17/20
Food: 8/10 (Padron peppers 9, Veg Men Salad 9, mackerel 8.5, pork 7, monkfish 7.5, choc fondant 7)
Service: 4.5/5
Ambience: 4/5
Recommended: Booking in advance
Give a miss: if your name's not down, you're not coming in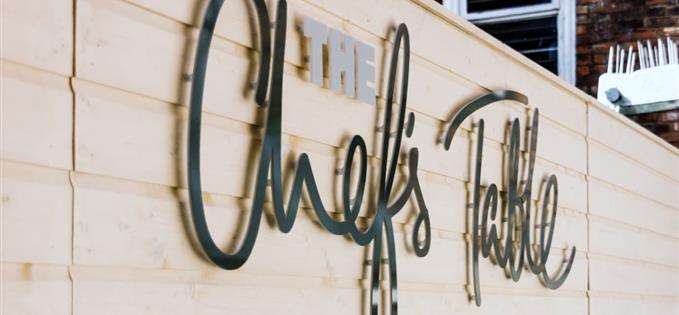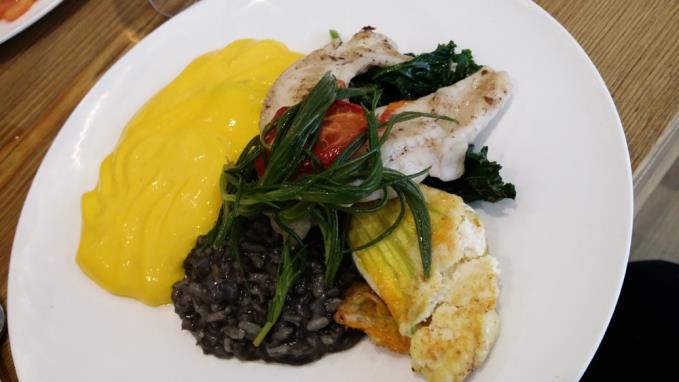 Monkfish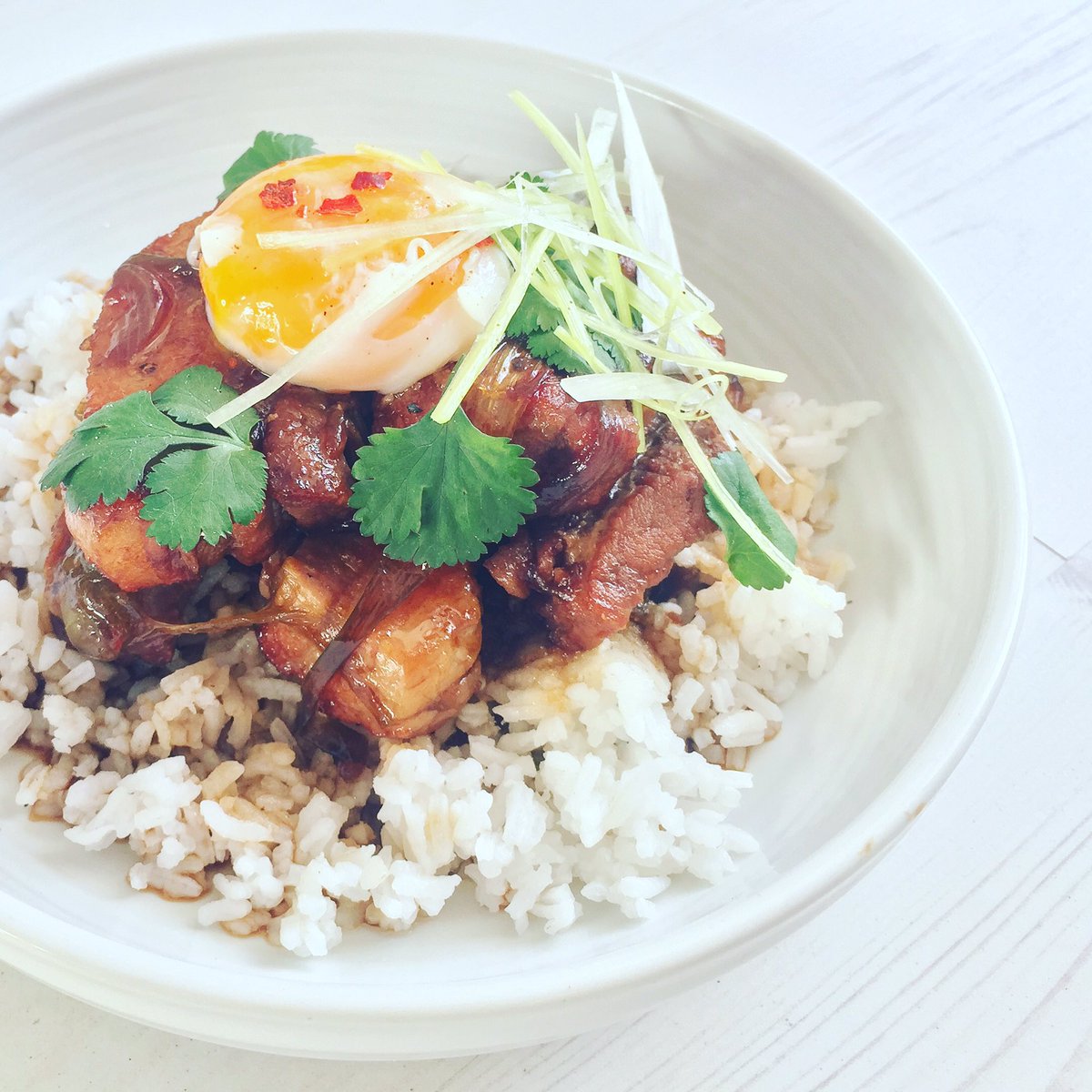 Belly Pork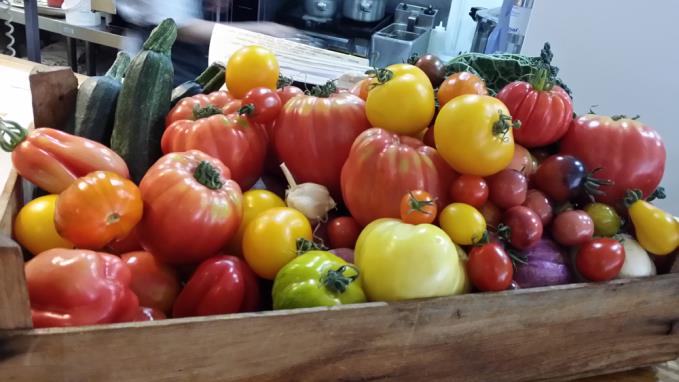 Chef's Table